I'm back again with some adorable outfits from Walmart for the holiday season. Of course, we all love Walmart for the grocery runs and household essentials, but the fashion department is definitely something you need to explore if you haven't already. I have everything from holiday parties to hot chocolate at home looks for you. And I should mention that Walmart is so great about shipping; all my orders arrived quickly. But do not sleep on these styles; they are starting to sell out.
Glam Holiday Look
Velvet Ruched Top & Velvet Pants
It's no secret that I'm obsessed with velvet, and this outfit is no exception. From the second I put this top on, I was amazed by the color and how flattering it is. The neckline and the rouging in the front are gorgeous and can take you beyond the holiday season. The fabric is very soft and comfortable, so comfortable to wear. The pants are also made of velvet material and fit like flair leggings. The tiny metallic threads lining the pants get better. There is a matching blazer! You can dance the night away in this look; super fitted but easy to move around in. I would say everything runs true to size!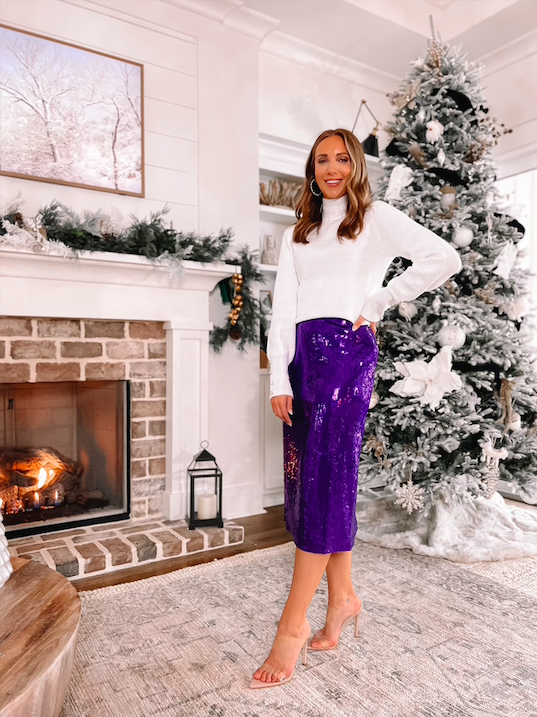 This skirt needs a moment to itself; I mean, just wow! I usually don't go for this color, but this was just too stunning to ignore. This skirt has an elastic waistband, so it's comfortable and perfect if you are in between sizes. Since this skirt is so powerful already, I decided to style it with this sweater to soften the look. I'm wearing a size small in both pieces, which are selling out fast, but there are different color options.
Casual Chic Holiday Look
Black Lace Top & Faux Leather Pants
If you are wanting a more chic and laid-back look for a holiday, I definitely recommend this look. Again this can even work outside the holidays for date nights and happy hour. These pants are a fantastic price and have that paper bag style. They are true to size. However, there is no stretch to them, so if you're in between sizes, I would size up on these. And the lace on this blouse is absolutely stunning, and I love the cutout feature on top. Plus, the lace is not itchy.
Casual Chic Holiday Look Part 2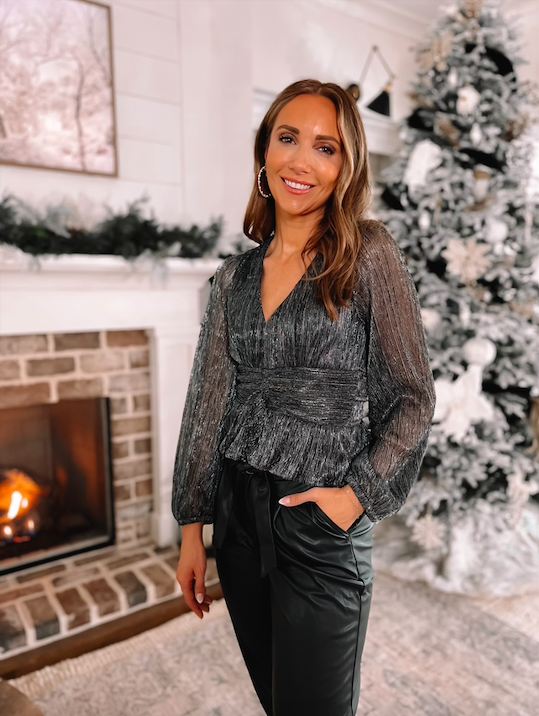 Another top that fits this vibe is this gorgeous shimmer top. Again, the fabric and the details are stunning. The sleeves are semi-sheer, but the body of the blouse is full coverage. More fitted around the waistline, but it fits like a glove and is super flattering.
Sweater Weather Looks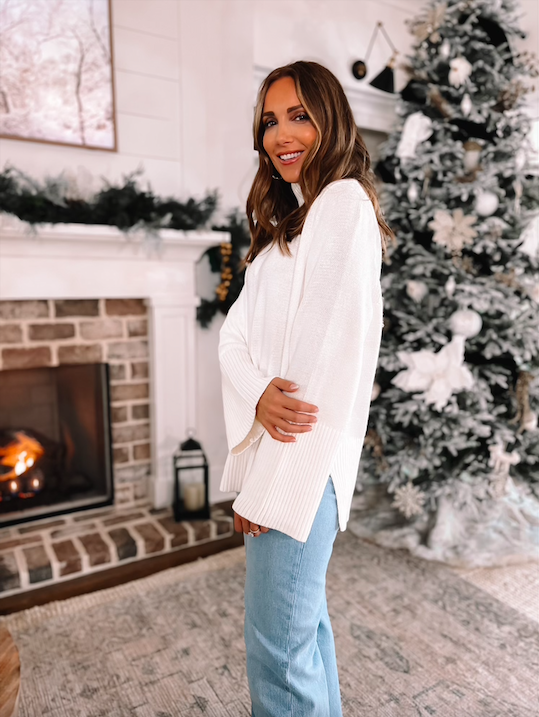 Rib Turtleneck Sweater & Wide Leg Jeans
If your holidays are a little more casual, or you're looking for everyday fall/winter fashion, this sweater is for you. I love tunics and oversized sweaters, and this is just that I'm wearing a size small for reference. This fits amazing, and the side slits are a match made in heaven. You can definitely rock this with some leggings, but I'm wearing these adorable wide-legged jeans from the free assembly line.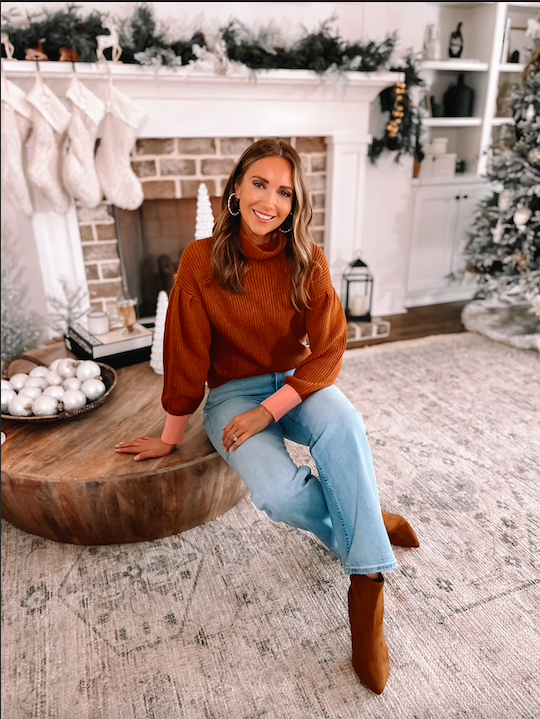 Pleat Shoulder Sweater & Stiletto Ankle Booties
I love the rich color of this sweater; it's perfect fall vibes and is a great Thanksgiving dinner outfit. Very chunky texture and I love to switch up baby pink on the wrists. But, true to size, I'm wearing a size small! And the booties are gorgeous, matching the sweater perfectly.
Comfortable Holiday Looks
Holiday Pajamas & Comfortable Lounge Set
I know these are not your traditional holiday pajamas, but you can rock them year-round. I do love the satin fabric, and it feels luxurious on. I ordered a size small, and there is plenty of space for comfort. The last set is the white lounge set, which is super cozy. I ended up ordering a medium in this which was not necessary. Definitely order your' true size on this; it already has a laid-back style.
If you love these styles as much as I do, you can shop them below. Thank you so much for visiting the Blushing Rose Style blog, and very special thanks to Walmart for partnering with me on this post. As always, all views and opinions are mine.