Hi friends, Happy Saturday. I am back with more Target finds. In today's try-on you might recognize some pieces I've shared before, but my favorite thing is showing how to style the same pieces multiple way to provide you with outfit inspiration Also, I have been receiving quite a few requests for back to work outfits. Some of you may be slowly retuning to the corporate office (even on a modified schedule) and many of my followers are teachers. Which by the way thank you for all you do, I know this year has been tough! I will be sharing some work friendly options that are not only comfortable but affordable as well.
And if you really love Target, you should totally join my private FB group – Blushing Rose Style Target Finds where I share all my finds – from fashion, home goods, home decor to the most unique finds. And it has been an amazing community with everyone that has joined! And you can also share your recent purchases, and see what others in the group are raving about.
Make sure to pin this post for future outfit inspo. Btw, if you missed my previous Target hauls, you can check them out here: Target Try On 8.15 and Target Try-On 8.8
My Accessories
So many of you have asked about my watch. You can read more about its featured here, but wanted to give you heads up that another model of my watch is currently marked down 50%. This literally never happens! So if you have been wanting it, snag it now. The differences between my watch and the model on sale are outlined at the bottom of this post.
EARRINGS // NECKLACE //NECKLACE 2 // WATCH
BRACELET 1 // BRACELET 2 // BRACELET 3 // PHONE CASE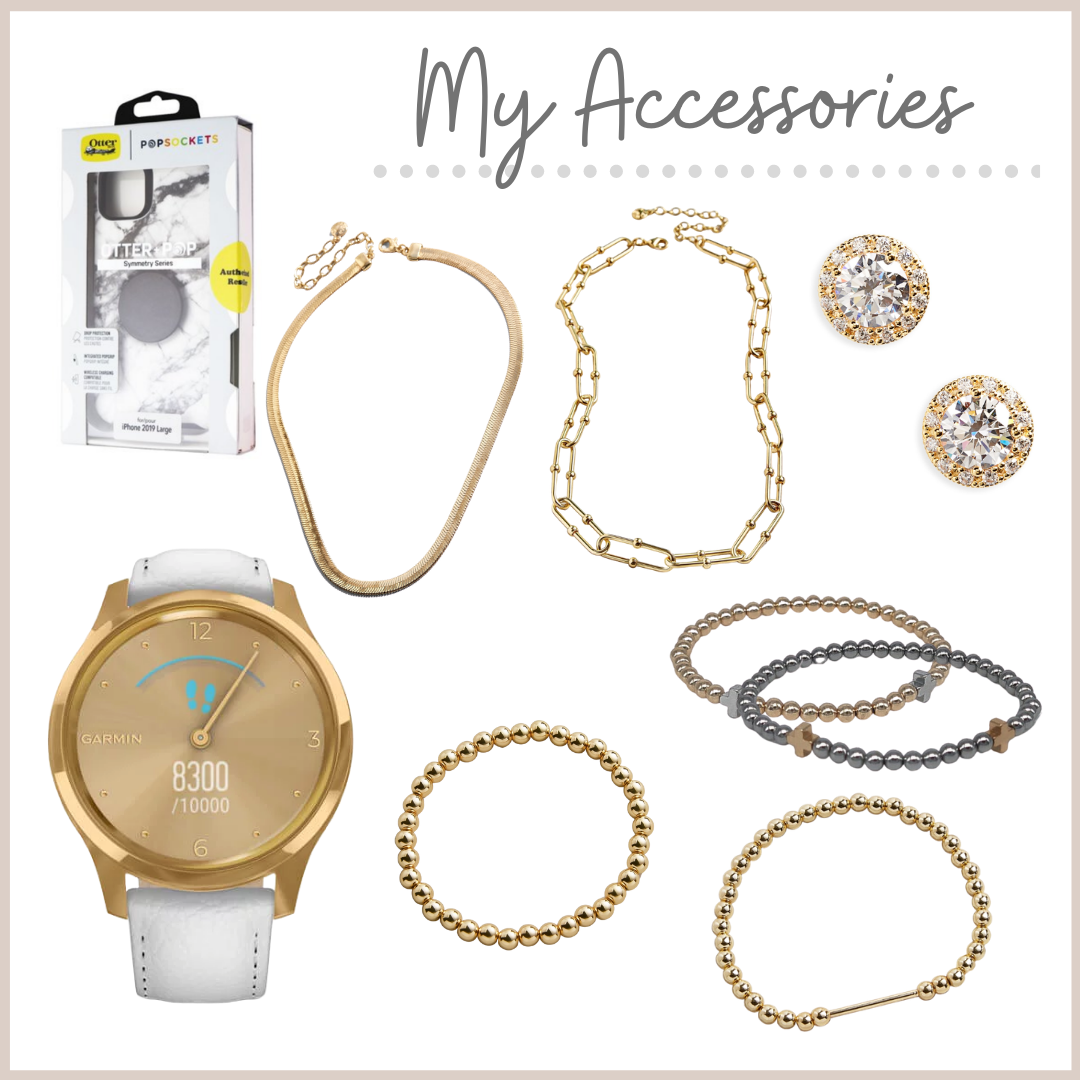 These pants are so good! Love the animal print but not only are they are cute but also comfortable. I'm not sure I mentioned this last time I shared them, but they do have an elastic waistband so the outside looks like pants, but the inside feels like leggings. They are high waisted, so flattering and fit tts, I'm wearing size 2. Now, you've definitely seen me wear this cami before. It is one of my tried and true pieces. Fits tts, has adjustable straps and I'm wearing size xs. It is also currently 40% off, free shipping and free returns. For a workwear look, I layered with this cardigan. It is lightweight and the neutral color makes it so versatile, it will go with everything! It fits tts, wearing size xs. The mules are not from Target, but they are on sale with free shipping and free returns. Size wise – I sized up by half size.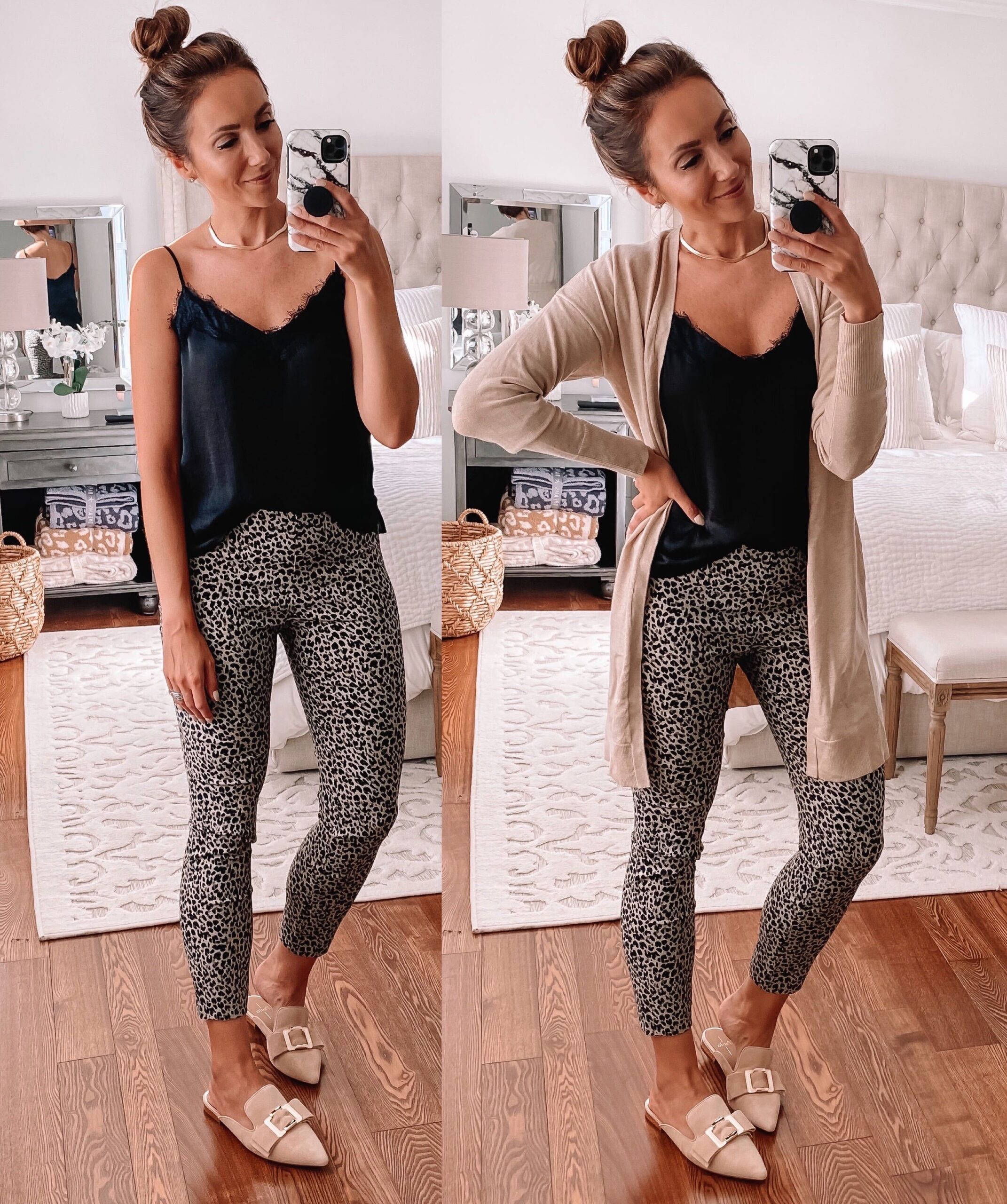 I know I shared these pants last week, but I wanted to show more outfit ideas with them. The plaid print is so cute and these are a perfect workwear option. They are high waisted, fit tts and I am wearing size 2. The belt is also fully removable. My cami is the same as the black one above, but wanted to show it in the white color. I've owned these for years now and they're such a great wardrobe staple! To finish off this look I added a cardigan and mules.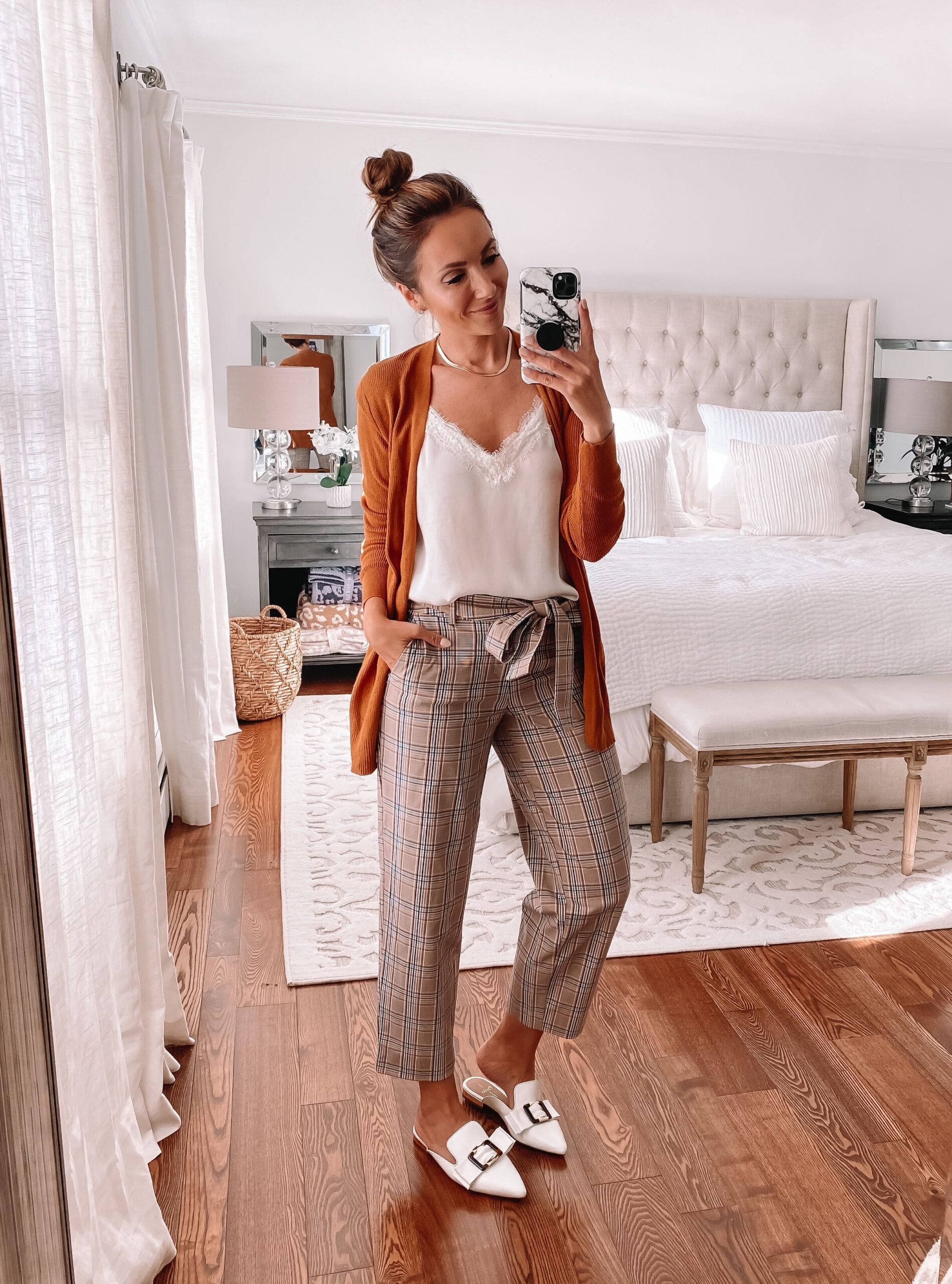 Same pants but without the belt and since they are high-waisted they look so cute with shorter style tops. This peplum tank is only $12 and I'm wearing size small. To make this look more workwear friendly, I added this chunky cardigan which reminds me so much of the sold out Topshop one from Nsale. I am wearing size xs, fits tts but if you wanted more of an oversized, cozy look I would say to size up by one size.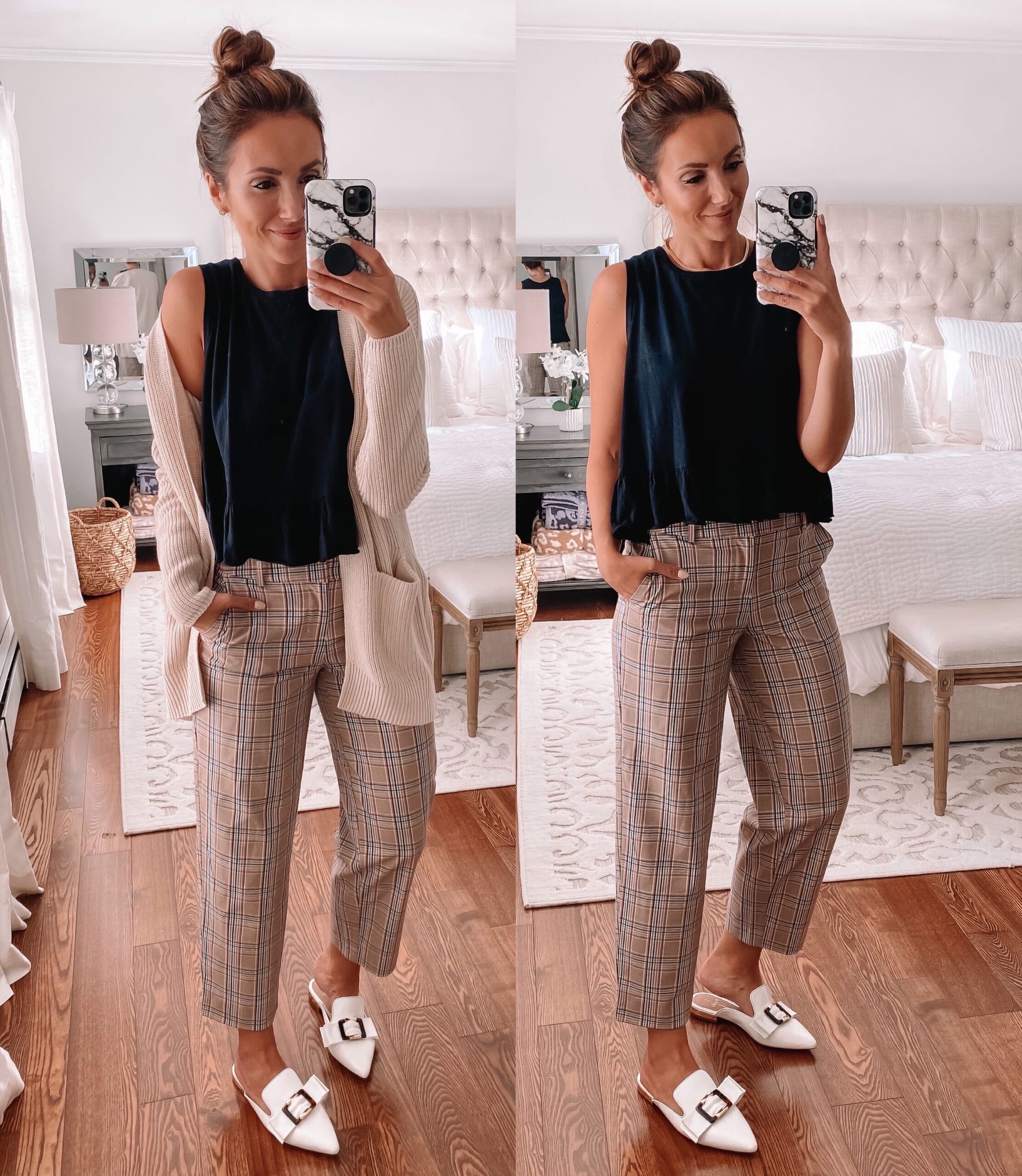 Another outfit idea for the office is with this cozy pullover from the Nsale. It's fully in stock, fits tts and I'm wearing size small.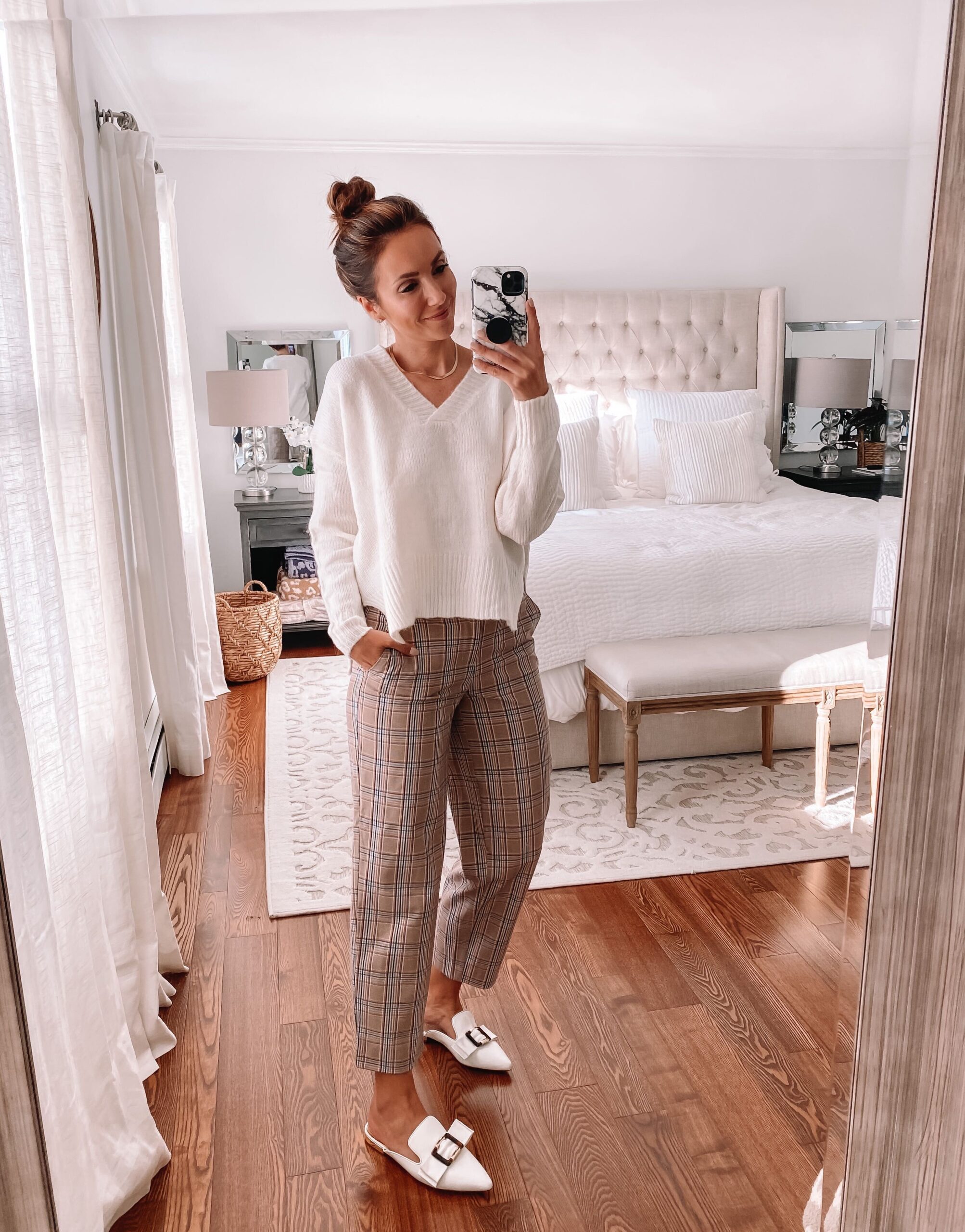 If your work place is more casual, this look would be so cute. If not, this is my favorite look for spring and fall. I love cardigans and camis together. These jeans finally arrived and they are so worth the wait! They are high waisted, button fly and buttery soft. Fit tts, I am wearing size 2. My shoes are from Nsale and are available in all sizes. They are so comfortable, you will feel like you're wearing slippers! I highly recommend, they fit tts.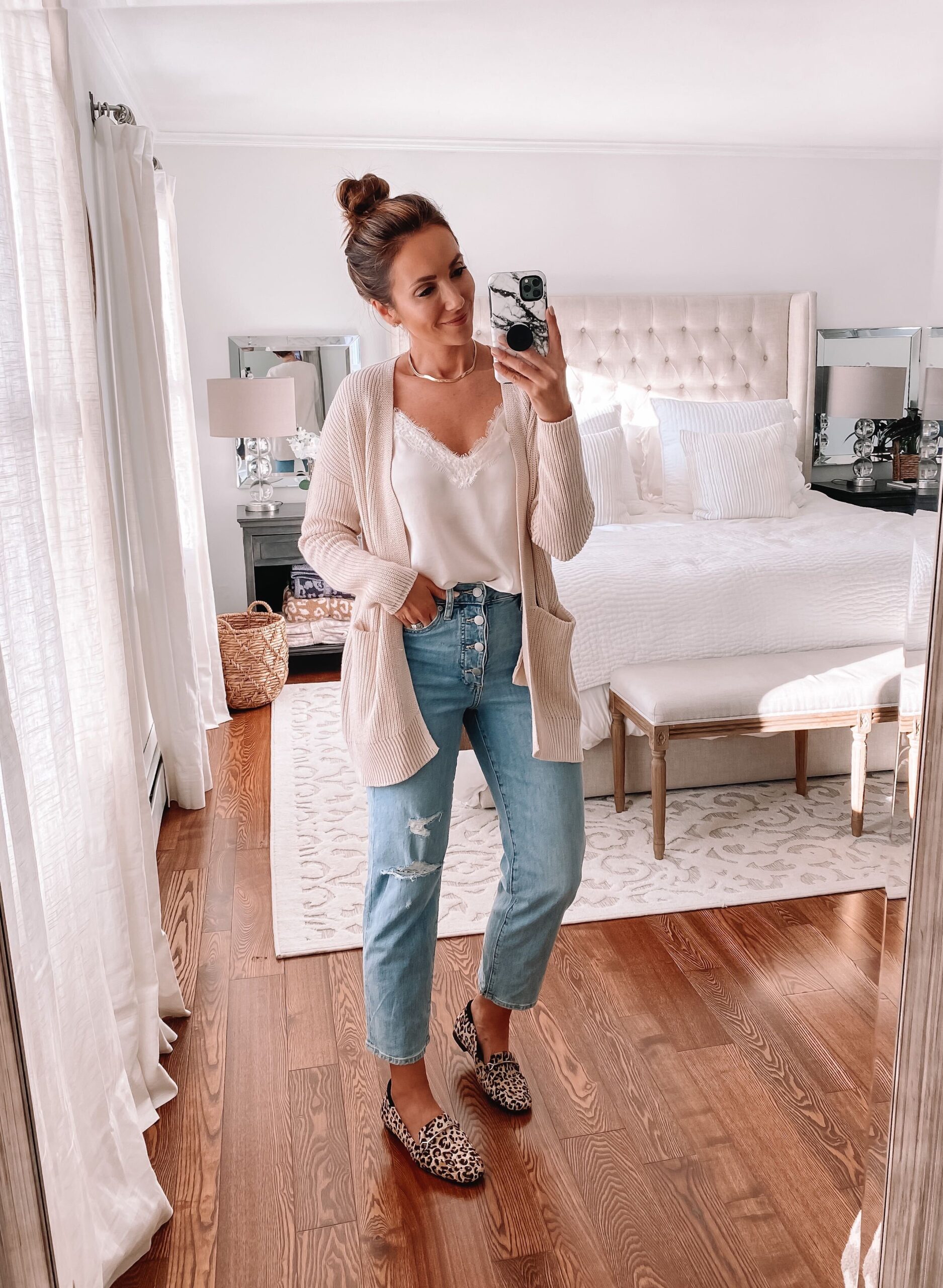 Same jeans just swapped to this beautiful top. I love the ruffles and embroidered detail. I am wearing size xs, fits tts. My booties are a part of the Nsale, but are selling out, if available in your size, they fit tts.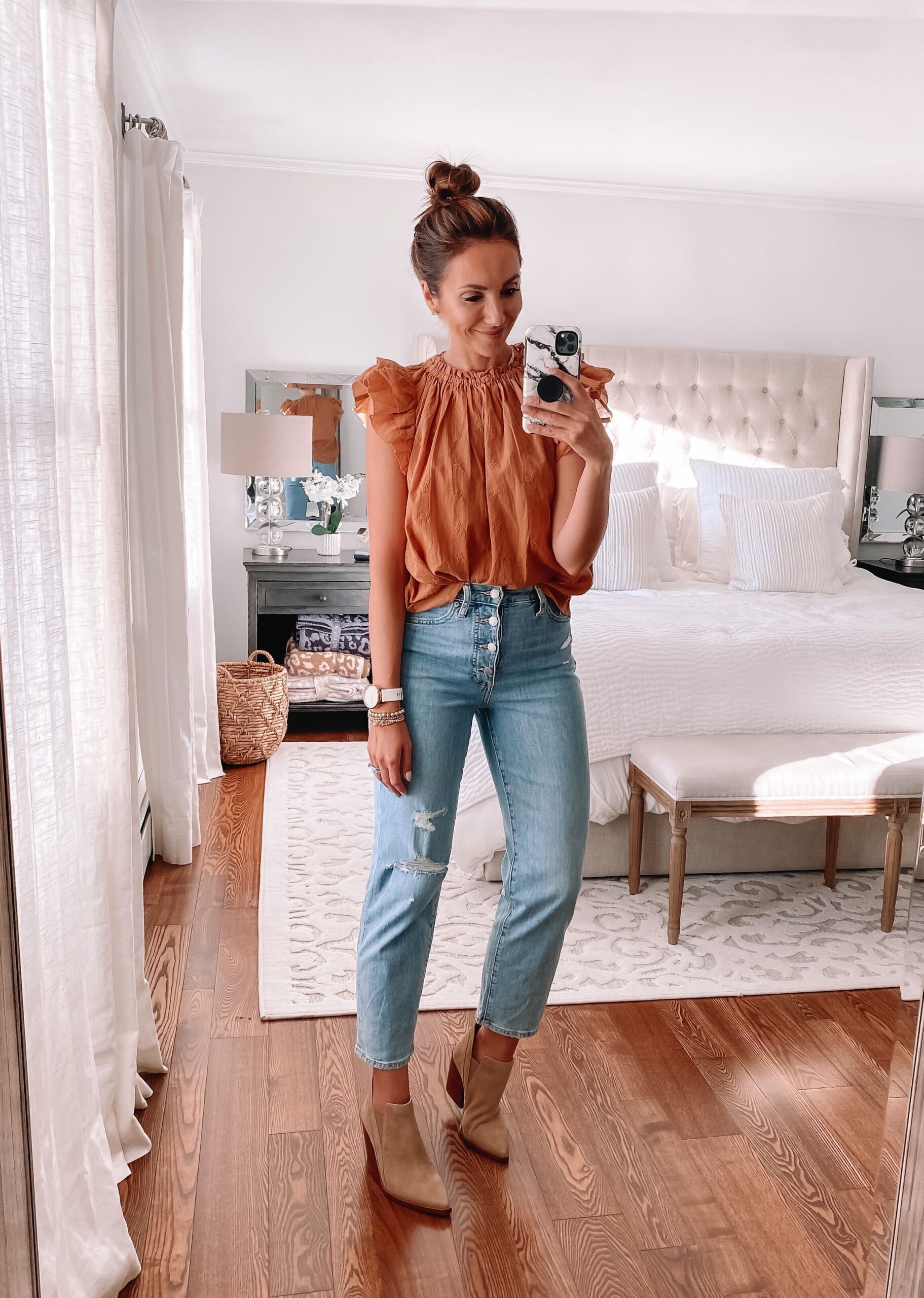 This tee is for my tie-dye lovers out there! It looks like something from Free People or Urban Outfitters. While it's so cute and affordable, it is super cropped and definitely an item made for high waisted bottoms. I am wearing xs. My sandals are a Walmart find and fit tts.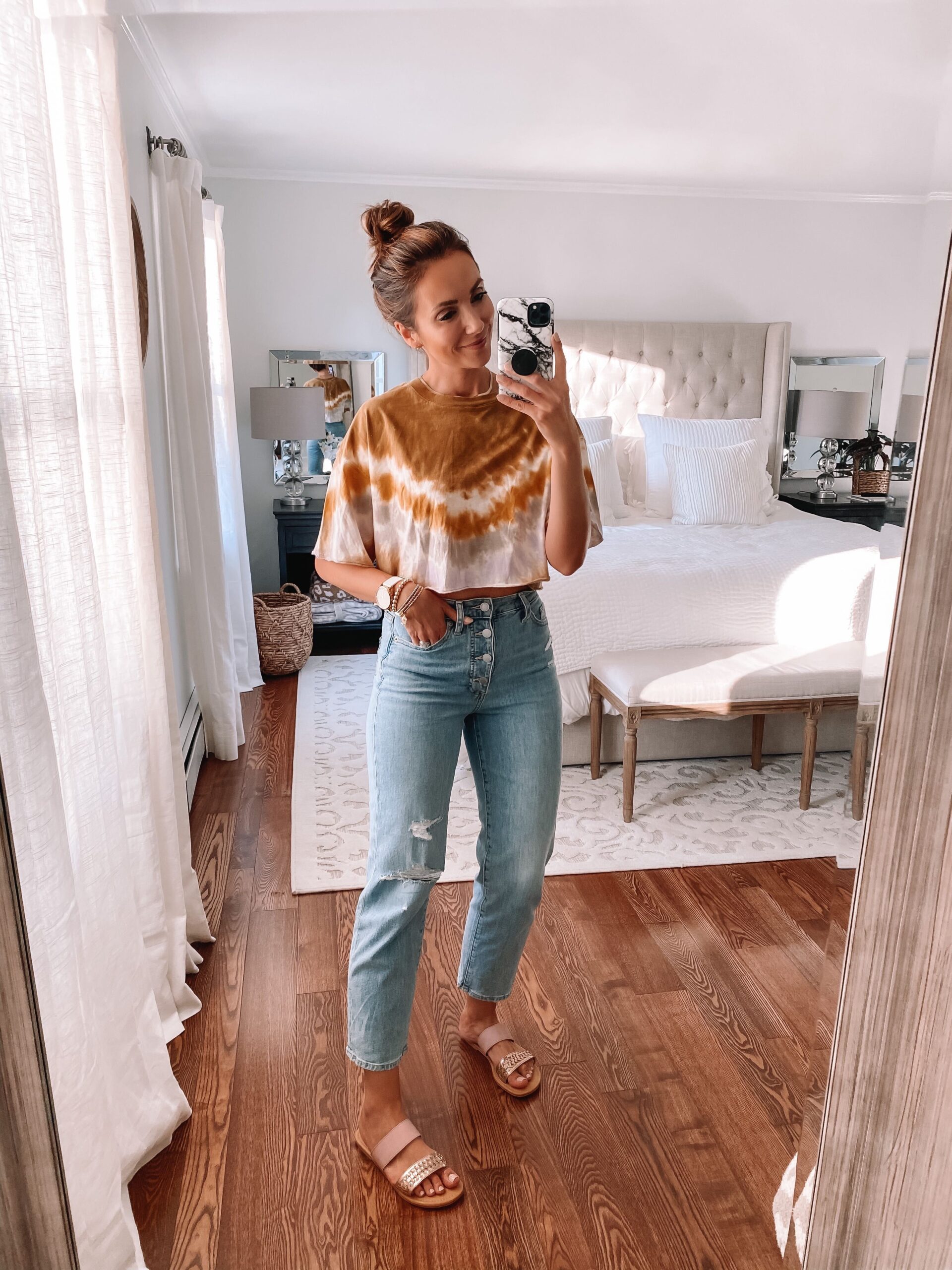 This is the same peplum tank I shared earlier in black but is also available in this gorgeous color. Fits tts, I'm wearing size small. I've also been showing these high-waisted boyfriend style jeans. I love their light wash and they fit tts, wearing size 2.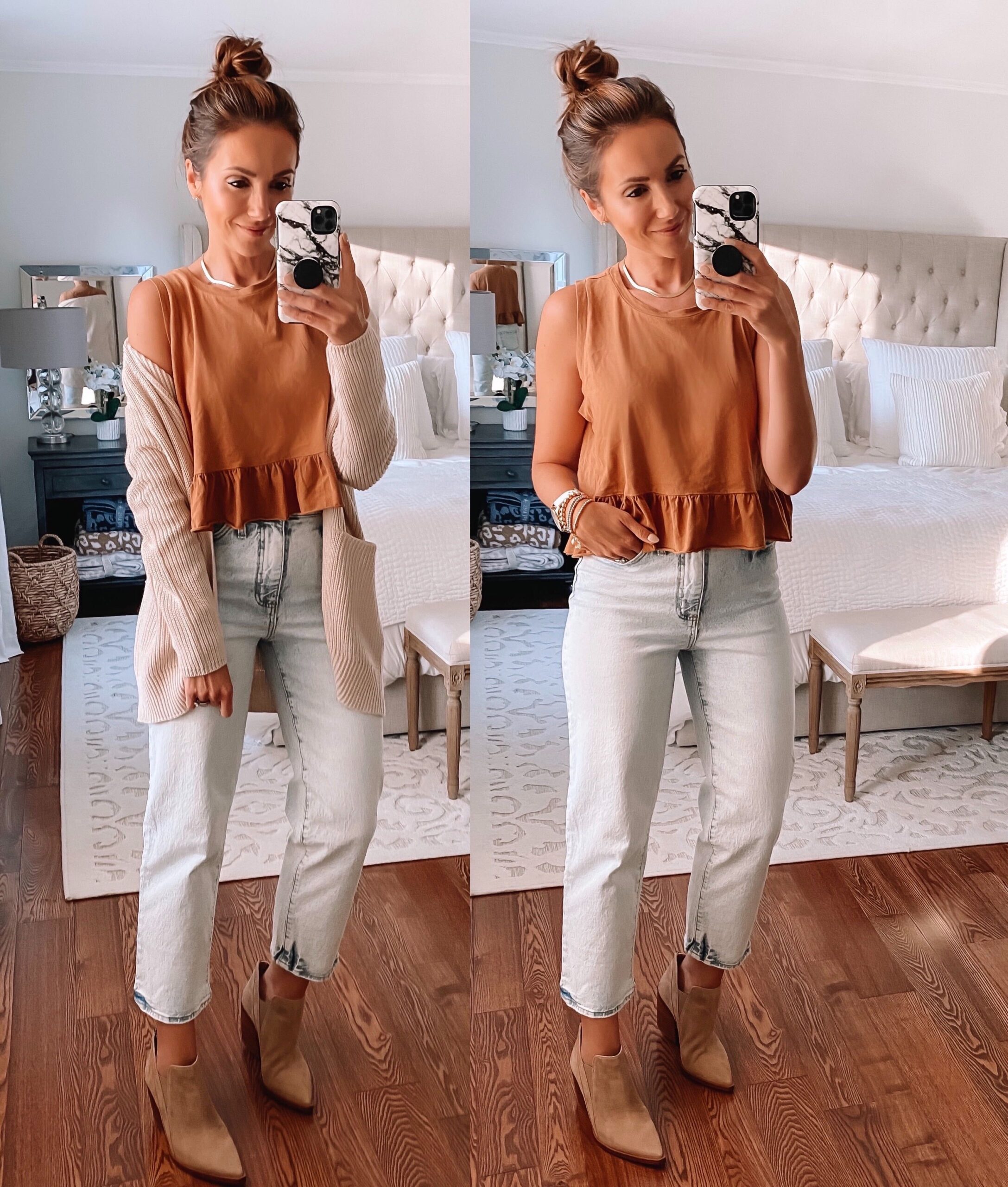 I grabbed this tee for only $10 and the fabric is pretty thick, really good quality. It does have a boxy fit, I'm wearing size xs and it fits tts. I sized up half size in the mules.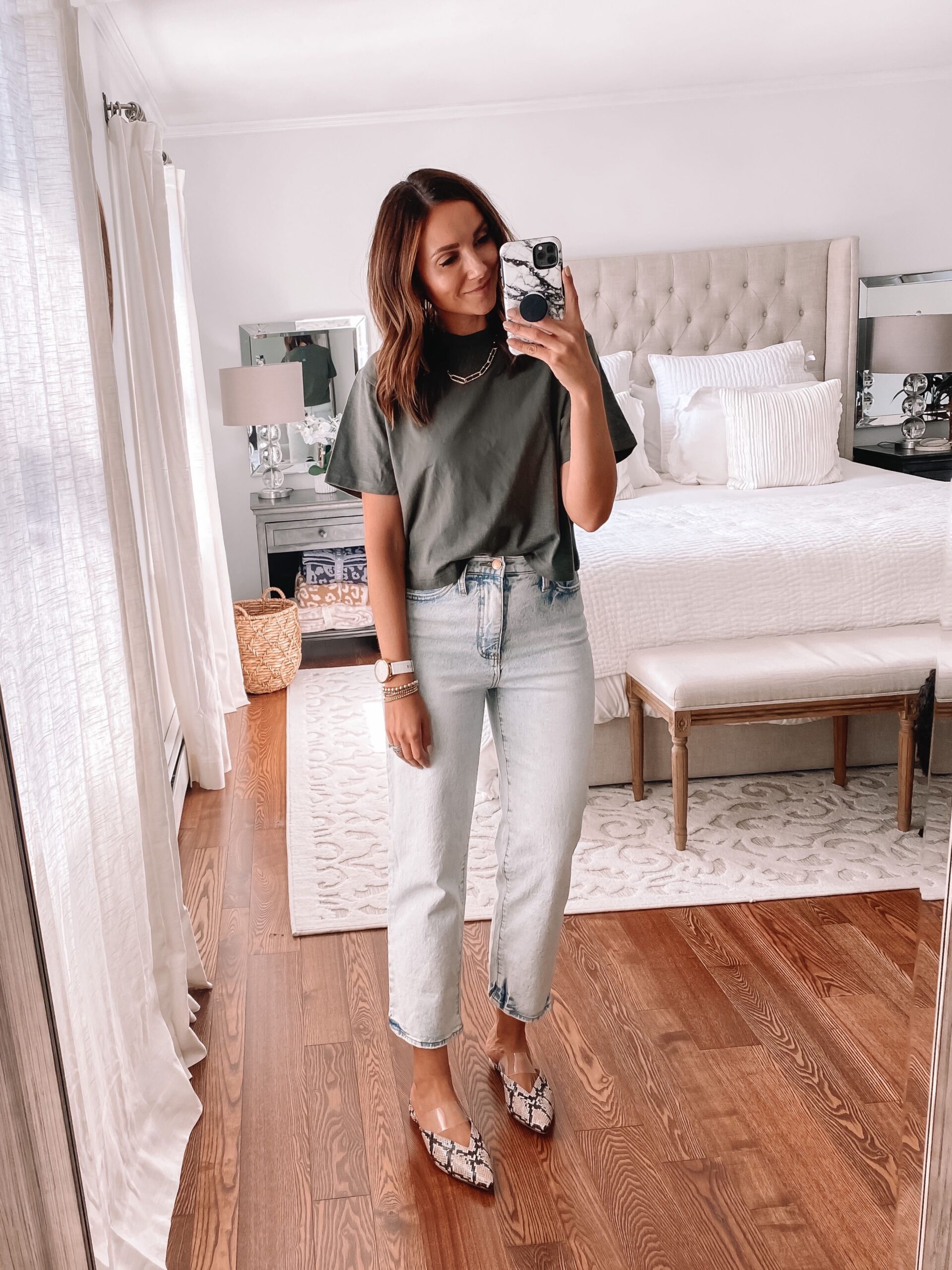 This tank is such a great wardrobe staple and totally reminds me of the tanks from Free People. The fabric is identical to this best selling tee. It has a slouchy fit, I'm wearing size small and fits tts.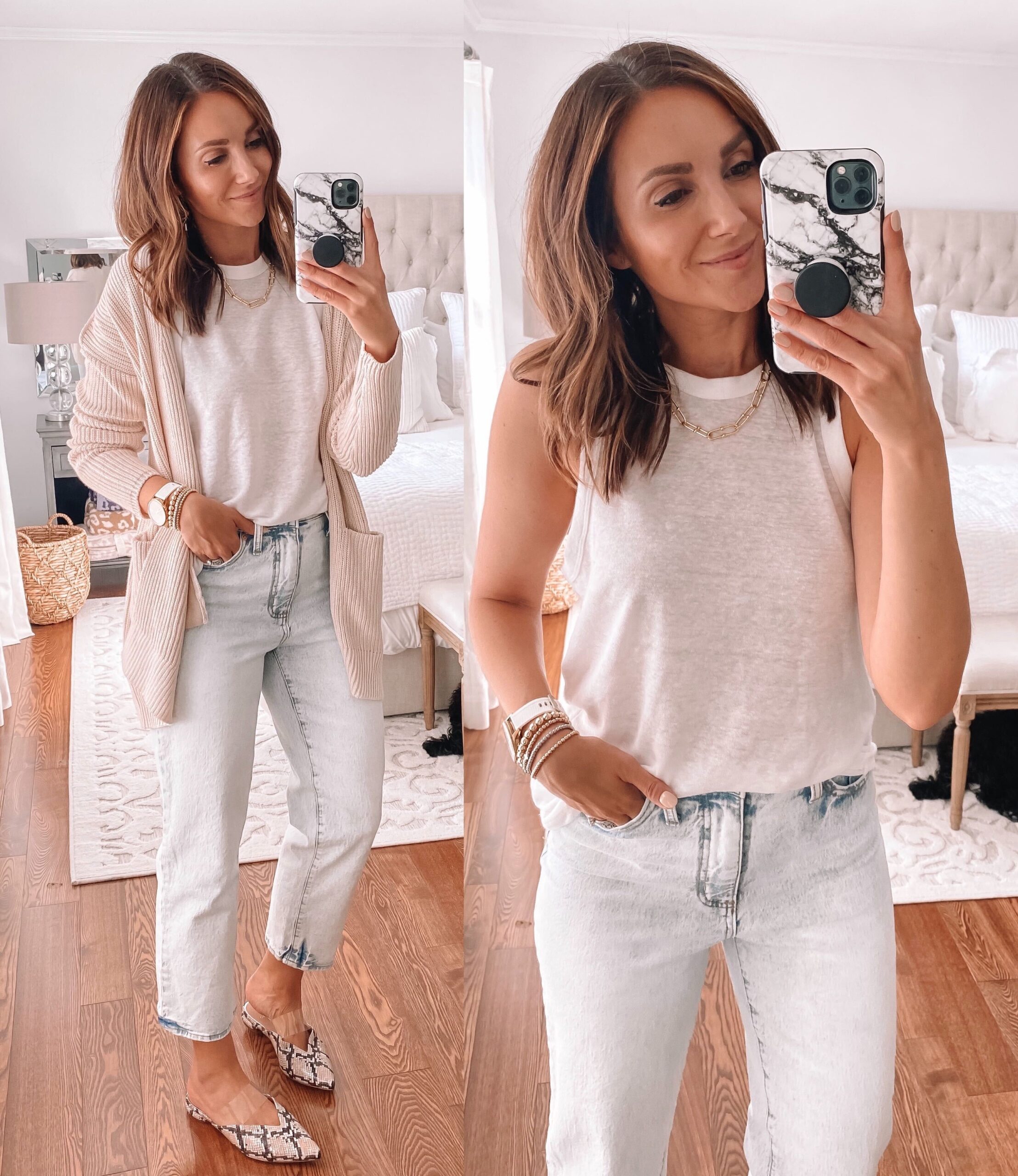 How gorgeous is this dress? I showed it last week but since it's bold print is so fun I wanted to share some more outfit ideas with it. All of these looks are so cute and will work for now and for fall. Adding a belt breaks up the print and gives you more of a shape. For a more autumnal style, add a moto jacket, booties or boots.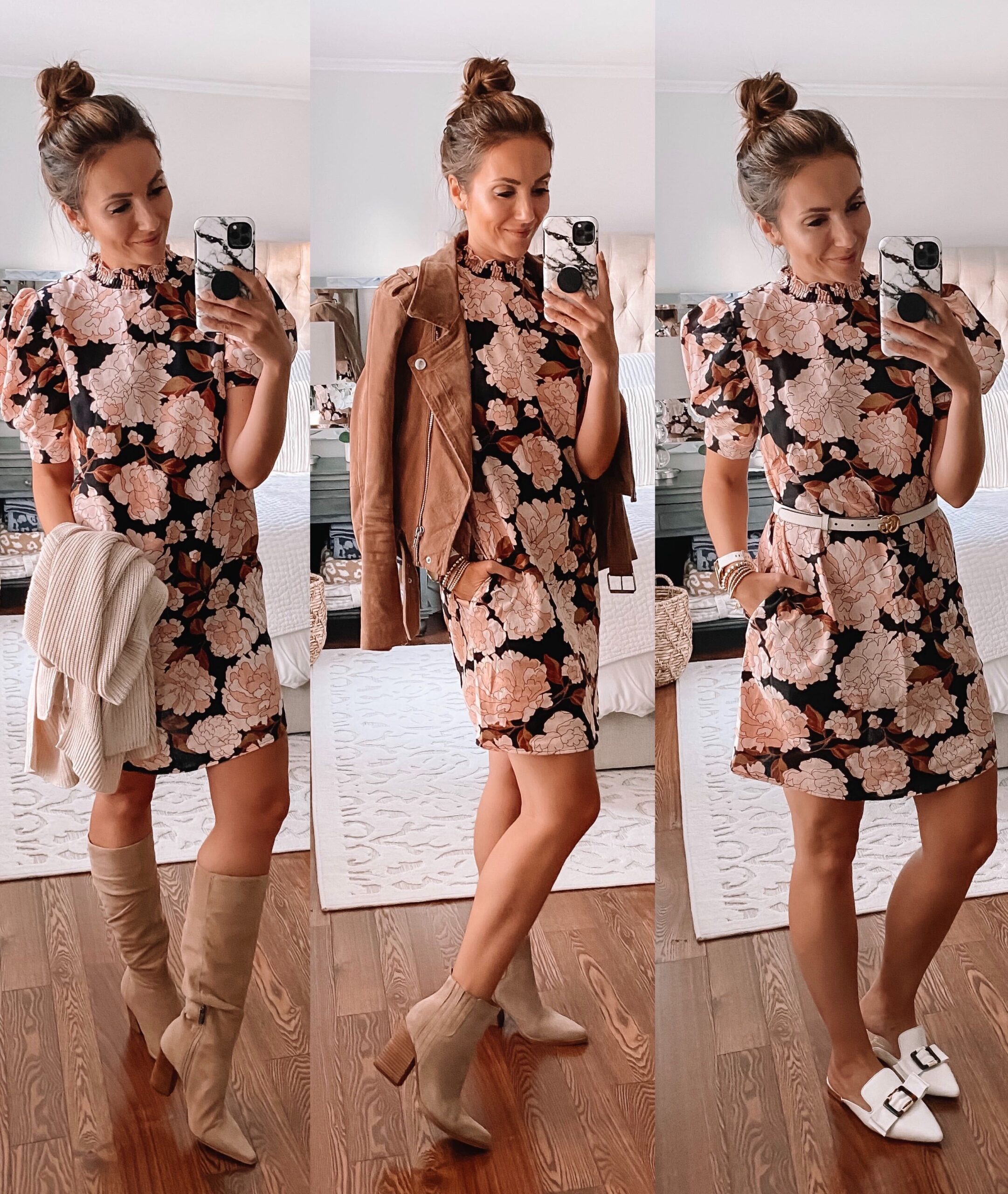 I love the colorway of this dress. It has a higher neckline with ruffle detailing and pockets! The fabric is on the thin side but its a gorgeous piece for late summer/early Fall. Style with a belt to give more shape and layer a light cardigan, or add tall boots and a top coat. Mine is sold out but a similar one can be found here.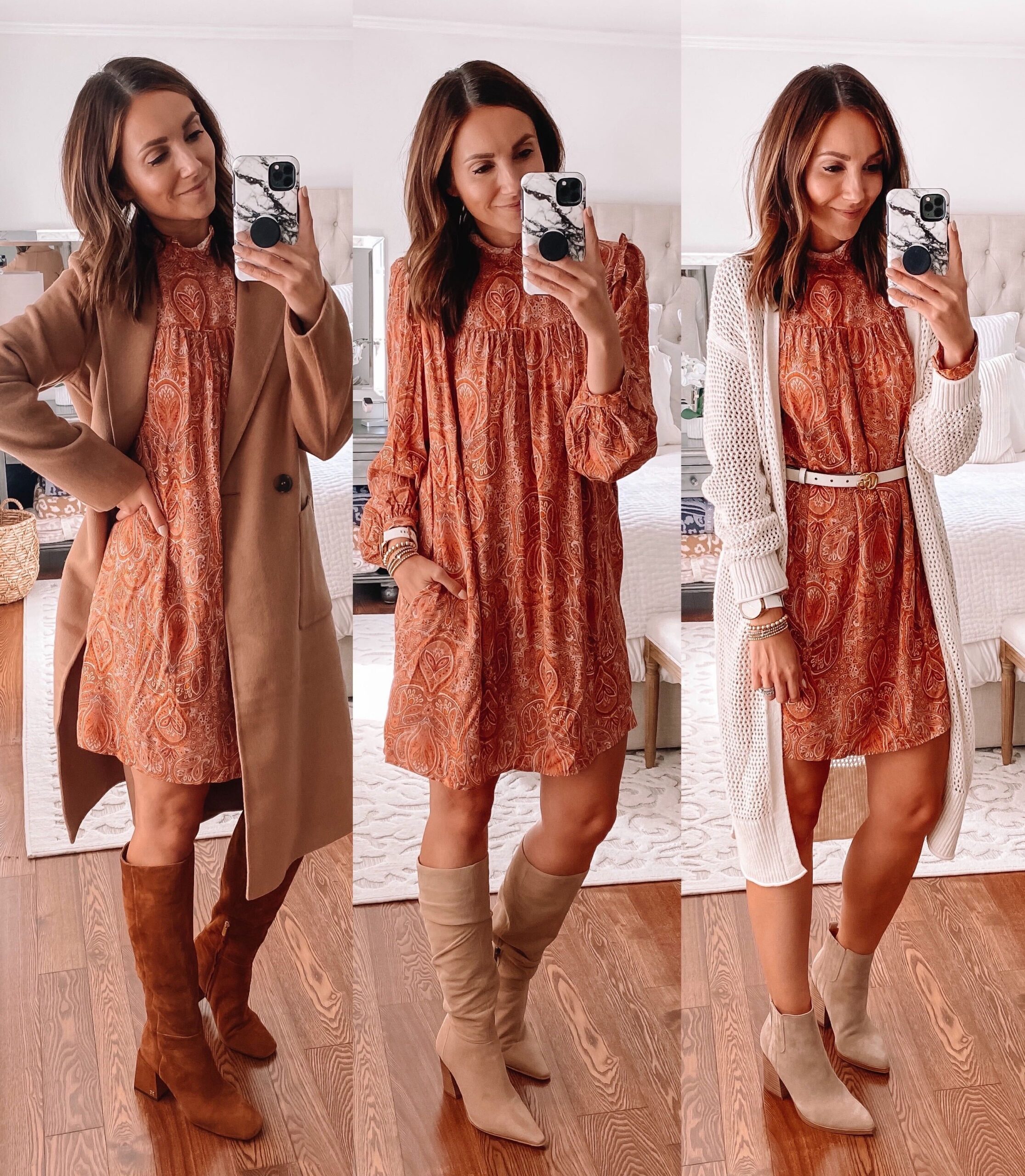 I'm really excited about these pjs, but sadly they are available in limited sizing. Since they are a new item, I have a feeling they will be restocked soon and I'll will be here to let you know. But, I wanted to talk about the fit and fabric. It is such a soft fleece material and definitely thick for the colder months. I am wearing size xs and I typically wear size small in this brand, but my store only carried the smaller size. I would recommend sticking to your true size.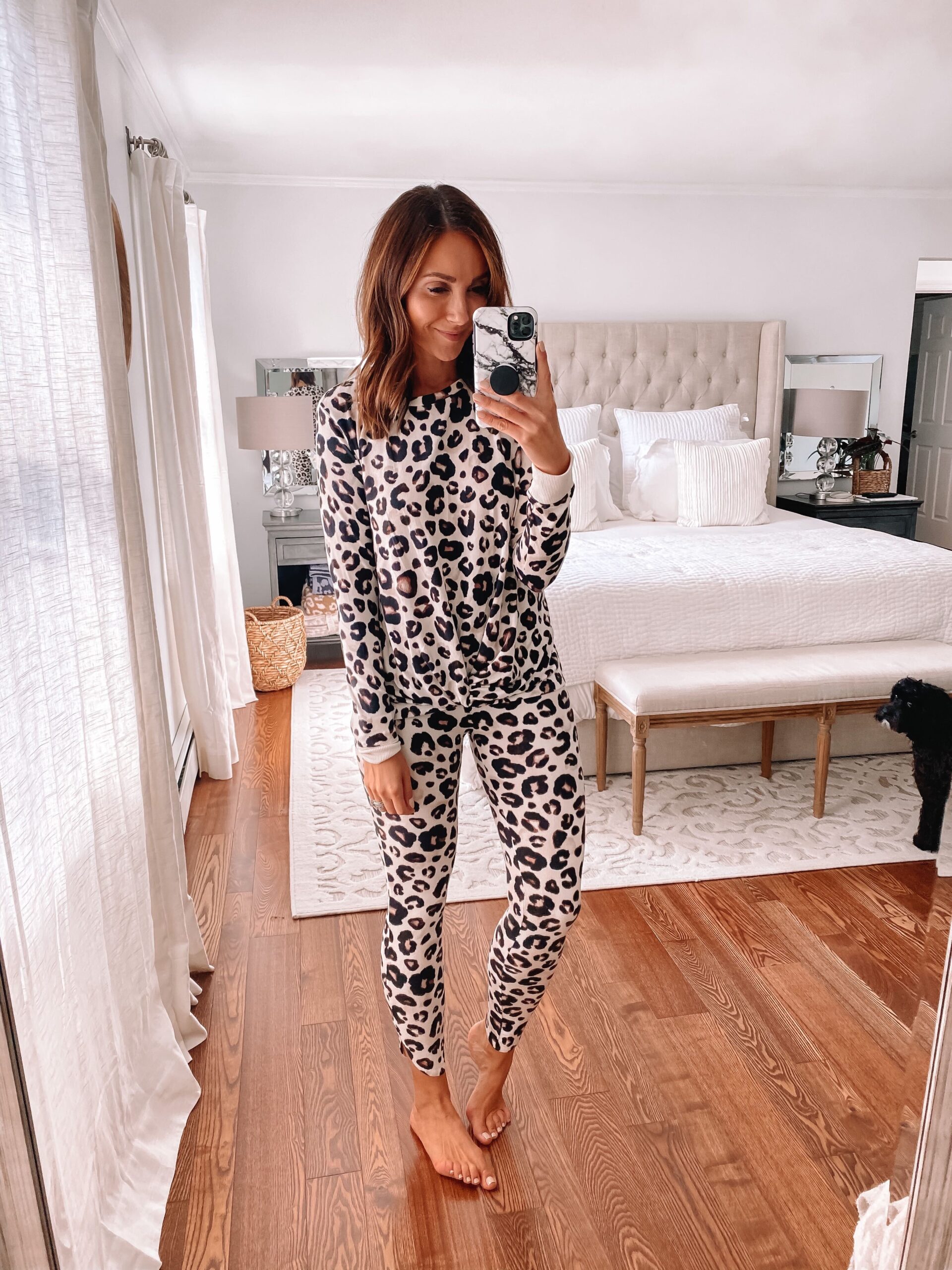 Shoe Finds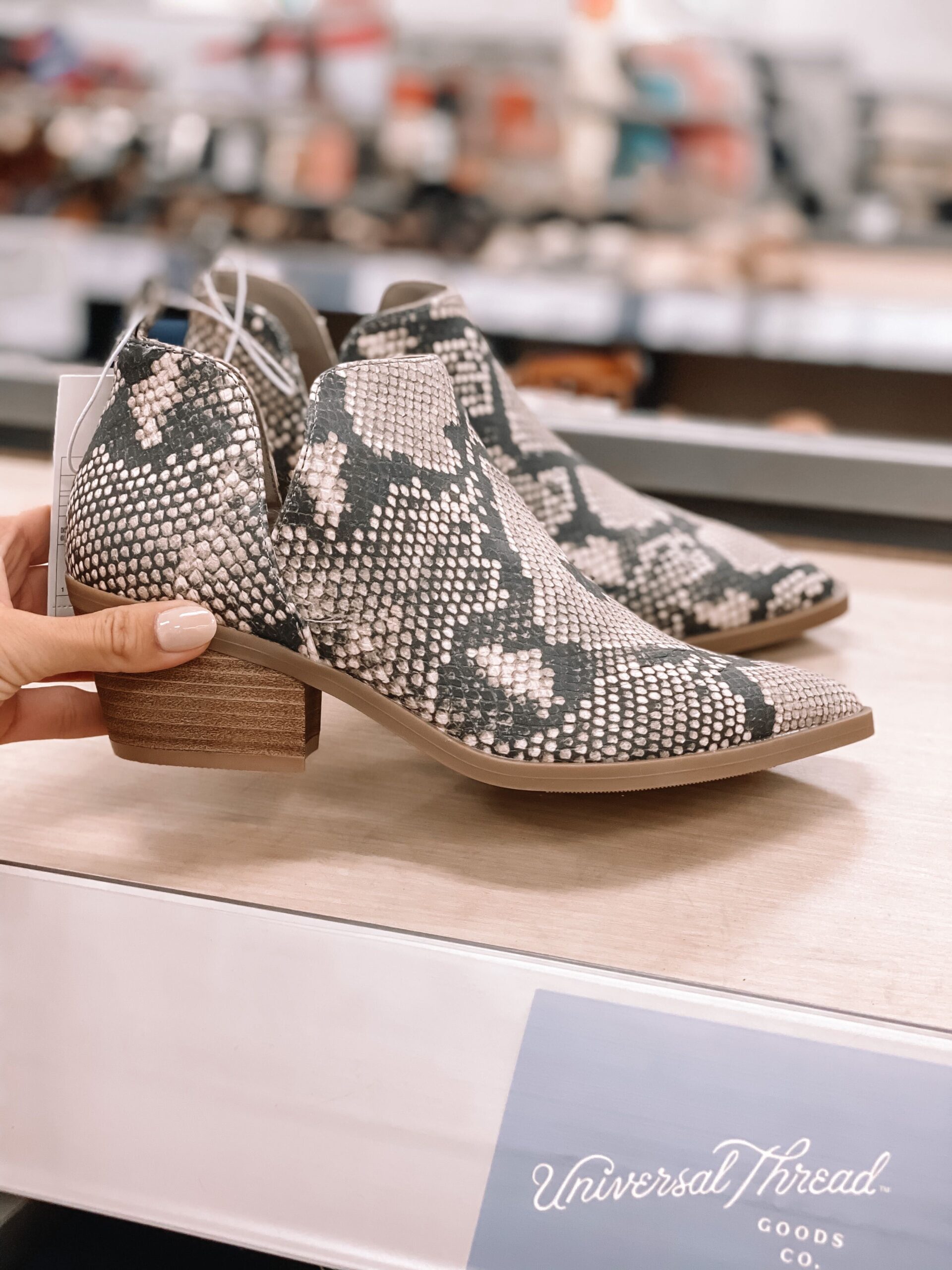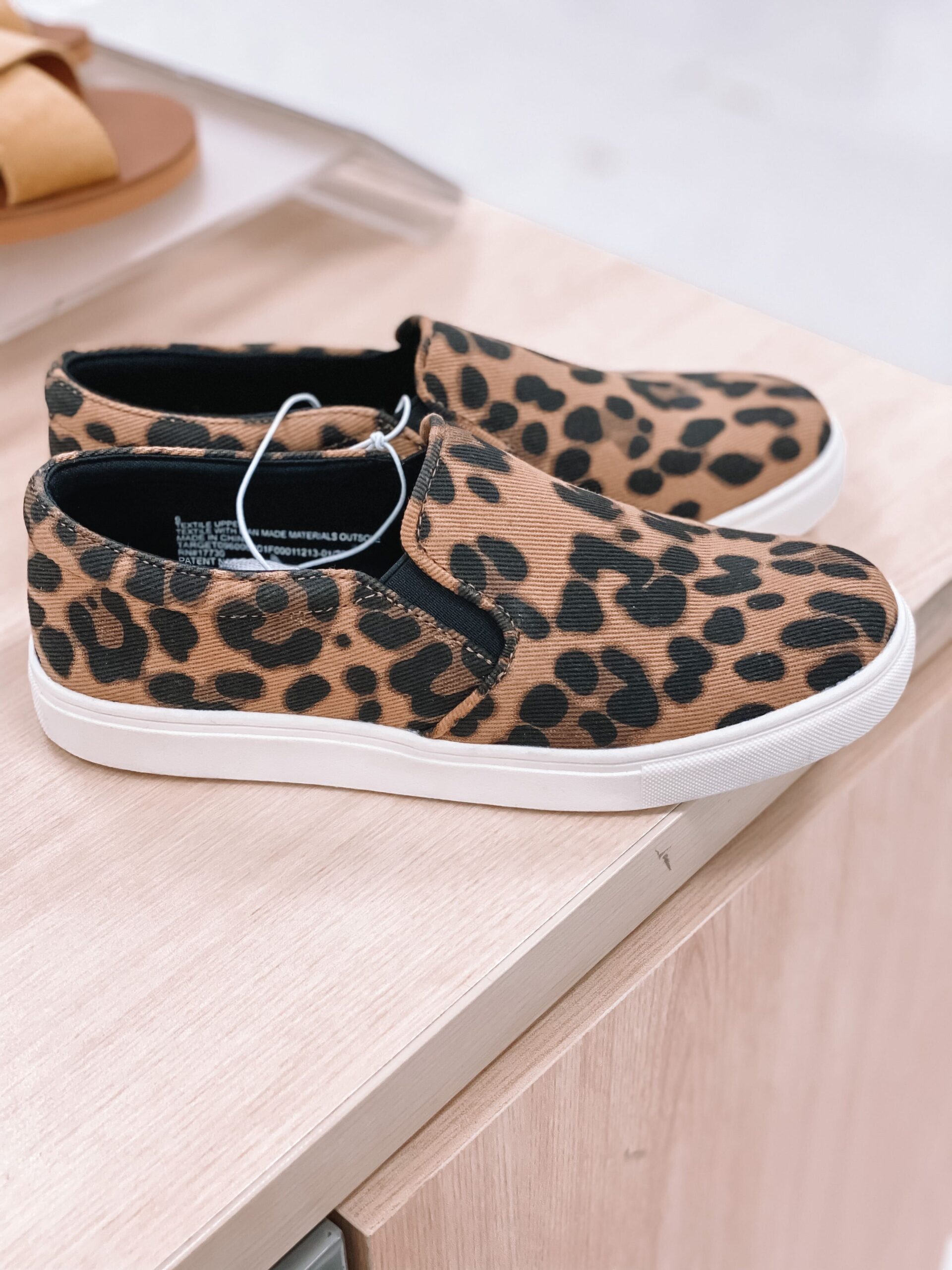 Thanks so much for visiting Blushing Rose Style Blog! Which outfit is your favorite?