Good morning Girls! And Happy Memorial Day weekend. It's Saturday, so I am back with another Target Try On. Today is the last day of BOGO FREE swimwear sale at Target, I stopped by local store and let me tell you, it was slim pickings. I will be shopping online later today to take advantage of the sale.
RELATED POSTS
Target Try-On 5. 15 // Target Finds – Readers Favorites Top 10
Btw if you really love Target, you should totally join my private FB group –  Blushing Rose Style Target Finds where I share all my finds – from fashion, home goods, home decor to the most unique finds. And it has been an amazing community with everyone that has joined! And you can also share your recent purchases, and see what others in the group are raving about.
There are so many good deals and sales happening this weekend.I have an entire blog post dedicated to the Memorial Day Weekend Sales HERE – sale details by retailer, discount codes and my favorites from the sale! One the best sales happening is a 50% off sale at Sole Society with code SUMMER50.  Through out this try-on you'll see all my accessories like hats, bags and shoes from there and they are all included in the sale.
My Accessories
PHONE CASE // NAME NECKLACE // SANDALS  // GOLD PLATE NECKLACE
STONE NECKLACE // EARRINGS // CUFF BRACELET  // WATCH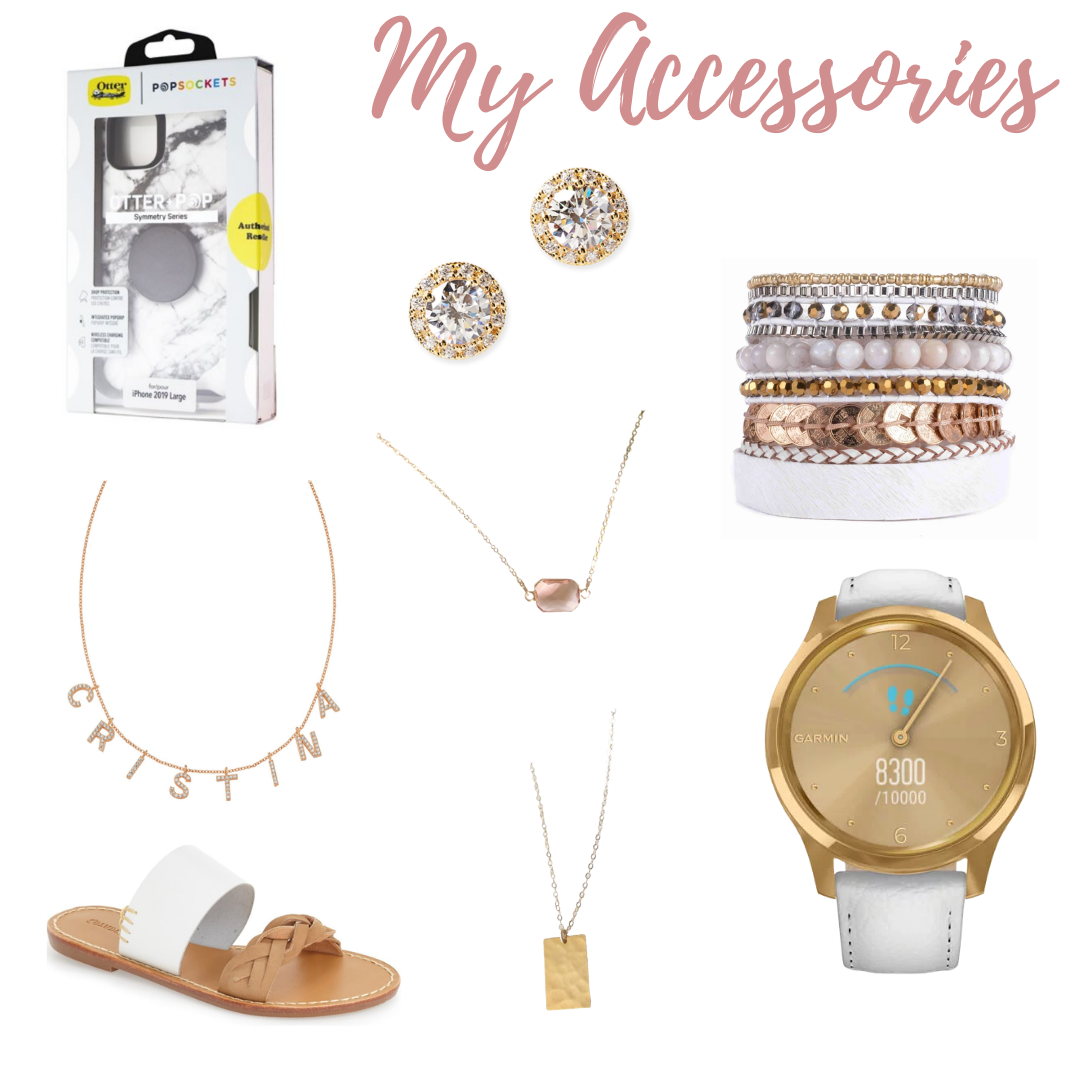 Target Try-On
The tank  is definitely a favorite from last year and available in many other colors. I love the ribbed texture, it's super a great wardrobe staple. I am wearings size small. Now, last week I showed you these pants  in green and there is something about olive green pants that I am always drawn to! I saw that they came in white and I thought they would be perfect for this time of year. They are not see through which is amazing. They are pretty thick and the fabric feels like a linen blend. I am wearing size 2.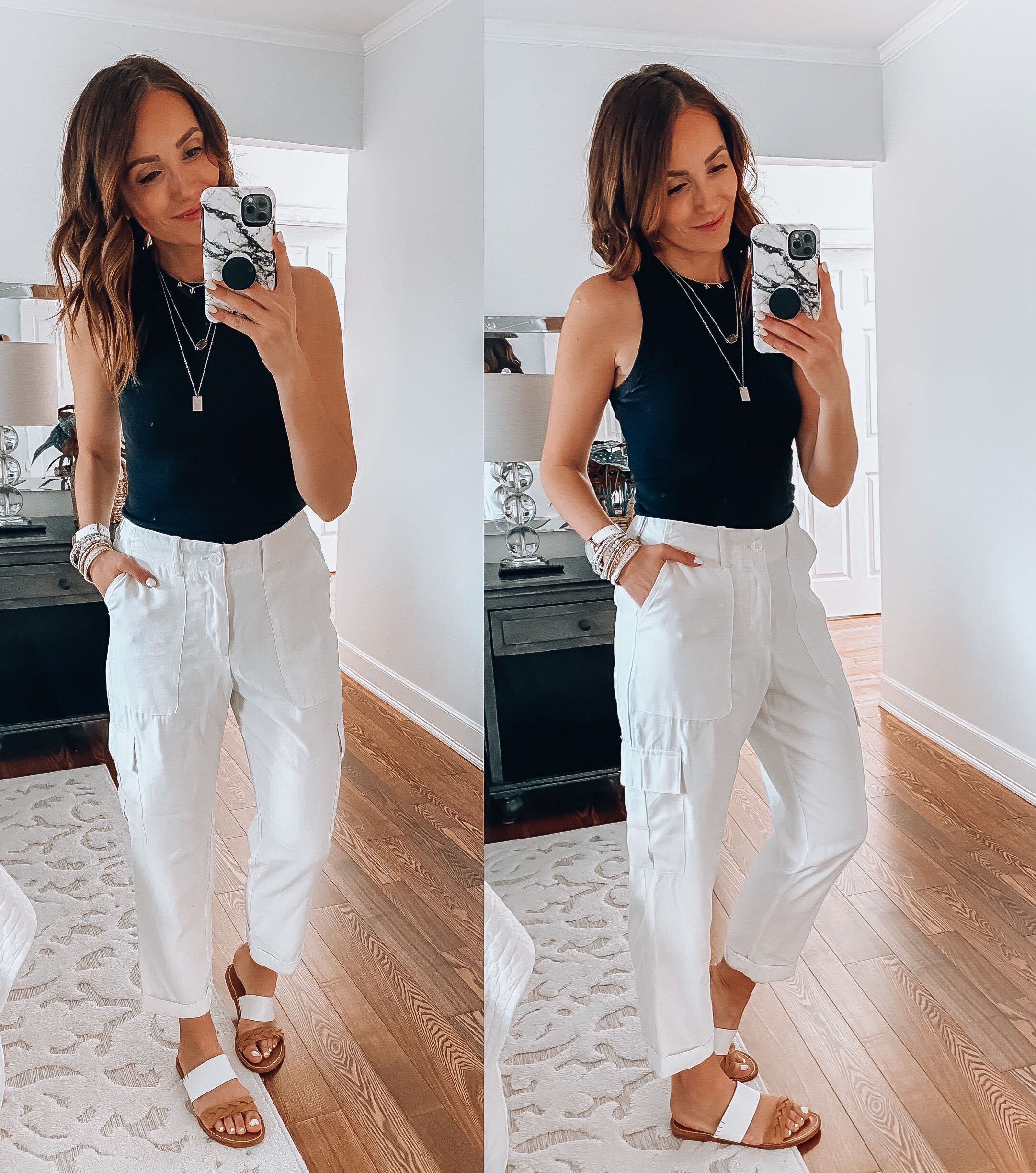 These are the pants in olive green.
You may remember these pants  from last year – I am sucker for wide leg linen pants. They are just so chic' and effortless. These are available in three other color options. I am wearing size small and they fit TTS. Now, keep in mind since these are a linen style pants, so there will be some wrinkles as you wear them through out the day. If that something that bothers you, these might not be the best fabric for you. My gladiator slides can be found here.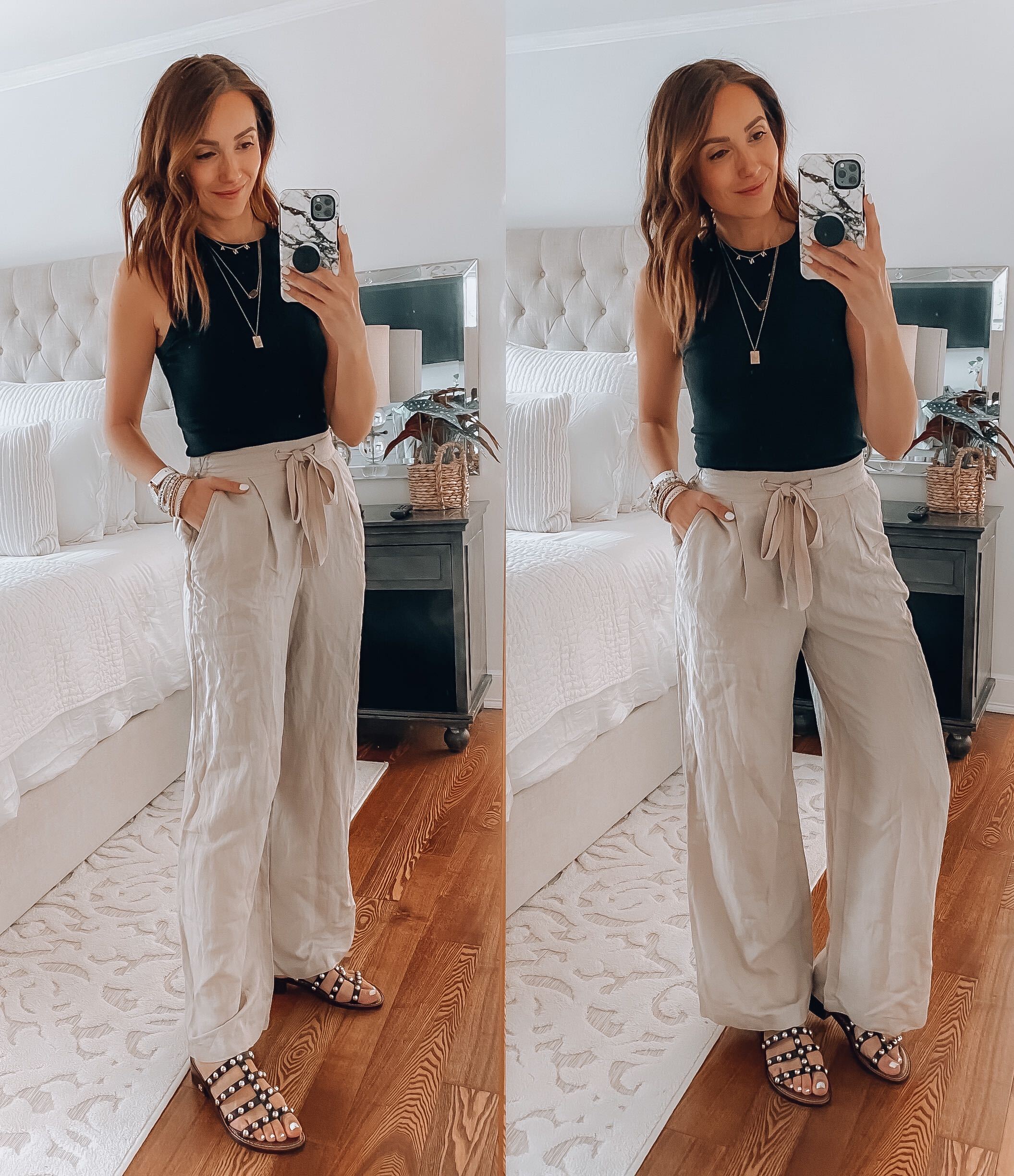 Another way to style these linen pants, is with this linen style tee. I showed it last week and it was one of the most popular items on the blog and instagram as the week went on. It's a great Free People dupe. It fits TTS, I am wearing size extra small and it has a relaxed oversized fit. For a more neutral color palette, I swapped my sandals to these snakeskin slides and added this woven tote and hat. Currently my bag and hat are 50% off with code SUMMER50.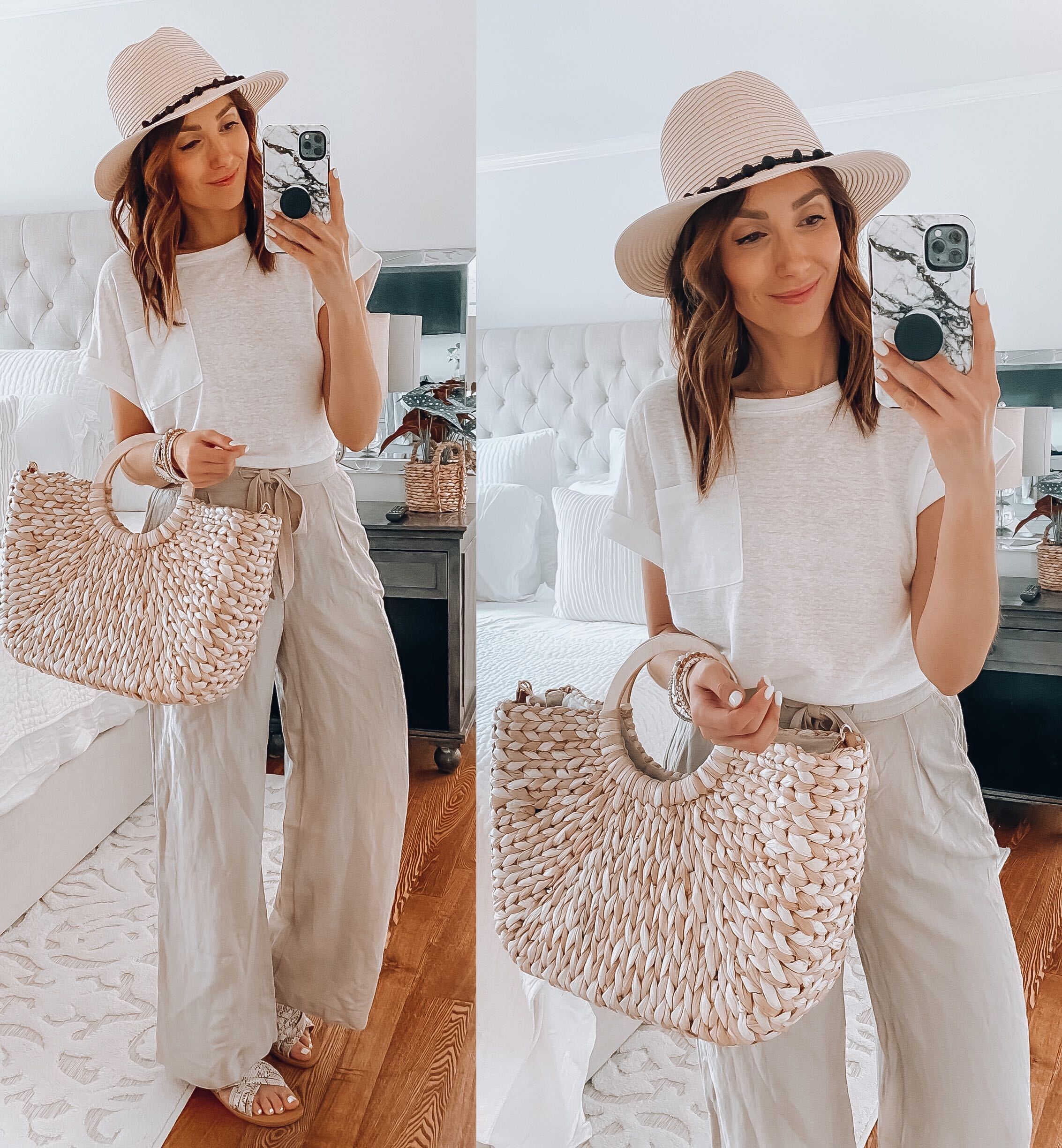 .Target's new arrivals include a bunch of cute transitional pieces. I am wearing size xs in the cami. I love the pleated style, it is not see through.  It's really pretty and I also grabbed it in the mint color. The shorts are so fun! They are high-waisted, paper-bag style and are a beautiful dusty rose color. The length is so good and would be great for the office. My bag and shoes are from Sole Society and on sale 50% off.
The bag is faux leather which makes it very easy to maintain and keep clean. It comes with a removable strap so you can wear it two ways- crossbody or top handle. This weekend it is 50% off with code SUMMER50. Sadly, my shoes have sold out in this color-way, but are available in black and spotted which is very cute. I have had this linen cardigan for years! I own it in 3 different color options. I love that it's light and airy, the linen blend fabric is great for this time of the year. I am wearing xs And it's 40% off.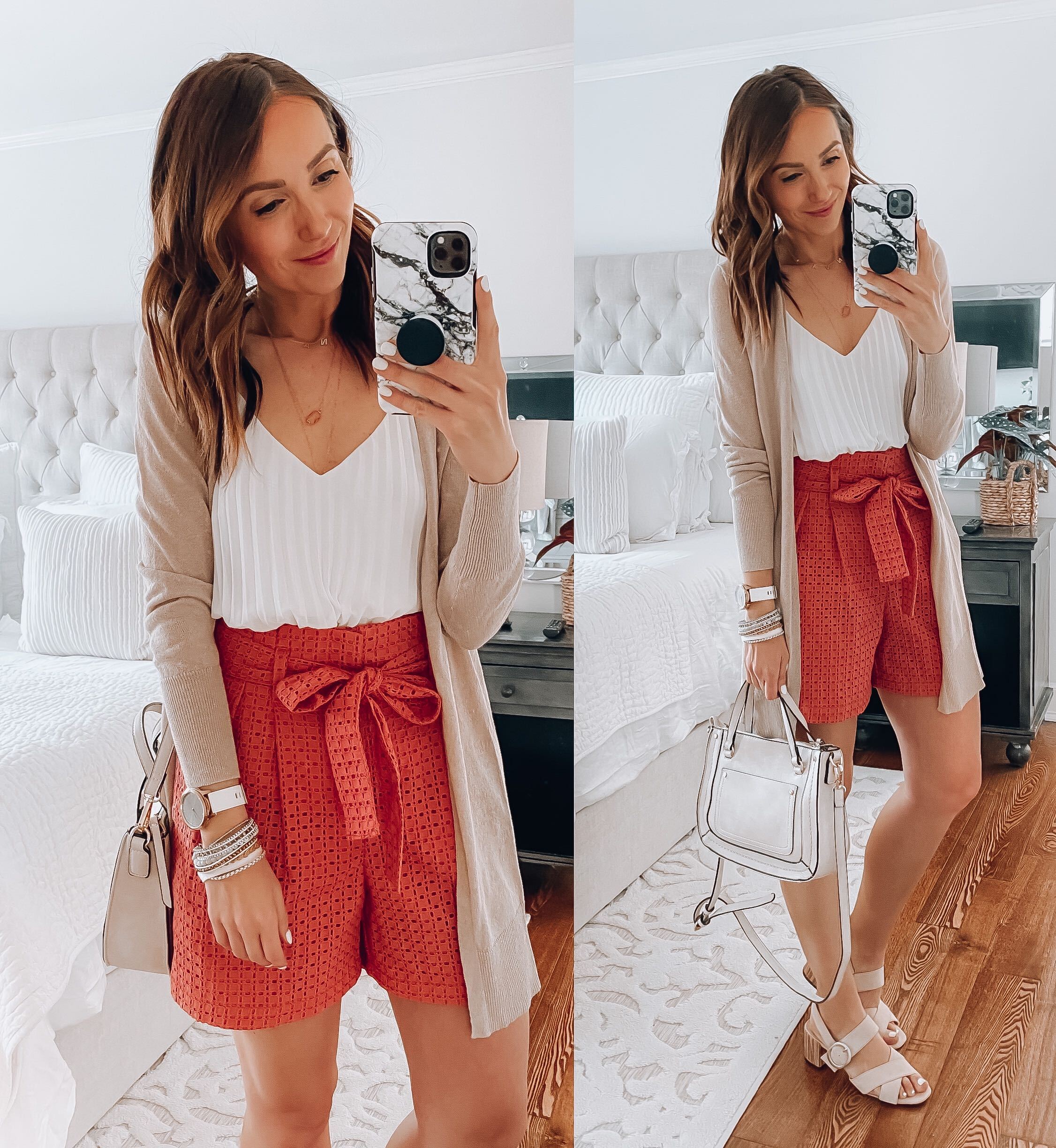 This jumpsuit is one of the new arrivals and it totally reminds me of something from Banana Republic – safari chic'. The fabric is linen blend, has a relaxed fit and I am wearing size xs. It does fit tts. My sandals and bag are both are 50% off with code SUMMER50. I really love this bag. It's faux leather, has statement top handles and it does come with a full body strap and removable zipper pouch .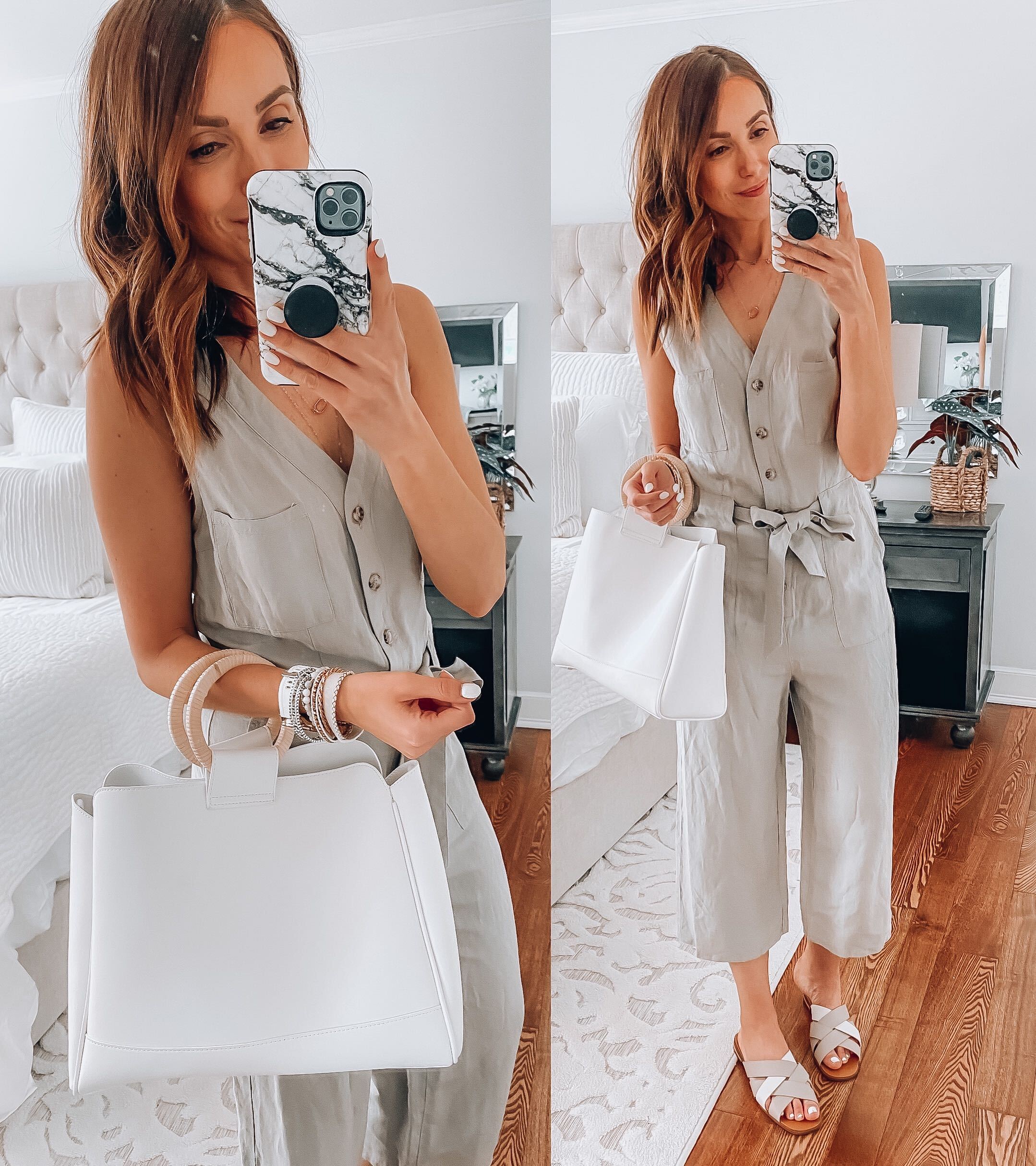 How cute is the print on this midi skirt? I am wearing size xs and it fits tts. It can be dressed up or worn casually, and it's just really cute for the summer. I used to stay clear of midi skirts and dresses, I didn't think they were very flattering on me, as I do have wider hips. Then I realized it's all about how you style them! For me, I found that wearing a cropped top or a fitted tank to counter-balance the bottom silhouette gives my body a little bit more shape. My sandals are Tory Burch, and even though pricey, will last for years to come. The hat sadly just sold out, but you can find a similar one here. And  it's 50% off.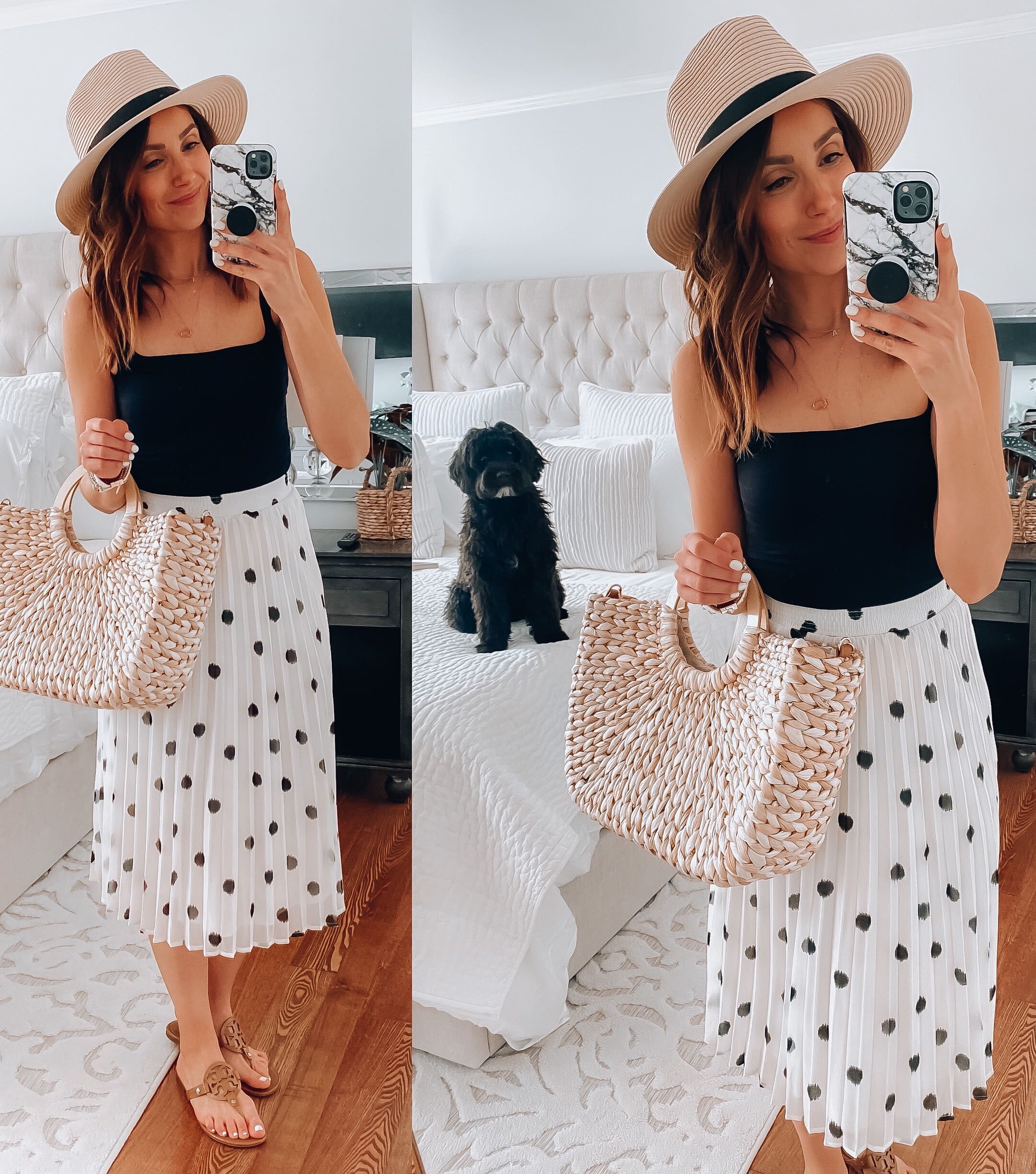 Same skirt and tank, just styled a bit more casually with the denim jacket, belt and sneakers.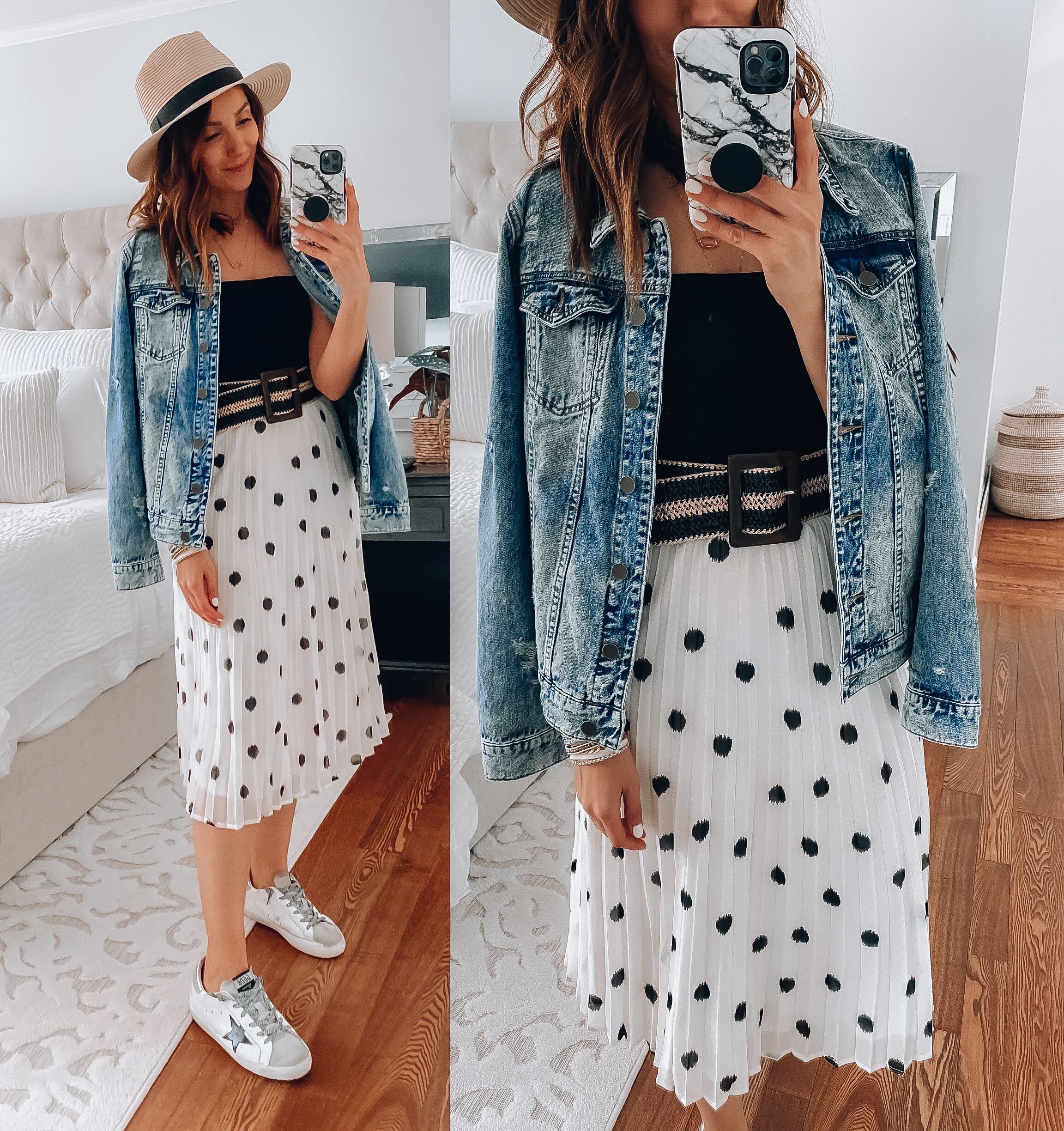 I have always been a cardigan and cami kind of girl – it is just so my style. I love this new cardigan from Target! I am wearing XS and it has relaxed and oversized fit. It's really light which makes it a perfect layering piece for this time of year.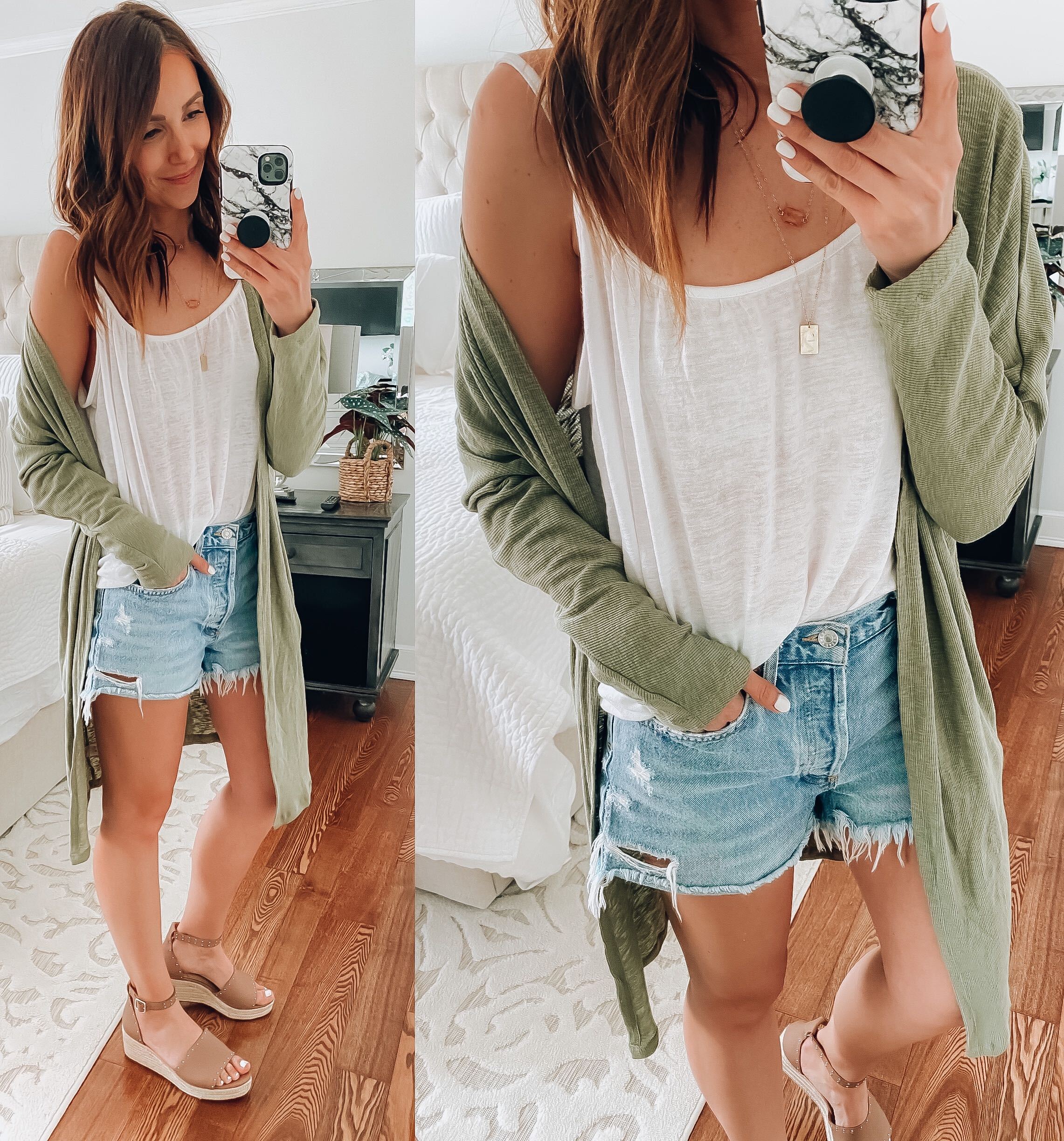 This tank has become my new favorite item. I am wearing size small which I would normally order an XS but this is all that was available at the time. It has since been restocked and all sizes are now available. I love the U- shape neckline and it has adjustable straps. My agolde shorts are a bit of a splurge but they are my favorite pair that I own and I've had them for multiple season. My wedges are so comfortable and 50% off with code SUMMER50.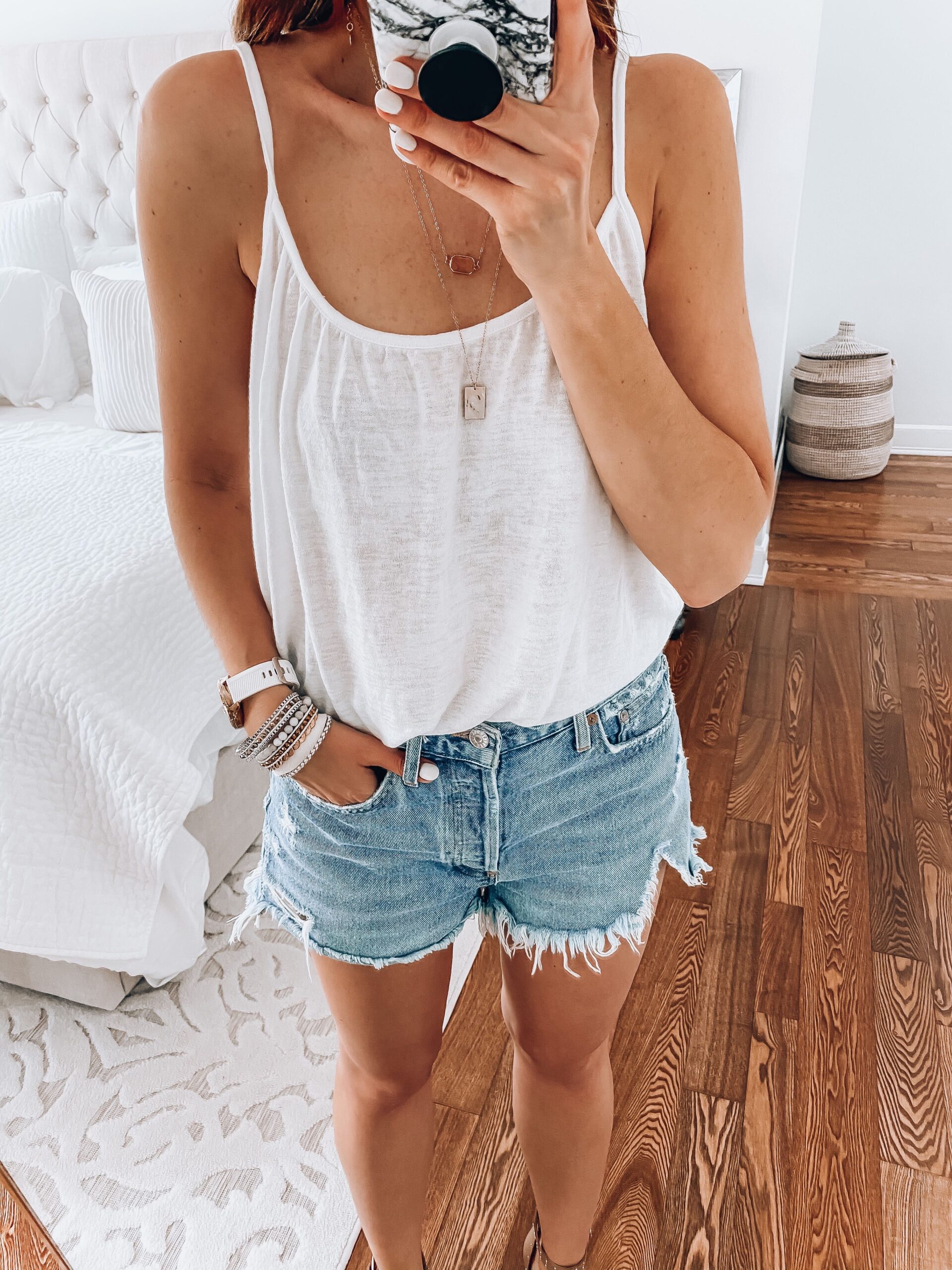 Last but certainly not least, I have shared these shorts before but they are just so good. They are pull on style, really comfortable, have good length and available in all sizes. I paired them with the tank above and a denim jacket,  hat, wedges and bag to finish off this casual yet put together look.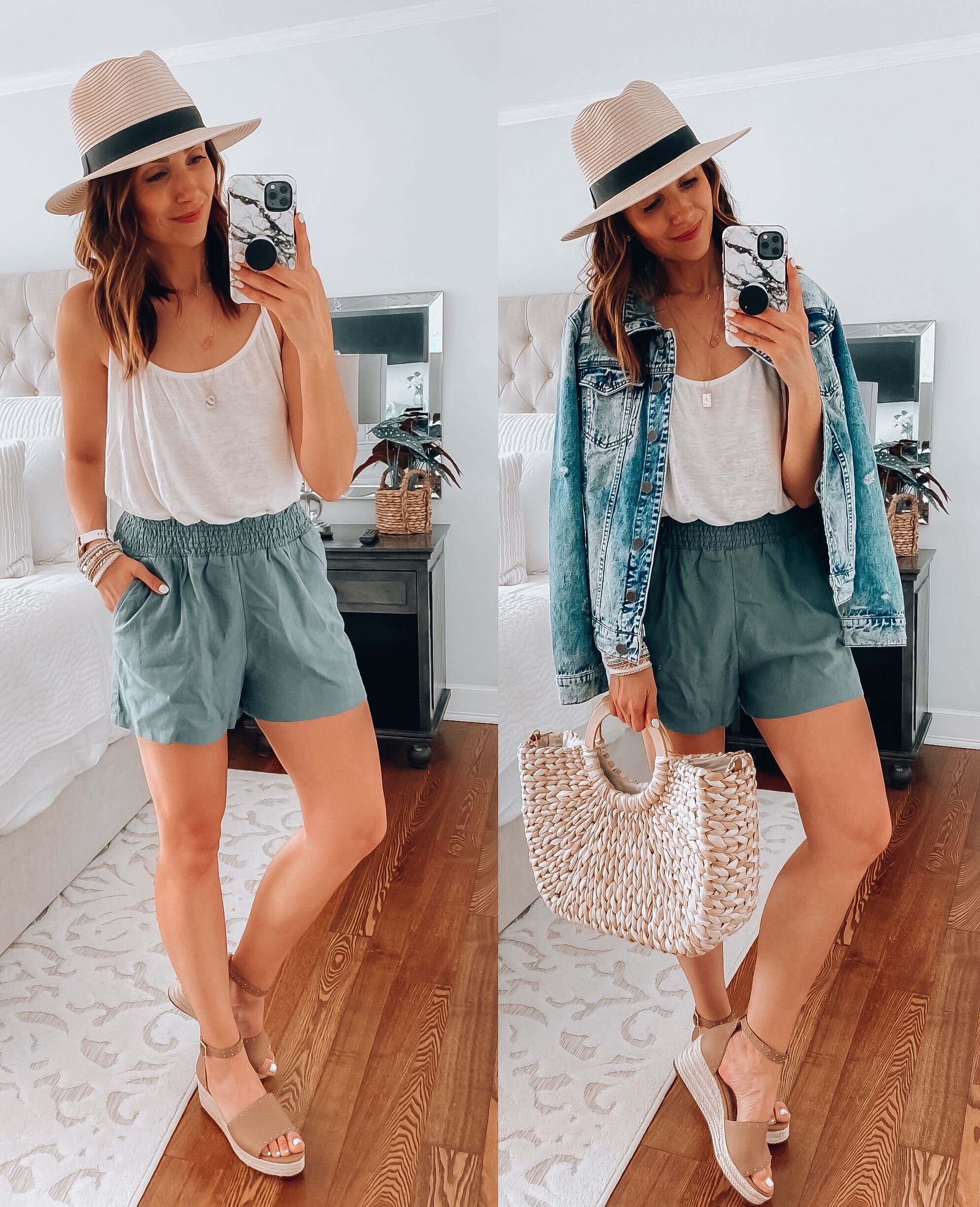 Thank you so much for visiting Blushing Rose Style Blog!