Positive Mindset And Fun Statement Jewelry From Baublebar
Happy Monday girls. I am so excited to be partnering with Baublebar today to share some of my favorite statement jewelry pieces I have been rocking this spring. Baublebar has been my go to destination for all things jewelry for years now. The brand is known for their playful and trendy designs, but you can also find classic and timeless pieces as well. Right after Grant was born, I treated myself to the gorgeous Maya Brenner Asymmetrical Initial Necklace. It is one of my favorite jewelry pieces I own. Also since it's Monday – the most dreaded day of the week- I wanted to share some tips on creating more positive mindset. Being positive is not something that came naturally for me, but if I can do it, so can you!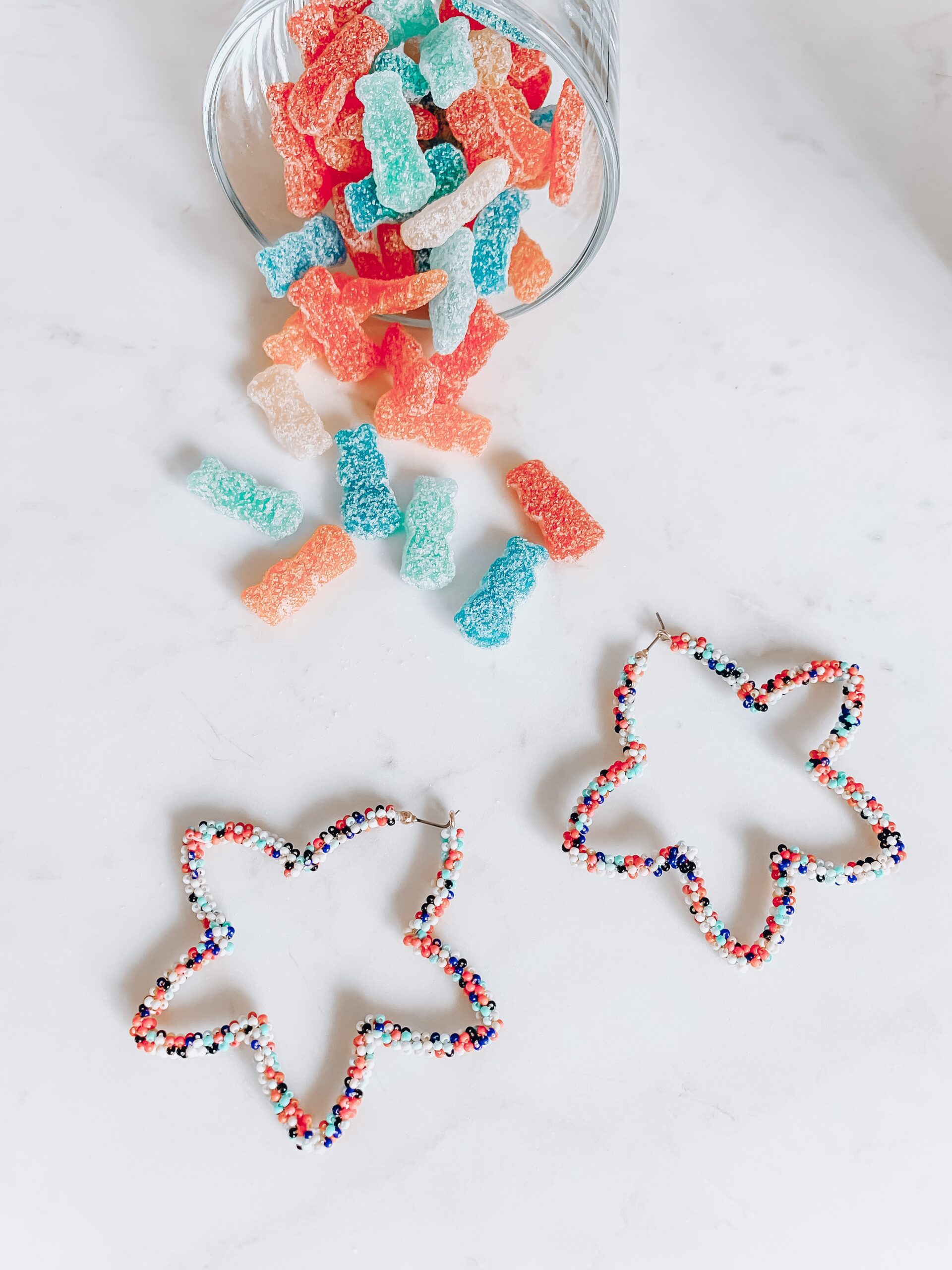 How To Create More Positive Mindset
I never thought, I'd be writing a blog post with tips on how to be more positive haha but here I am. Truth be told, I was never really a positive thinker, I was more of a pessimist, even a complainer. Every morning I would wake up dreading the chores, errands, work and responsibilities. I just went through motions of my daily tasks… saying "ugh" way too often. I was NOT UNHAPPY, so why wasn't I living happy? I came to realize, the problem was my attitude and mindset. And I wanted to change that. Over the last year I have incorporated several tactics that really transformed the way I think and feel. So if you need a little mindset makeover, scroll down do read!

EARRINGS // NECKLACE // RINGS // BRACELETS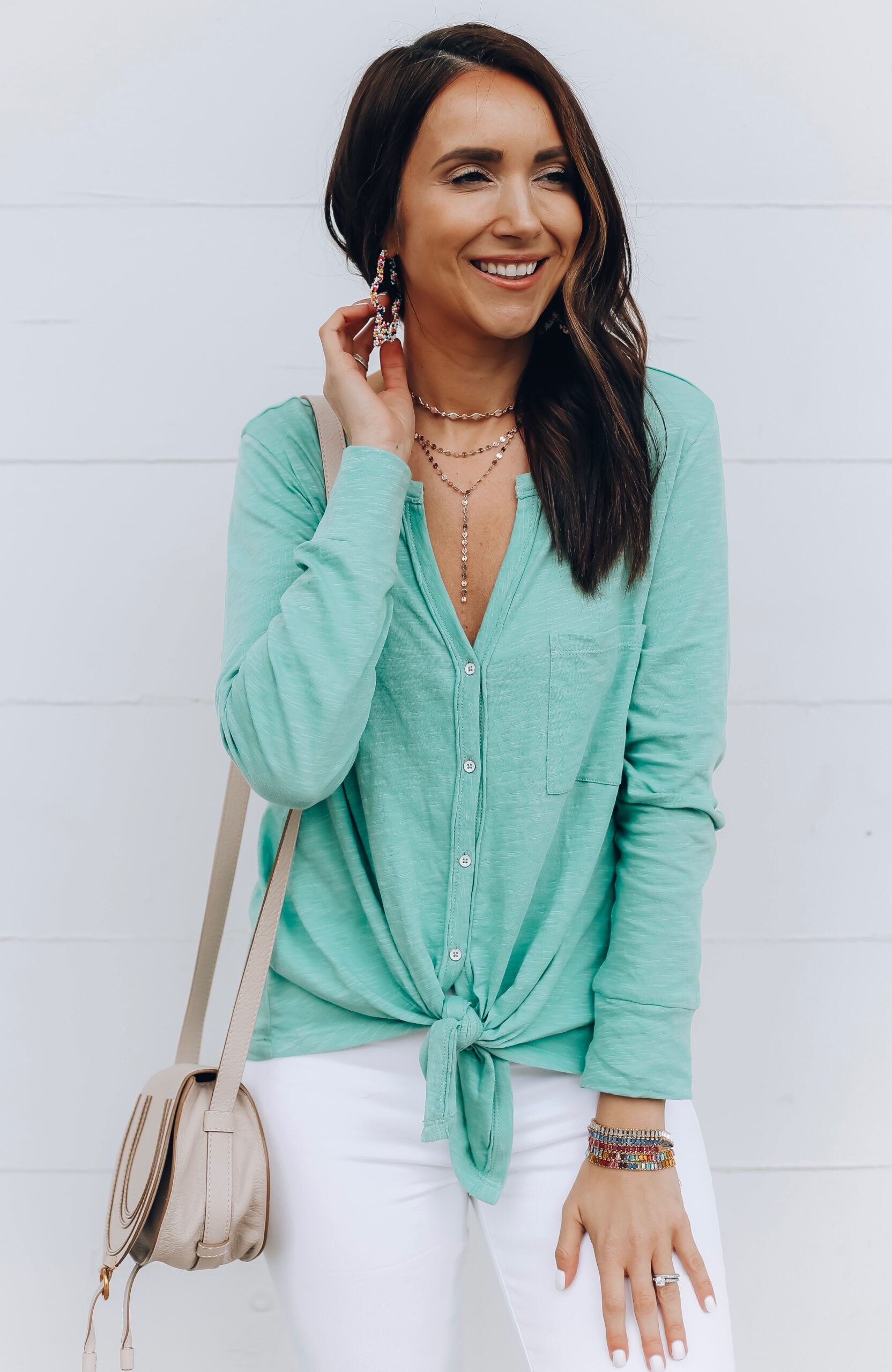 Start the day with something positive
The first thing I used to do right after waking up, was open up my phone and scroll through messages and emails. Not the best way to start your day. As a general rule – don't do things that make you cranky first thing in the morning. These days  I start my day with a book a hot cup of coffee. I find reading positive affirmations sets the tone for the day. I don't feel anxious or stressed!
Focus on the good.
Attitude of gratitude. Often times I have to wake up before 5 am to catch up on work before my kids wakeup for the day. There is just not enough hours in the day to accomplish everything on my to do list. I am not a morning person. But instead of waking up cranky, I now think of it – I get to ( not I have to) wake up early in the morning, because I have a career that allows me to provide for my family. I get to work, and my kids get to enjoy toys, vacations, etc. I grew up in communistic Poland, and we didn't have much growing up. I am beyond grateful for the opportunities I have to provide for my kids. They can enjoy things I didn't have as a child.
Treat Failures as Valuable Lessons
We all make mistakes, the best thing to do is learn from the situation, this way we can avoid it in the future. I remember making a huge mistake at work, it jeopardized my future opportunities, and there were consequences. I was so upset. But I realized I needed that lesson, in order to never make the same mistake again.  Guess what? Dust settled, I recovered and the opportunities are still there. If you make a mistake, learn from it. It will be ok! Don't dwell on what you can't change and focus on moving forward.
Positive Social Circle
Surround yourself with people who want to see you succeed, people who want to see you happy. Looking back at my social life maybe I wasn't always choosing the most positive influencers. They say misery loves company, right?
When encountering new social circles, I often felt rejected. The problem was my attitude. After all we are drawn to people who are cheerful and charismatic and that wasn't me. I wanted to be that person. Self awareness is the key to self-improvement.
Take Care of Yourself
Working out is not at the top of the list of my favorite things to do. But… it makes me feel better. Last fall I made a commitment to myself to move more, squeeze in a few workouts a week. And let me tell you it has done wonders for me mentally. I feel good about myself, and it has translated to other aspects of my life.  Make sure you're making your health a priority!
No Negative Self- Talk
You should be your own biggest fan. If you don't believe in yourself, no one else will.
 Playful & Cheery Designs
Speaking of being happy and cheerful, have you girls seen the new arrivals from Baublebar? Every time I wear the CORALINE DROP EARRINGS I can't help but smile! I am definitely a neutral lover (scroll down to see my favorite neutral earrings), but I started introducing more color into my outfits, and the best way to do that, is with some fun accessories.
Other fun designs I am currently loving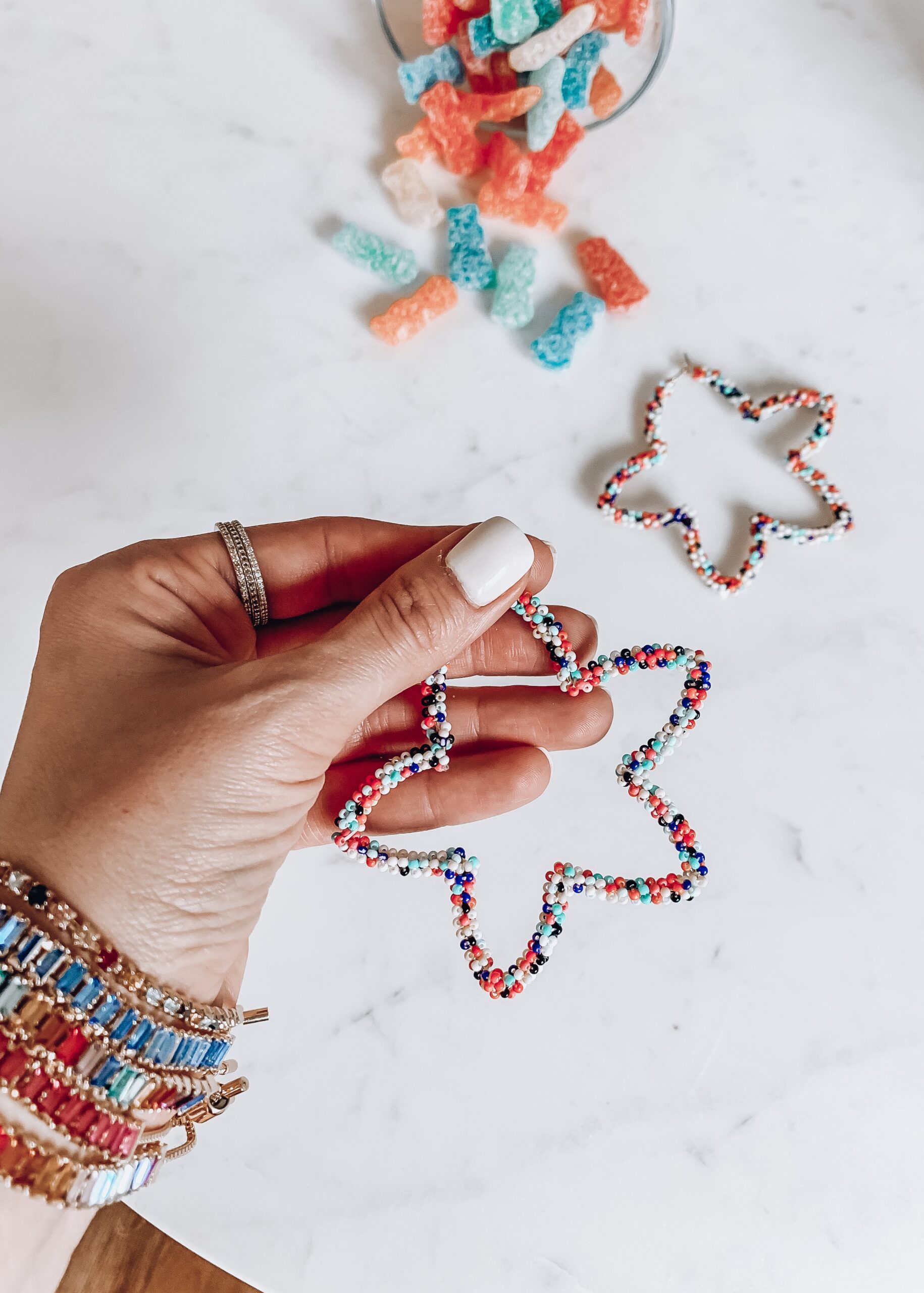 My Jewelry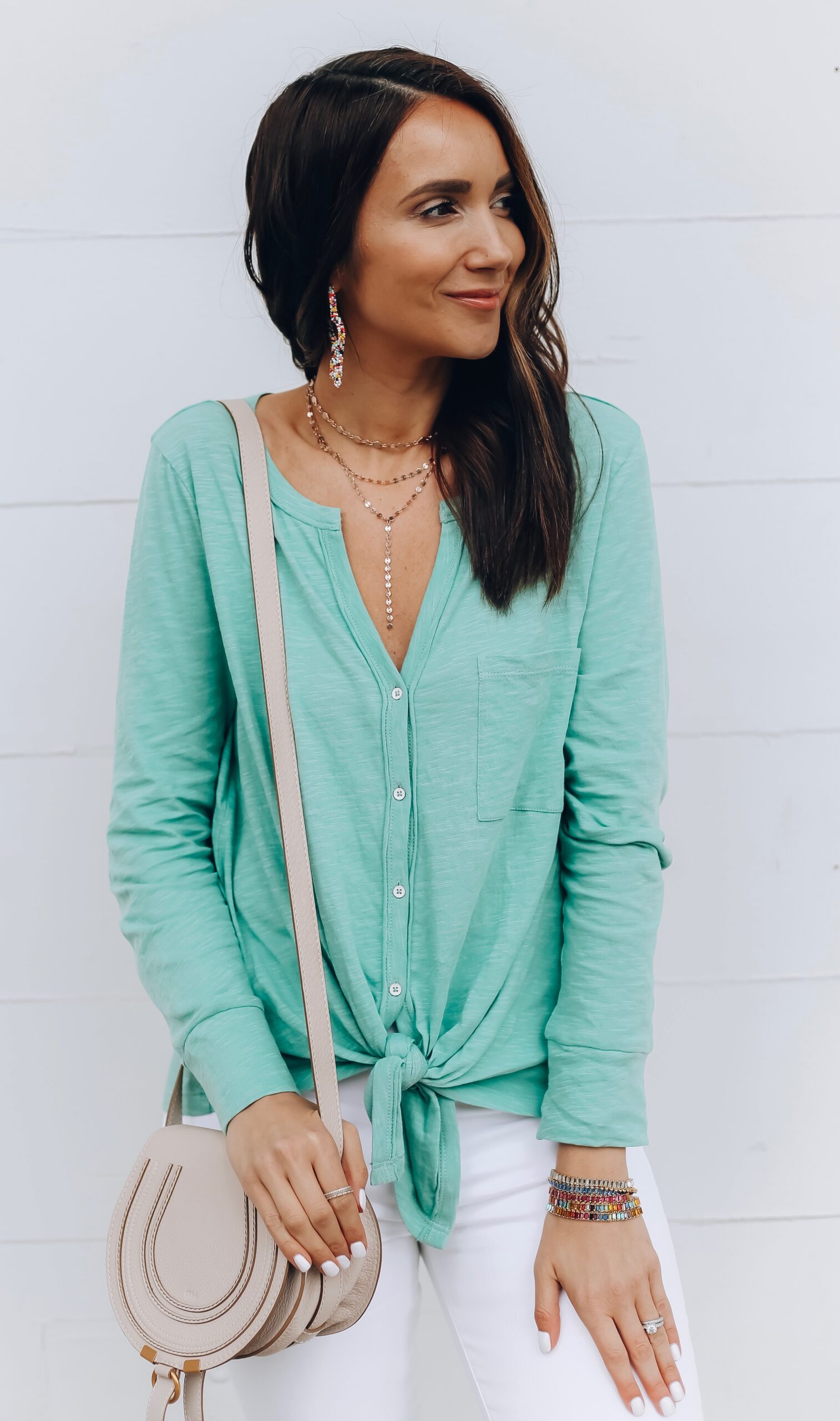 Statement Earrings for the Neutral Lovers
 Kiera Raffia Statement Earrings
I have been wearing the Kiera Raffia earrings a lot. I love how light-weight they are, so comfy to wear. And I just realized they're available in 7 different colorways. Make sure to check out the gorgeous multi-blue and the black-white ones! To die for!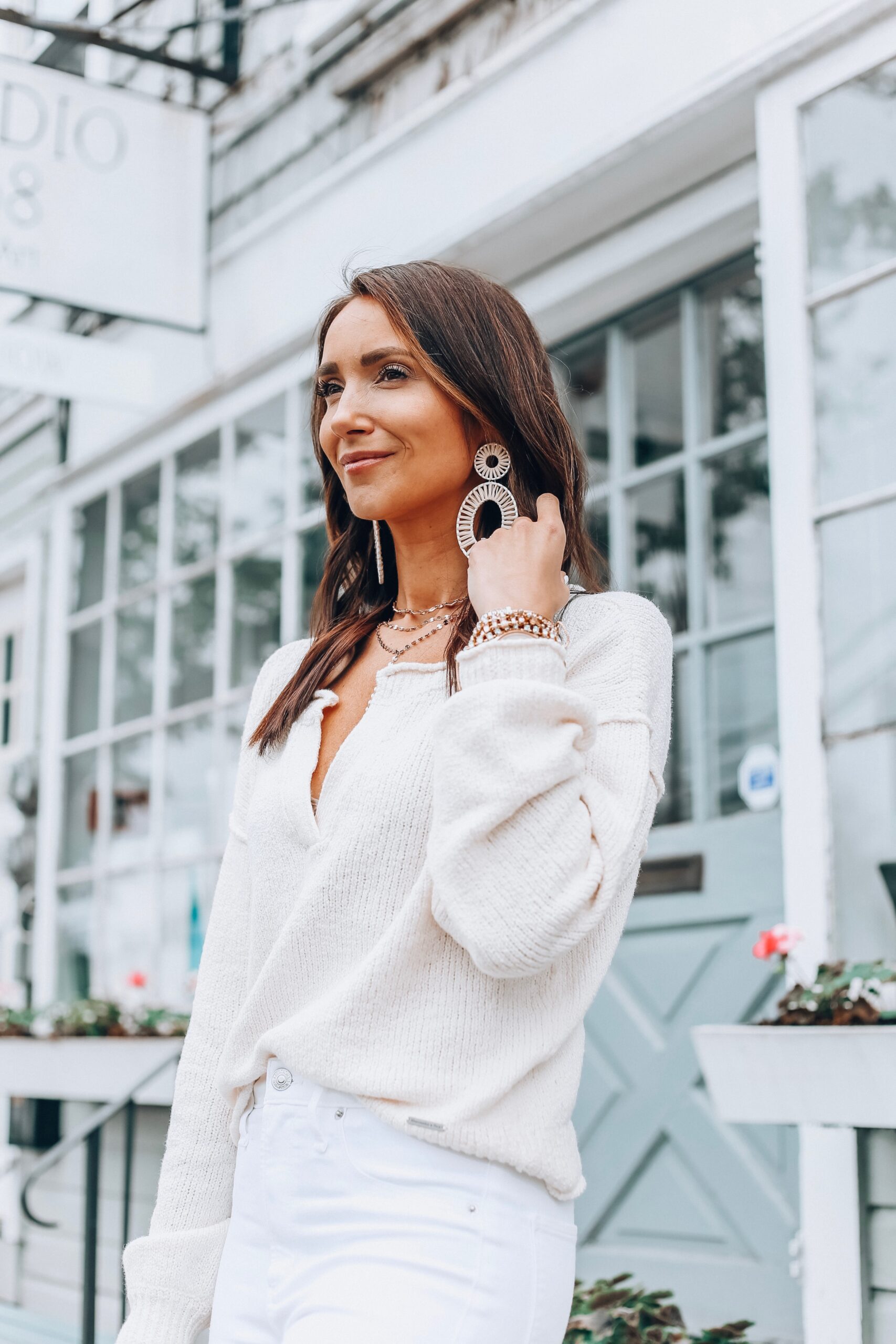 Baublebar Statement Earrings – Also Seen Here

Shop My Other Baublebar Favorites
Statement Earrings

Bracelets

Rings

Necklaces

So many beautiful baubles on sale

Thank you so much for visiting BlushingRoseStyle and very special thank you to Baublebar and RewardStyle for sponsoring this post. As always all views and opinions are mine.
XX,
Anna