Nordstrom Anniversary Sale 2018 – Everything You Need To Know
I can't believe the Nordstrom Anniversary sale starts next week. If you have been following me for a while, you know I will be covering the sale in full detail and updating the best (back in stock, new items) picks daily (make sure you sign up for the newsletter). You may have heard other bloggers refer to this sale as event of the year. This sale is unlike any other sale. I am so excited for the #NSALE and seriously cannot wait to share with you all my fabulous picks, items you can save on and splurge worthy goodies on sale!
When I said that the Nordstrom Anniversary sale is unlike any other sale, I really meant it. When you see the sign "SALE" you're probably thinking current merchandise is marked down to make room for new arrivals. Well, during the Nordstrom Anniversary Sale, Nordstrom partners with designers and brands to bring brand new fall and winter collections at huge discount! The deals are SO GOOD! The new styles are exclusive to Nordstrom customers for limited time only. You pretty much get your first pick at new goodies for the upcoming season. Be aware though, everything sells out super fast. When the sale is over, all prices go back to regular price.
When Is the Nordstrom Anniversary Sale 2018?
July 12-19 all card members get to shop EARLY ACCESS in stores and online
July 20- August 5th Nordstrom Anniversary Sale 2018 opens to the public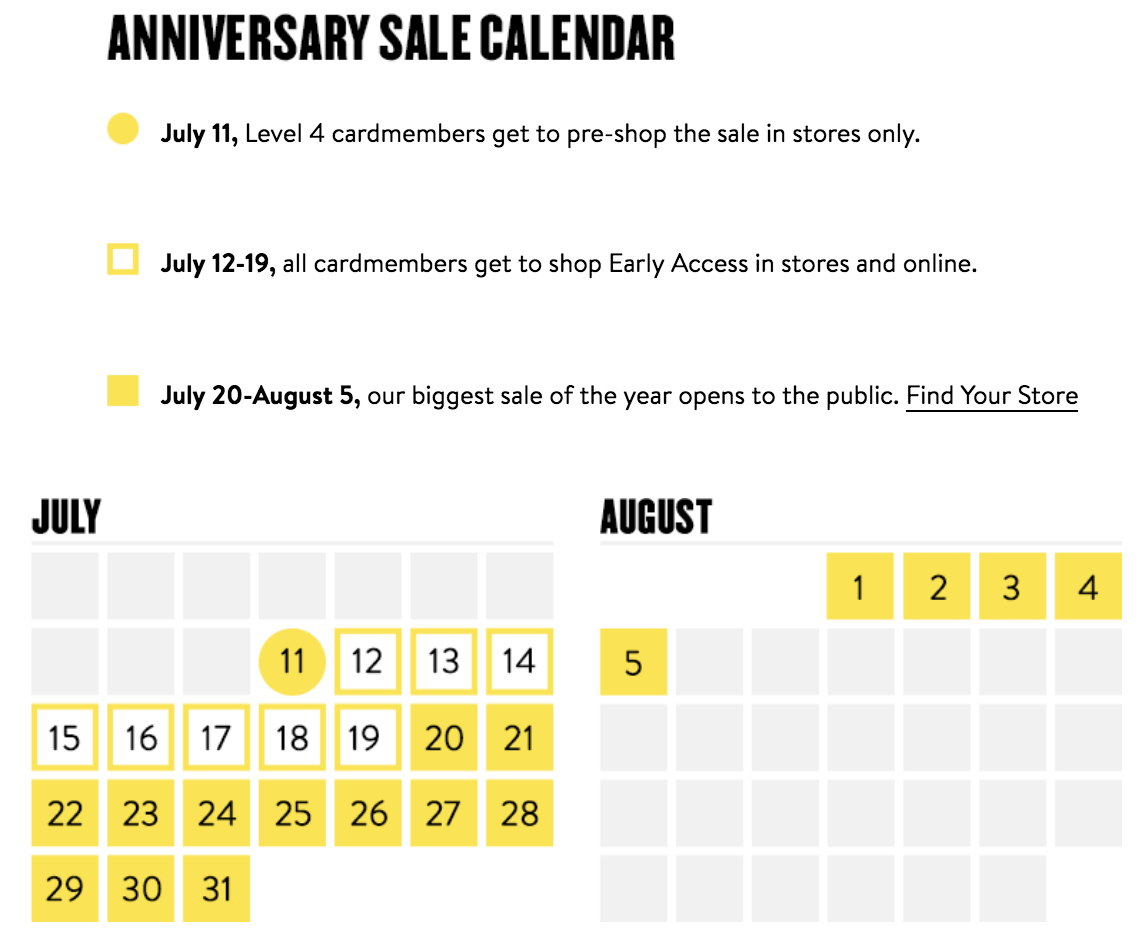 Nordstrom Anniversary Sale 2018 – How to get early access?
When I said that things sell out fast, believe me I meant it. To get early access to shop the 2018 Nordstrom Anniversary Sale, you will need a Nordstrom credit card. I just want to say here, that John and I are very anti credit card. We literally use only one to collect hotel points. But last year I did apply for a Nordi card, because I wanted to be able to shop the sale. There are a ton of benefits to use the card, but this is totally up to you to review the perks and benefits. I get free "notes" aka money off your purchase all the time.
The immediate perk is that you get to shop the sale before it opens to public, so you can get all the goodies, before they sell out. Some other perks include: 2 points for every dollar spent. And you get $40 bonus note when you make your first purchase. My tip: do your research girl 🙂 what works for some, may not work for others.
You can apply for Nordstrom credit card HERE.
Nordstrom Anniversary Sale 2018 – How to Shop the Sale?
You can shop the sale in the store or online here with me. During the Nordstrom Anniversary sale, I prefer to shop online. First of all the stores have limited merchandise (there are just more color and size options online). My local Nordstrom is extremely busy (think Black Friday crowds), and everything sells out so fast, chances are my sizes will be gone before I get there.
I plan on attending few preview events, and I will have all my favorite picks ready for you first thing Thursday morning when the sale starts. I'll have dressing room pics ready. Also I will be updating my blog daily, so make sure to keep checking back.
TIPS FOR SHOPPING:
Shop ASAP. In my experience, most popular items will be gone within a day or two
Shop FAST. If you are eyeing something (sorry I will be your bad influence here) , click and buy right away. Trust me, it will sell out and you will regret it later on. Plus Nordstrom offers free shipping and returns, so you are not risking anything. If you change your mind, something doesn't fit, you can always return it. I do that frequently, or if I am not sure about the size, I will buy something in Small and Medium, and then determine best fit at the comfort of my home.
Shop your LIST. Make a list of things you will need whether for you, your home, hubby or kiddos. There will be so much merchandise available and on sale ( beauty, shoes, home , etc.) . You may get too overwhelmed (I know I do that) and spend money on goodies you were not planing on buying. You do not want to miss out on what you came here for:)
Nordstrom Anniversary Sale 2018 – What I will be shopping for
Here is what I typically shop for during this time (BTW the sneak peek catalog is available for you to view HERE) Cardigans and camis (if you have been following me for a while, I am sure you're not shocked haha), jeans, booties and tall boots, leggings and sneakers. I will typically pick up a new handbag, some beauty tools, restock on my favorite makeup (yes- many beauty deals will be happening). I am pretty much shopping for items I will need this fall and winter, just gonna grab it at discount, so I don't have to pay the full price.
Favorites – Best Sellers from the 2017 Sale