Fall Wardrobe Update.
Here is the recap of my weekend: I was forced by my husband to clean my closet…ugh… He said he could not look at, what he described as "hot mess" anymore (highly exaggerated haha). It might have been a painful experience, but I have to say I am grateful to have a neat closet space.  I have purged over a dozen bags of clothing (all being donated). This process really helped me realize what I own, and items I will "need" to enter my favorite season of all the Fall. Since I just went through this process of updating my wardrobe, many of you maybe going through this as well. So I have partnered with Nordstrom to share few tips and tricks on how to easily (and reasonably) execute fall wardrobe update.
 I was thrilled to partnered with Nordstrom, because it happens to be my number one shopping destination. Why you may ask? Well, I have said it before and I'll say it again: the best customer service hands down. Whether you shop online or in the store, you will not be disappointed. Amazing return policy, super friendly staff and amazing selection (at ALL price points) of women, men and children fashion. THE END haha

Fall Wardrobe Update – Invest in few quality Pieces
If you have followed me for a while you know I have a thing for cardigans. I may choose a $20 camisole or a $15 t-shirt , however I do not mind investing more in a quality cardigan.  I will wear it several times a week whether it's for running errands in athleisure, chilling on the couch with my kiddos in sweats, or dress it up for date nights.
I bought THIS cardigan last year and wore it all the time. If you scroll through my instagram feed, you will see me style it so many different ways. This year I decided to grab another chunky Free People cardigan … because clearly I will get a lot of use out of it. I love how oversized it is. PURE COMFORT. I also love this ONE (super affordable).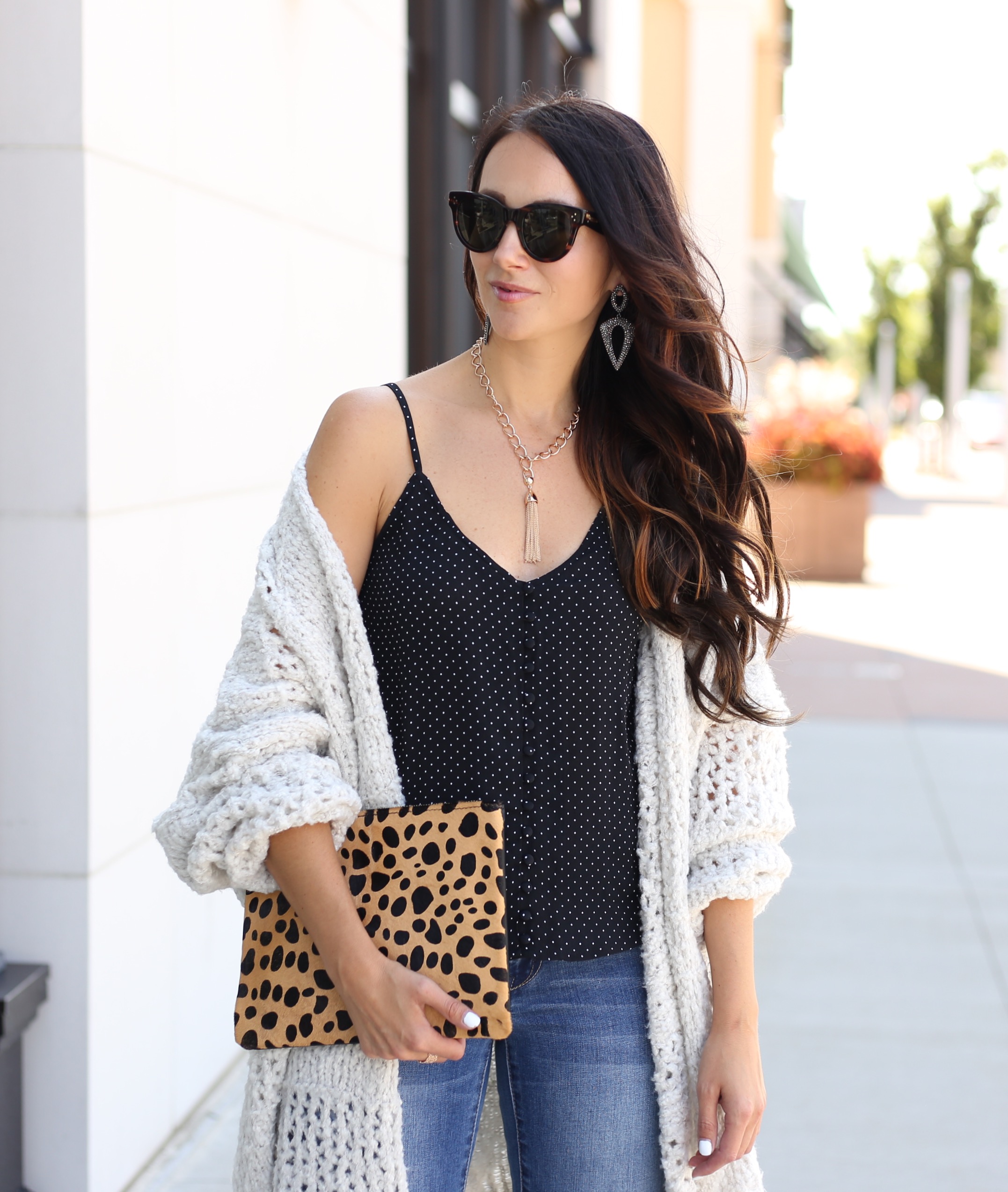 Another investment piece I'd highly recommend is a suede moto jacket. It honestly took me a while to get this one. I have watched blogger after blogger flaunt this jacket during last year's Nordstrom Anniversary Sale… and I finally decided to get it 4 months later for the holidays. I honestly wore it more than I thought. I get compliments on it every time I wear it. It looks great with tees, sweaters or camis. There is also an updated version of the jacket HERE and it's a beauty!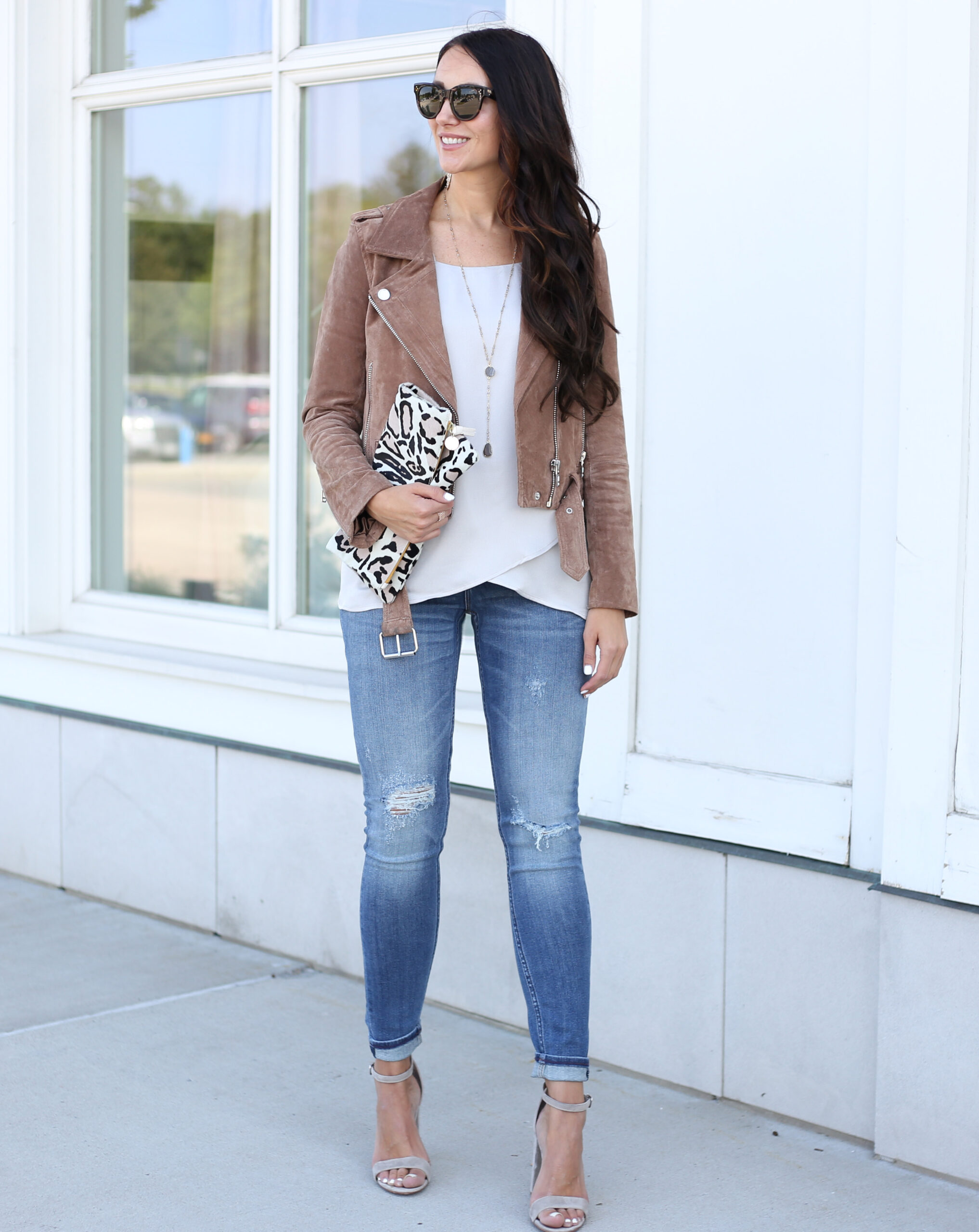 Fall Wardrobe Update – Stay Clear of Trends
When updating your wardrobe stay clear of trends, they come and go. Traditional pieces will stay in your wardrobe for years to come. Classic options like neutral tone cardigans, classic handbags are my favorite.

Love this linen blend cardigan for this time of the year. It is lightweight, and the length is just perfect for skinny jeans or leggings. Or to cover the extra junk in my trunk I've been carrying around. That whole  "rose all day"  mantra got me on the wrong side of the scale (more on that later… working on my fitness journey post aka body work in progress).
This white cami is only $19. It is perfect for layering under sheer tops, pullovers when the temperatures drop. But I like to wear it with a cardigan and dress it up with a tassel necklace.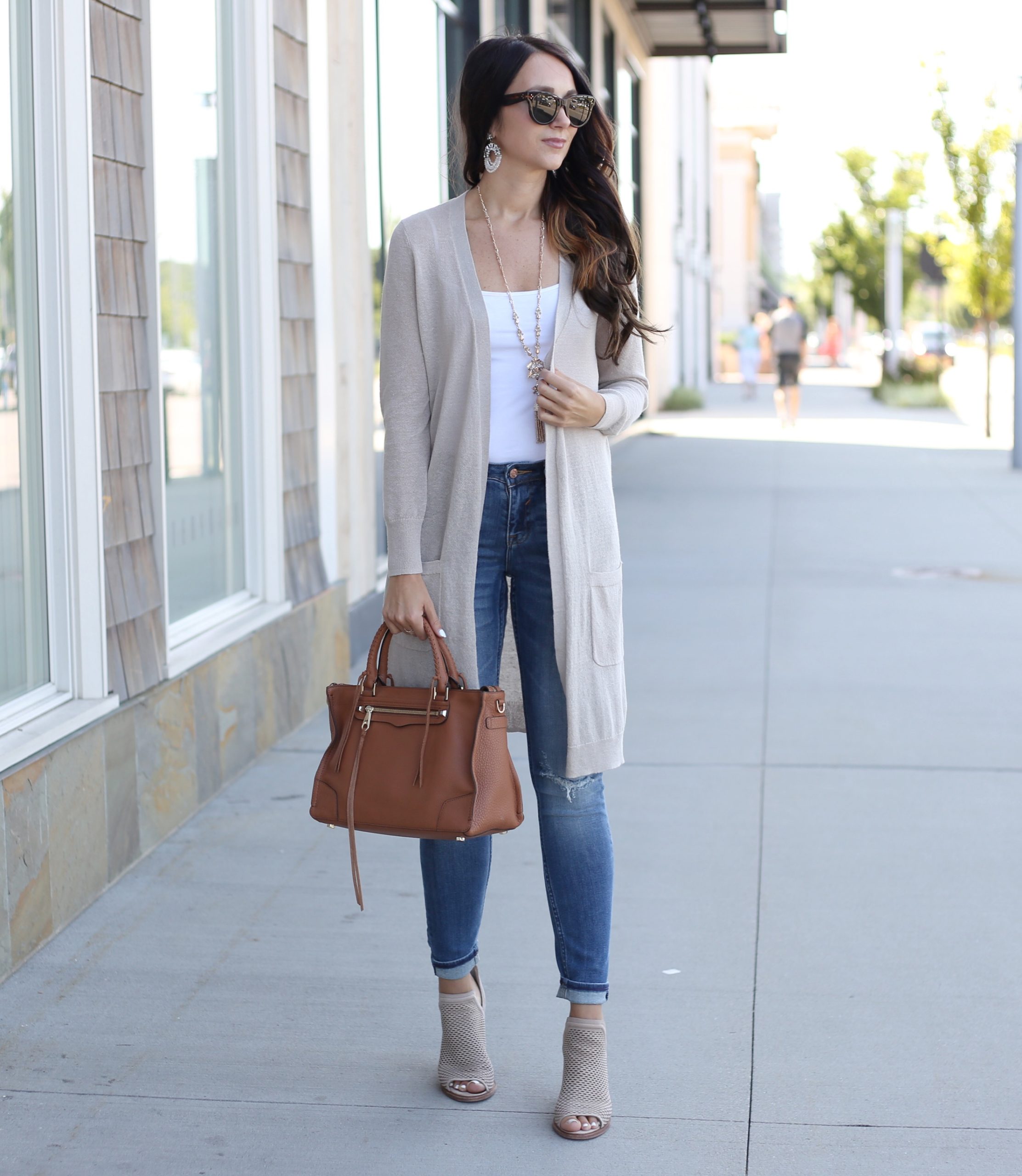 I tend to buy a lot of affordable, yet super cute camis to update my wardrobe. This silky camisole is only $35 (I also own it in blush). Great quality,beautiful silhouette.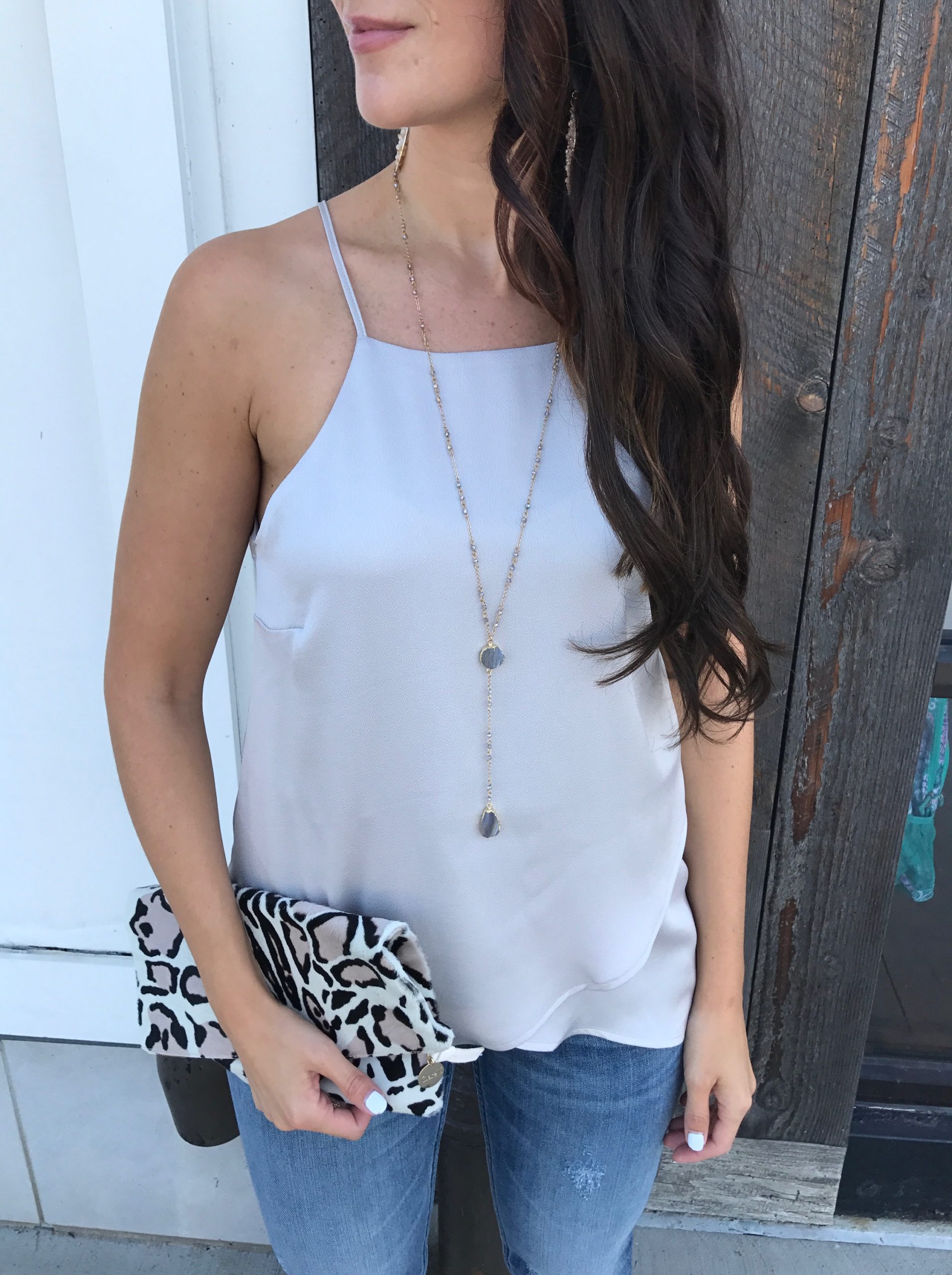 I also got this polka dot cami. I figured black never goes out of style, and the front button details are adorable. I know this brand usually runs large in tops, but this particular cami runs true to size. Earrings and necklace are super affordable and easy way to dress up any outfit.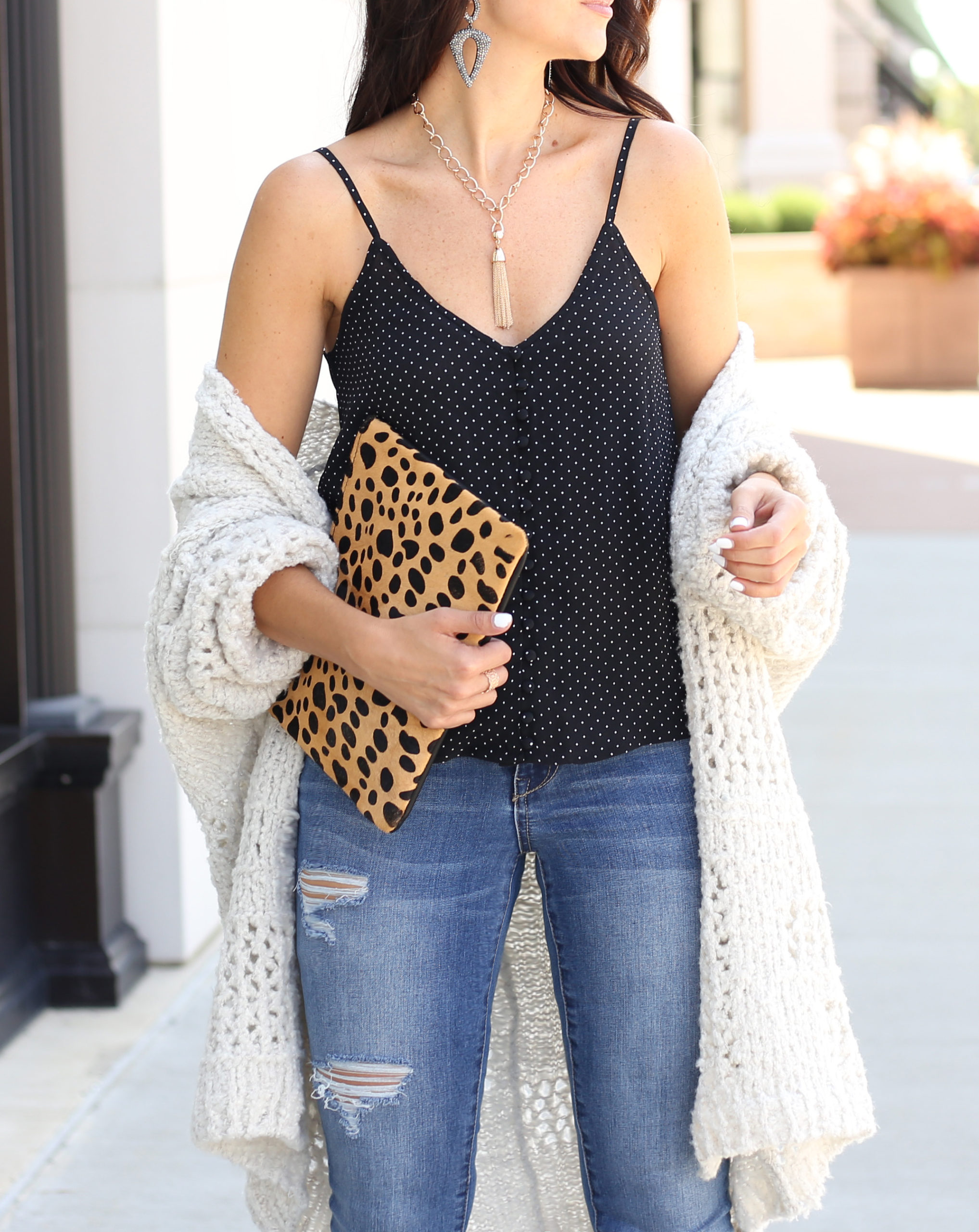 Fall Wardrobe Update – Work with what you have!
Chances are you are like me and already own some great staples like denim, boots or sweaters. And maybe you just need to freshen up your wardrobe with some cute accessories like jewelry, scarves or a new handbag.
This traditional leopard clutch is so affordable at $45. It is so sturdy and has interior pockets which is a win in my book!
This Rebecca Minkoff Regan satchel is such a classic handbag. I absolutely love the quality and this particular color is perfect for fall. Also how darling are these statement earrings?!! And this tassel necklace is still available in 2 color options.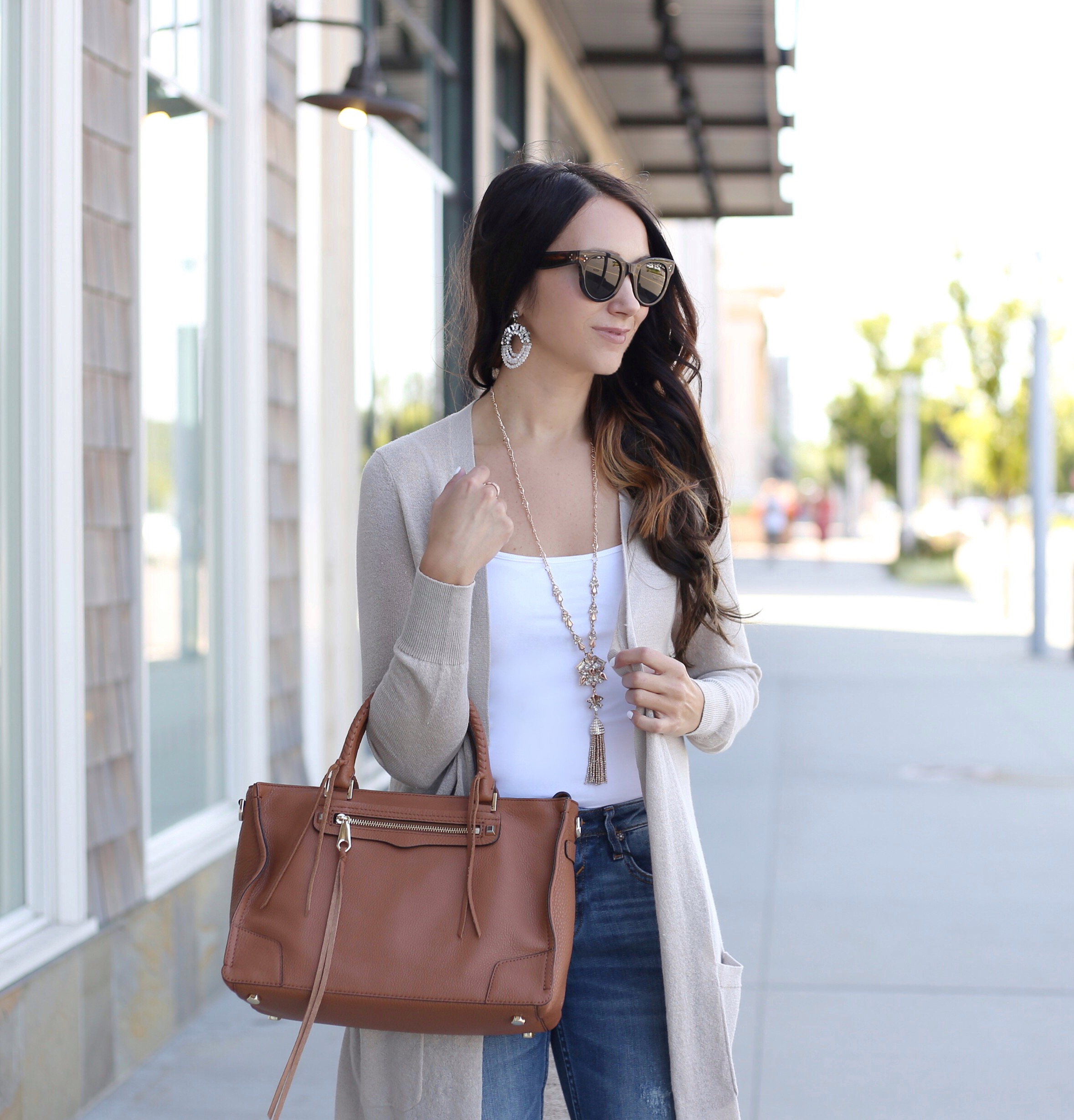 So what do you think? Are you ready to update your fall wardrobe?
Thank you for reading! And very special thank you to Nordstrom for sponsoring this post.
XO,
Anna
*This post contains affiliated links, which means I can earn a small commission if you make any purchases using my links.
Thank you for supporting Blushing Rose Style blog.*