How often do you get your hair done? What type of extensions do you have? How did you choose the right extensions?
As much as I hate to admit it, I have a crazy amount of grey hair. Sadly, I need to get my hair colored every 4-6 weeks to avoid looking like a grandma.
I have extensions by HAIRDREAMS, which are bond type extensions. The bonds are flat, and have some flexibility to them, so they are very comfortable. You can read more about my extensions in THIS post (also see pics of how they are applied).
I chose Hairdreams extensions because the quality of the hair is outstanding (read more about how it and how it compares to others HERE). The hair itself is so soft and shiny, and quite frankly better than my own hair! The bonds grow out with your natural hair (so they don't need to be "moved up"). And most importantly there is no damage to my natural hair.
How long have you been wearing your extensions?
I got them for the first time last September. The extensions typically last 4-6 months. I had them removed in January. And got another set installed in March. With my first set I went with both length and volume. With the second set I just added volume. To be honest with you I definitely miss having really long hair. Length and volume is the way to go for me, but what's great about Hairdreams extensions is that they can be customized to your needs and lifestyle.
If you follow me on social media, you may have seen that several months ago I have partnered with Hairdreams to give one of my followers an opportunity to get the hair of their dreams. I am so honored that Brooke allowed me share her "before and after " pics. As you can see the extensions will look amazing on all hair types!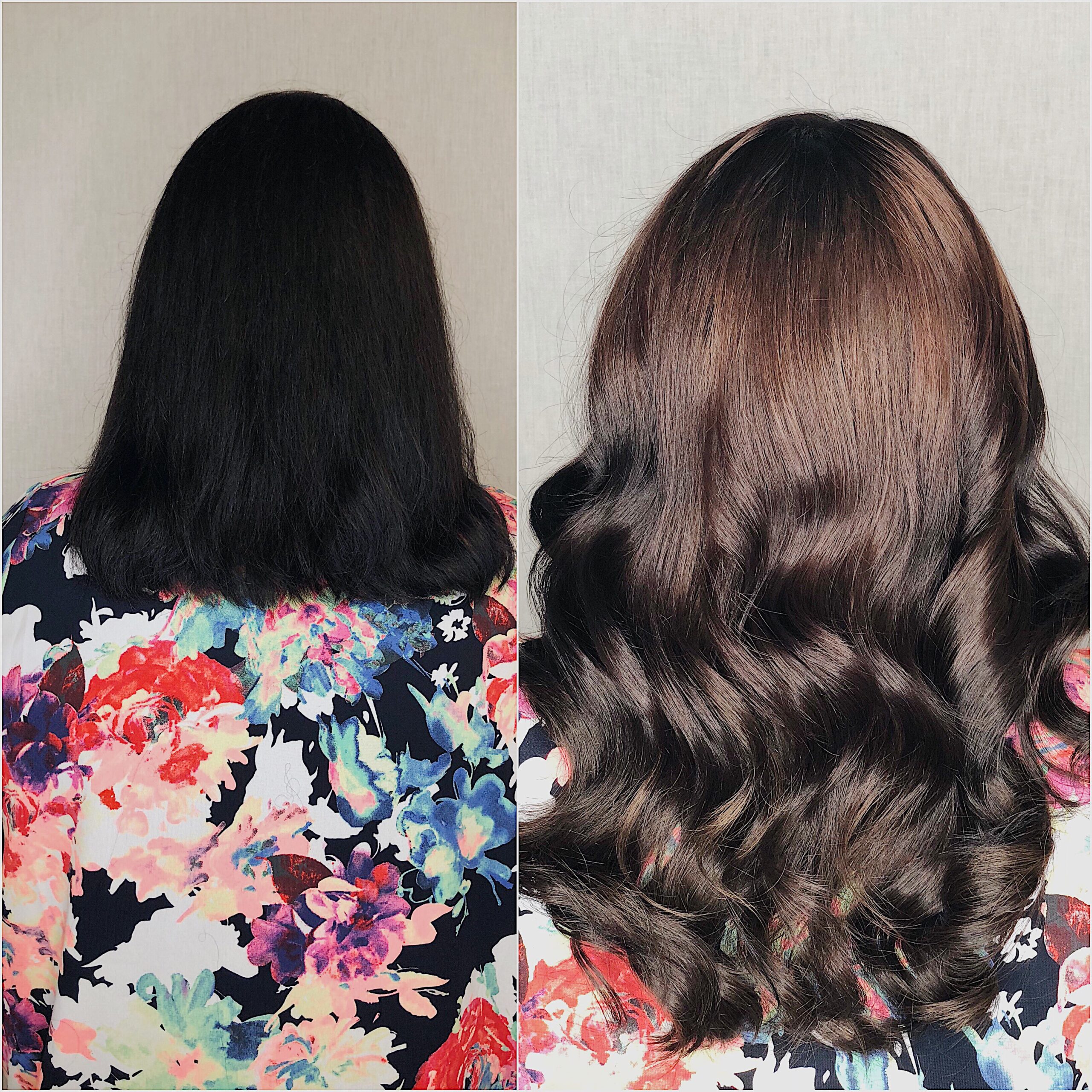 Are they worth the investment? How much does it cost? And how do I find the right salon?
Extensions are definitely an investment. If you have naturally thick hair that grows fast and long, you may not need to invest in extensions. I just feel like my hair only gets so long… and then stops growing. Also after having babies and experiencing some hair loss, I needed to add volume.
What I love about Hairdreams extensions is not only the amazing quality of the hair, but also the fact that they are pretty low maintenance and do not have to be moved up. And if the hair is in good shape, it can be re-applied. For pricing and salon locator, you can visit the HAIRDREAMS website. It is pretty much impossible for me to give you a ballpark of a price. It all depends on the type of extensions you get, hair (length, volume), but most salons offer free consultations, so I would suggest taking advantage of that.
Will the hair extensions damage my natural hair?
I have heard of horror stories associated with hair extensions causing damage. I can't stress enough how important it is to choose not only the right hair extensions, but also the right ( highly trained) stylist. I can only speak on my personal experience with Hairdreams extensions. I am on my second set and I have not seen any damage to my hair. My stylist assured me my hair is in great shape. It was one of the biggest selling points for me when choosing Hairdreams extensions: highly trained stylists and gentle on my hair. True story: I think I spent at least 30 minutes questioning my stylists on application, bonds safety and after care ( thanks so much Erin & Kimmie… I am sure they thought I was a psycho).
Favorite Hair Products?

At this moment I am not really committed to any shampoo or conditioner. I just use whatever we have at home. Right now my hubby is hooked on the Drybar Clarifying Charcoal Shampoo & Conditioner, so we share it haha ( and I am happy with the way it makes my hair feel).
I have been getting a ton of compliments on how shiny my hair is. And I swear by the Hairdreams PH & Shine spray. Other products I use (and I have been using these for years, way before I started blogging).
Bumble & Bumble Thickening Spray – I use it on damp hair right before styling. I feel like it adds not only volume but also texture to my clean hair (it helps with styling), and it offers heat protection.
Bumble & Bumble Prep Spray – Vitamin infused spray, helps prepare hair for styling. I also use it to refresh my hair.
Oribe Swept Up– Volume Powder. Can't say enough good things about this spray. If you suffer from flat hair, here is your answer! Just spray and rub into the roots of your hair for intstant volume and boost.
T3 Singlepass Curl Curling Iron – it's currently on sale (orig $160, now $119). If you want to see how I use it to style my hair, head over to my instagram @anna_brstyle I have a video saved on my highlights. I demonstrate how to create loose curls in less than 5 minutes.
Thank you so much for reading friends!
XX,
Anna