Hi friends. The biggest sale of the year-
Nordstrom Anniversary Sale
started on Wednesday for Icon level shoppers and you can check out my dressing room try-on
here
. This sale is more like a shopping event. There is just so much inventory in every department and it's easy to overspend. My best tip for you would be to make a list of things you need, whether it's new booties for Fall, a coat for Winter, getting ahead start on holiday shopping or picking up items for your kids and significant other.
I'll be sharing my personal favorites that I think are worth buying from the sale. Some of these items I've had for years and I feel that these items are worth your investment and that will stay in your wardrobe for years to come.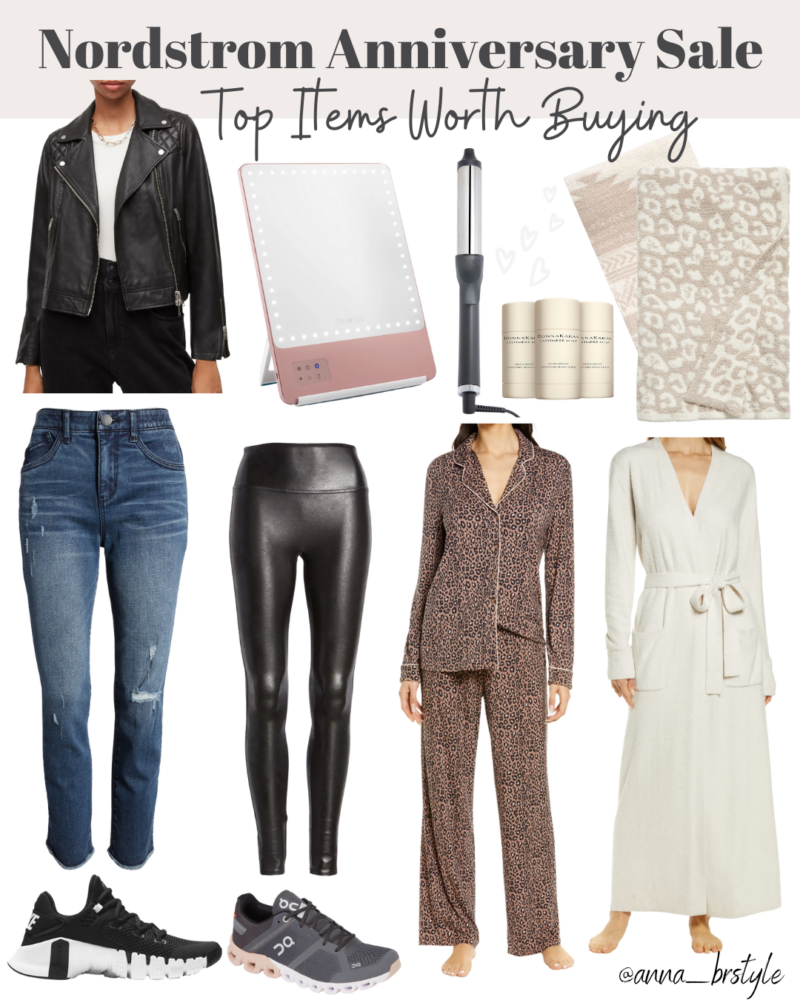 AllSaints Leather Jacket

When I think about The Nordstrom Anniversary Sale, the AllSaints leather jacket comes to mind. I purchased mine several years ago and is probably one of the most worn pieces in my wardrobe. It's amazing quality and will last you years to come. While it's definitely a splurge item, the quality and style is timeless. These jackets almost never go on sale with the exception of the Nordstrom Anniversary Sale. I now own it black and white. There are a couple of different styles available this year. Loving the quilted detailing of this one and the blush color of this jacket is gorgeous.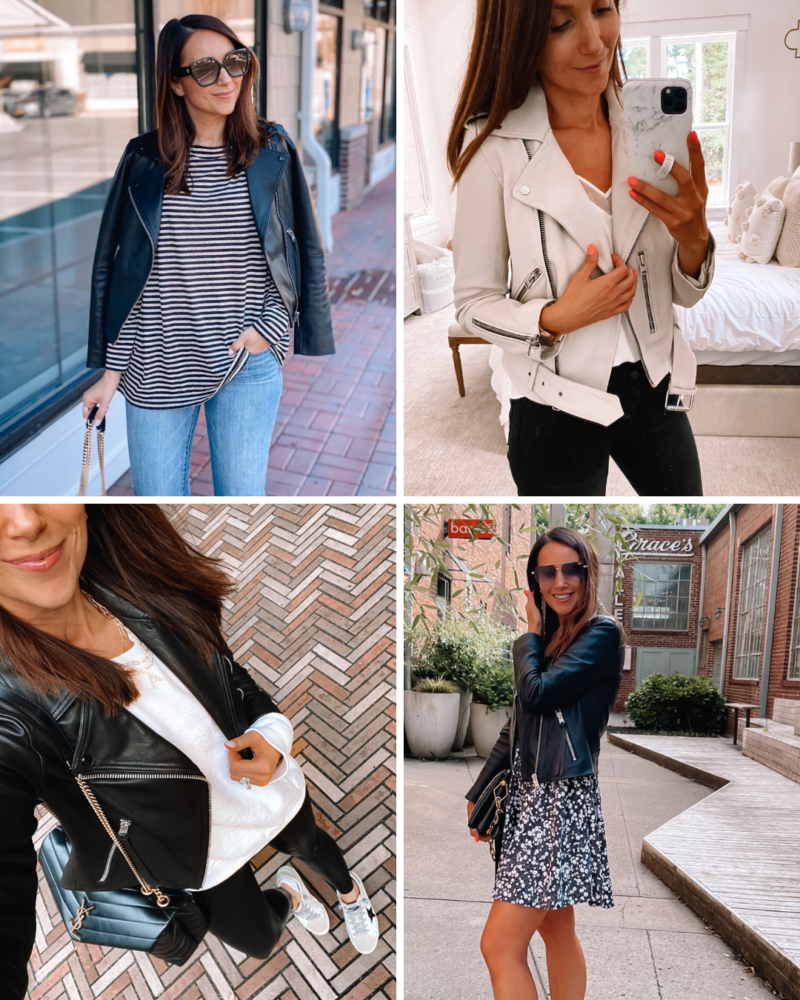 Riki Mirror

I personally purchased the Riki Mirror months ago and paid so much more. These never go on sale so this is a great opportunity to save $80 off the original price. I love it for makeup application but it is also a great travel mirror because it lays flat in your luggage. It also comes with a convenient stand so you can set it up in your hotel room or at home on your vanity. The lightning is amazing and it also comes with two magnet attachments – to hold your phone and to attach a magnifying mirror. It's obviously great for content creators but I honestly recommend it to all my girlfriends because it's such a great makeup mirror.
Leopard Pjs

I bought these leopard pajamas last year and to be honest with you I was hesitant because Target has a similar style however I was pleasantly surprised. They are buttery soft but more importantly the quality is amazing. I bought mine July of last year and sleep in them several times a week. They still look and feel great – totally worth the hype. The set is also available in short version.
Barefoot Dreams Robe

I bought my Barefoot Dreams Bath Robe last year and it's honestly so much more than a bath robe. It's the same heavenly fabric you're familiar with from Barefoot Dreams cardigans. I personally wear it as a part of my at home loungewear and layer during the cold months. It's a slice of luxury at home. It would make an amazing gift for you or anyone on your holiday list. This year's version is a little longer and I already purchased it since I get so much use out of it.
Spanx Faux Leather Leggings

I know we all love our Spanx Faux Leather Leggings and they only go on sale a couple of times a year. I always take this opportunity during the sale to snag a replacement pair. I get so much wear out of these during the Fall and Winter seasons and even though the quality is amazing and will last multiple seasons, I always like having an extra pair. Sizing tip: I know many will say they run small and to size up, however I personally believe they are true to size. They are meant to be form fitting and figure hugging. They are Spanx after all and will be tight when you first put them on but if you end up sizing up, you may risk the waistband rolling down. I recommend sticking to your true size, I wear size small. Care tip: I put mine in the washing machine inside out with no fabric softener and let them air dry. If you have your eye on other faux leather leggings, check out THIS post where I compare Spanx to Commando.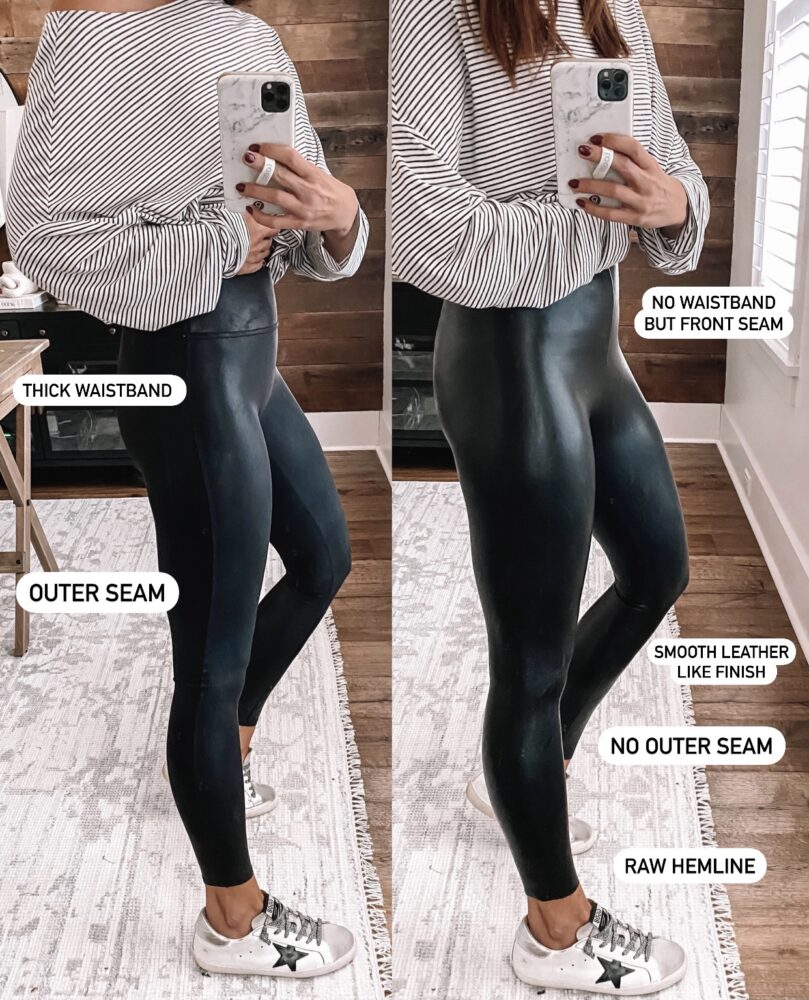 GHD Curling Iron

Here is another item that only goes on sale once or twice a year. I've had my GHD curling iron for a couple of years now and it's one of my favorite hot tools when it comes to styling my hair. It creates beautiful, soft curls. I also love the fact that it heats up in seconds. If you're in the need for a new curling iron or you had your eyes on this one, do not miss these savings.
Athletic Sneakers

Every year Nordstrom offers a nice variety of athletic footwear on sale. My sale picks are the Nike Free Metcon Training Sneakers and On CloudFlow Running Sneakers. While you can score some major savings from other brands these two hardly ever go on sale. I have several pairs of the Nike Free MetCon sneakers and use them for my strength training and the OnCloud are great for running.
Wit & Wisdom Jeans

You all know how much I love the Ab Solution jeans. If you do not know what that is, those are jeans with built in elastic in the waistband. It makes them super comfortable and very flattering. Wit & Wisdom jeans are great quality at a really great price point however you can score even more savings during the Nordstrom Anniversary Sale. I have been a fan of the brand for years, trust me once you try Ab-solution jeans its hard to go back to another denim. There are multiple styles available this year including Distressed Straight Leg, Mid Rise Skinny in Grey Denim, High Waist Black Jeans and High Rise Boot Cut. Check out all the styles here.
Barefoot Dreams Blankets

These blankets are probably one of the most popular items of the sale but they are so worth the hype. I have Barefoot Dreams blankets in pretty much every room of my house and have collected them over the years. They're definitely a splurge item but so luxurious and would make an amazing gift.. My kids and John also absolutely love snuggling with these. They rarely go on sale so if you had one on your wish list, now is the time to grab! There are so many fun prints available, my personal favorite is the animal print but they are also available in floral, marble, patchwork and solid color.
Donna Karan Deodorant

I've been using this deodorant for years. Last year there was a rumor going around that it was going to be discontinued so I ended up buying so much and now I have a lifetime supply, haha. I'm kidding of course but it is the best. During the sale, you can buy it at special value and if its the deodorant you use and love, this is a great time to purchase. If you're looking for a deodorant that works give this one a try.
Thank you so much for visiting Blushing Rose Style blog.