Save Or Splurge – The Spring Edit
This is my first ever Save Or Splurge post. But I have always enjoyed them on other blogs. I came across so many similar styles at all price points which inspired me to create this post. Also I wanted to share with you my picks on goodies worth the splurge and those that I'd rather grab at lower price point.This post contains affiliate links.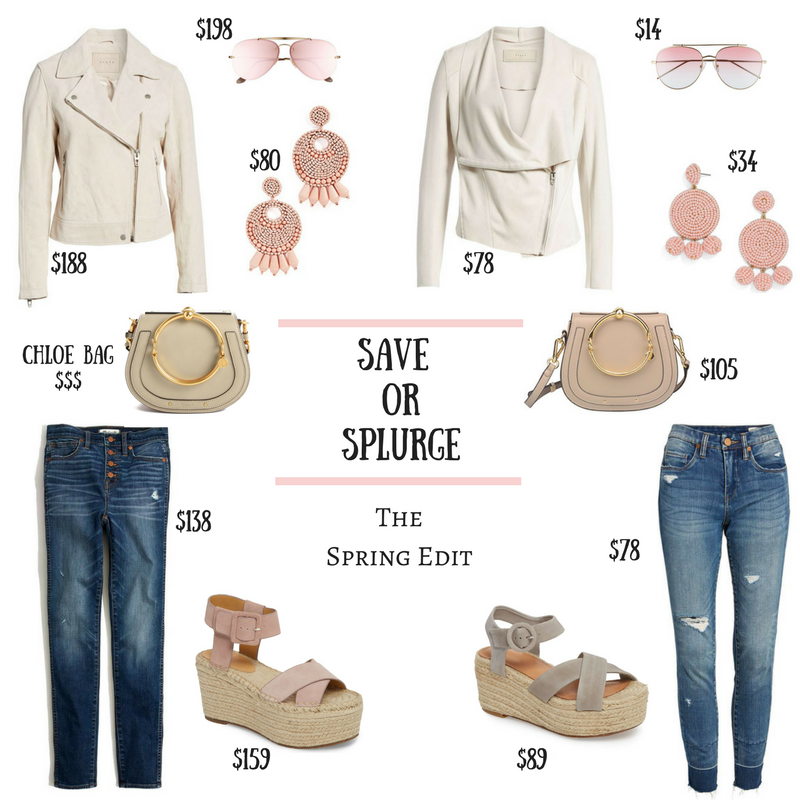 Shoes
The Marc Fisher wedges have been domination the summer footwear for the last few seasons. And for a good reason. They're available in so many styles, well made and super comfortable despite the height. The blush pair has been definitely on my wish list. The only downside is the price. In my opinion is definitely worth the splurge if you can pull it off, if not this grey pair is a lot more budget friendly.

Ok now on to these booties. I mean the similarity is unreal. It is pretty much the same shoe. I am a huge Vince Camuto fan and this pair is on sale 20% OFF. I actually do own these and they're really comfortable too. But this one it's just $34. They look the same, quality wise I am sure they're some differences. It's your call, which one would you choose?

Also found these two sandals, which are very similar.

Swimsuits
I own the less expensive version of this swimsuit and I cannot tell you enough how much I love it. I am certain this pricey number is just as lovely. But you can now get the designer scalloped hem look for a lot less.

Sunglasses

Jackets
I own both of these jackets. And here are the main differences. This one is real suede, it is definitely thicker and more structured. It can be worn year round. The draped lapel jacket is just as gorgeous. It is faux suede. And light weight, which makes it more suitable for spring through summer.

Handbags
The Chloe bag is stunning but its nearly $1700, this dupe is nearly identical and it will only cost you $105.

Similar blush totes

Accessories