Holiday Style with Express
Good Morning Ladies. First and foremost I want to wish you all a very happy Thanksgiving. I hope you get to enjoy time with your loved ones, some yummy food and shop some great sales. This post contains affiliate links. Since the holiday season is here, I wanted to share a couple of holiday outfit ideas suitable for different occasions.
I am so excited to be partnering with Express because it is the ultimate shopping destination not only for holiday and party styles, but also for jeans and comfy loungewear. If you have a party or event to attend, look no further. You will find so many great options at the store, and even more online. What's great about shopping at Express, is that often there are storewide sales happening, so you can score amazing outfits at even better prices. And today is probably one of the best days to shop at Express because EVERYTHING is 50% OFF!
Holiday Style with Express – Naughty or Nice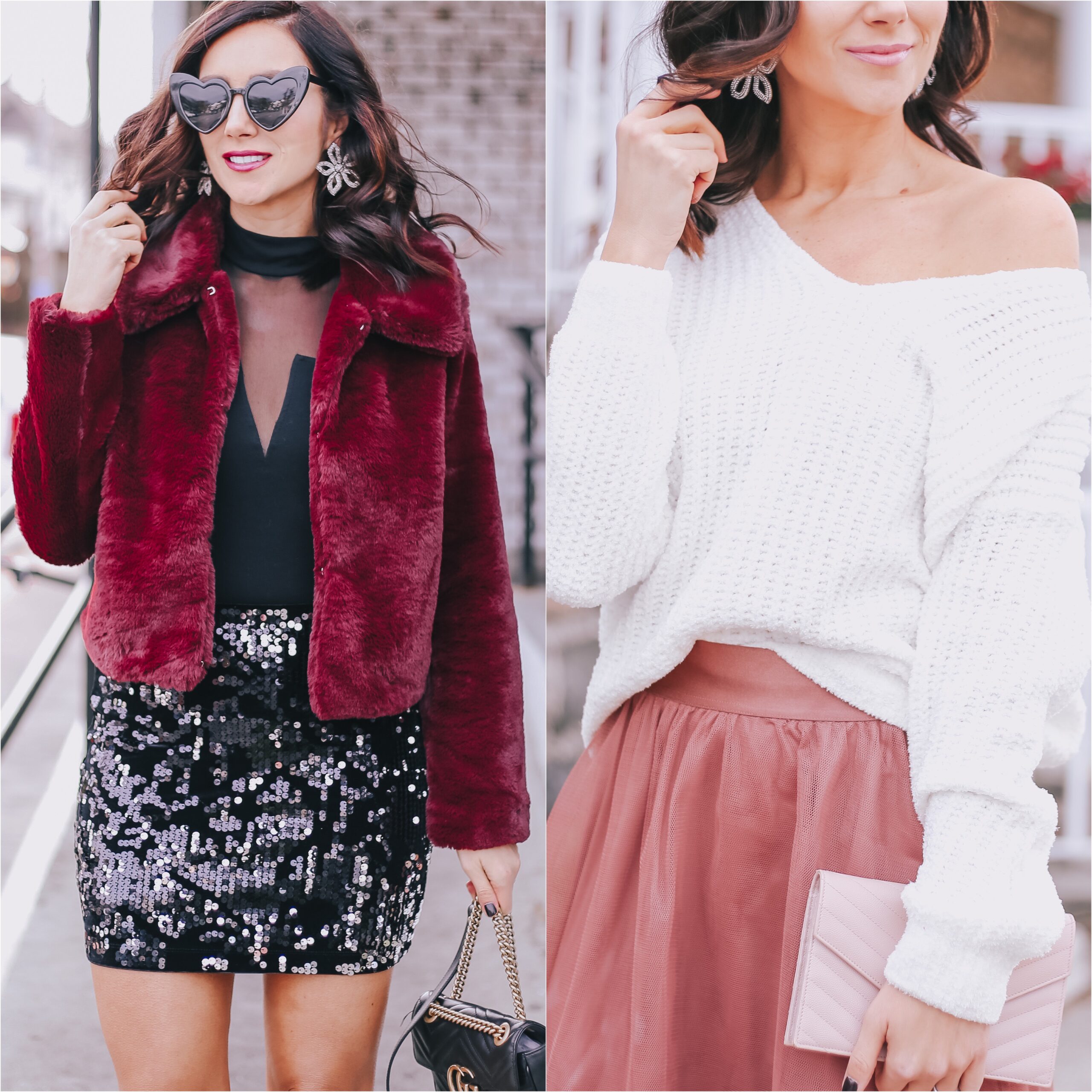 Your holiday attire will be based on what kind of function you're attending. The NICE theme would be suitable for workplace, family or any daytime gathering. While the NAUGHTY look is so fun for a girls night out, happy hour or perhaps NYE.  Vote on your favorite!
Skirt (in XS), Sweater (in S), Bag (similar), Shoes

This outfit reminded me of the trailer for Sex and the City hehe but speaking of the outfit. This chenille sweater is so soft and cuddly, it's available in 5 colors and currently 50% OFF (only $25). The tulle skirt is so feminine, and best part you can totally style it for all seasons. During warmer days wear it with a  ruffle trim camisole, or when the temperatures drop, just add  velvet boyfriend blazer or cozy sweater.
NAUGHTY
SKIRT (in S), Top (in XS), Similar TOP, JACKET (in XS), SUNGLASSES

The NAUGHTY look is definitely not something you see me wear everyday haha but with the holiday season upon us, I will be attending several parties. One of my dear friends is turning 40. That is a quite a milestone, and she is having a huge party with the Glitter & Glam theme. This look is definitely a strong contender for what I may wear.  This skirt is high waisted  and it's velvet (so luxuriously soft). I also picked up the faux fur jacket. The color is perfect for this time of the year. And I can totally see myself wearing it more casually with jeans and sweaters. My other outfit options are: this dress and this jumpsuit. My husband is going to wear THIS velvet tuxedo blazer in burgundy. So I definitely want to coordinate with him.
Express Favorites
Express 50% OFF sale happens only once or twice a year and it's a great time to stock up on some of the wardrobe staples. Some of my favorites from Express are LEGGING JEANS (I size down by one size in these) , CAMISOLES – these are amazing quality, last for many seasons and best part is that they are low maintenance – washer / dryer and barely any wrinkles. And don't forget to check out statement dresses, tops, jumpsuits and more.
So that's a wrap girls. I hope you enjoyed this post. Do tell, which look is your favorite. Are you NAUGHTY or NICE team?
Thank you so much for reading. And very special thank you to Express and RewardStyle for sponsoring this post. As always, all views and opinions are mine.
XX,
Anna