Father's Day Gift Ideas with Nordstrom
Father's Day is just a couple of weeks away. I have been getting so many requests for gift ideas. Not sure why, but men are just so hard to shop for. I enlisted the help of my hubby to create a gift guide for the men in your life. This post is in collaboration with one of my favorite retailer's – Nordstrom. Whether you're shopping for yourself, hubby or the kids – Nordstrom has it all. The store caters to all budgets, and offers free shipping and returns on all purchases.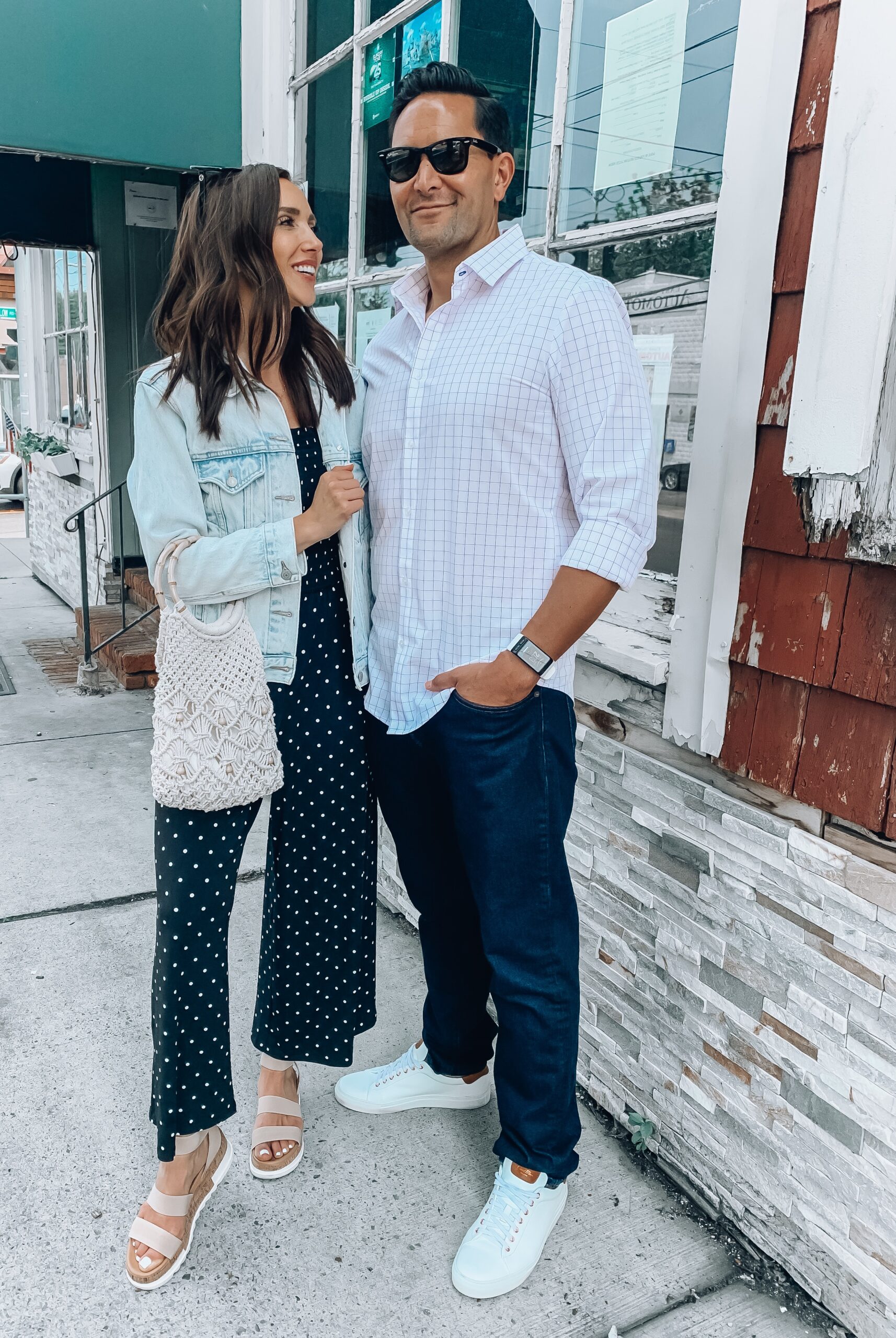 My Outfit
Sandals // Jumpsuit // Jacket // Bag // Sunglasses

John's outfit
Sneakers // Sunglasses // Jeans // Shirt


Father's Day Gift Ideas
Whenever shopping for gifts, I always try to take into consideration their interests, hobbies or maybe even upcoming plans / trips. Or I get them items they wouldn't necessarily splurge on. Just few weeks ago I surprised John with the new Ray-Ban Wayfarer sunglasses. They are a bit pricey, the the design is classic and timeless. And they're polarized. I know he will be wearing them for years to come.
The image below is fully shoppable. Just hover over any item, then click to be re-directed to the retailer's website for shopping information.
For The Golf Enthusiast
John is an excellent golfer. It's pretty much a given he will be getting some sort of golf themed gift (for every holiday). He has been loving the Mizzen Main golf shirts. You can browse more options here.
John's Outfit

Shirt // Sneakers // Sunglasses // Shorts // Belt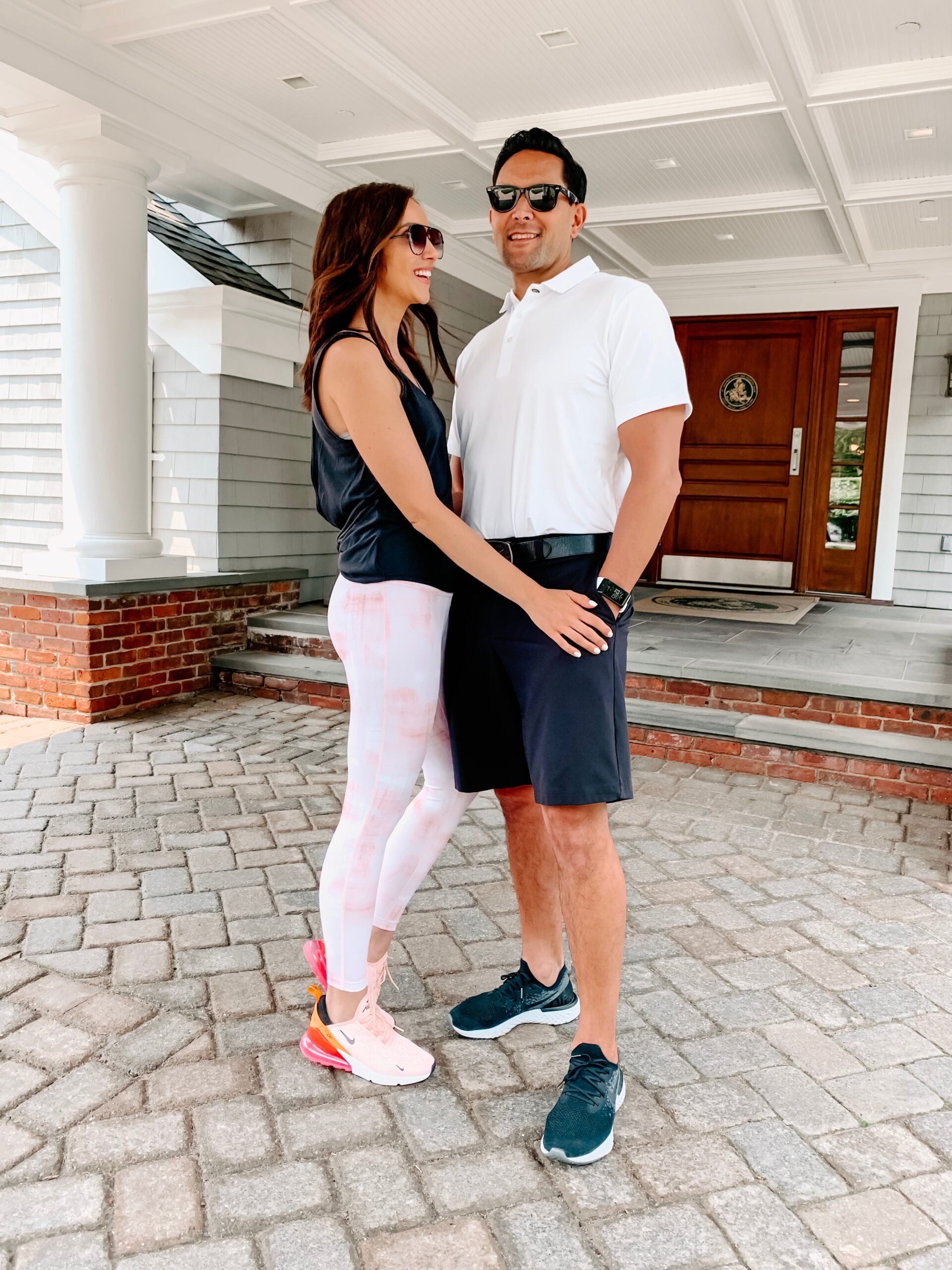 My Outfit
Leggings // Sneakers // Tank // Sunglasses

Couple Style
Athleisure is my jam. I found the wide-leg high-waited Zella pants at Nordstrom, and I want to wear them everyday. They would also work well for travel! John's outfit is really affordable, both shorts and polo are $35.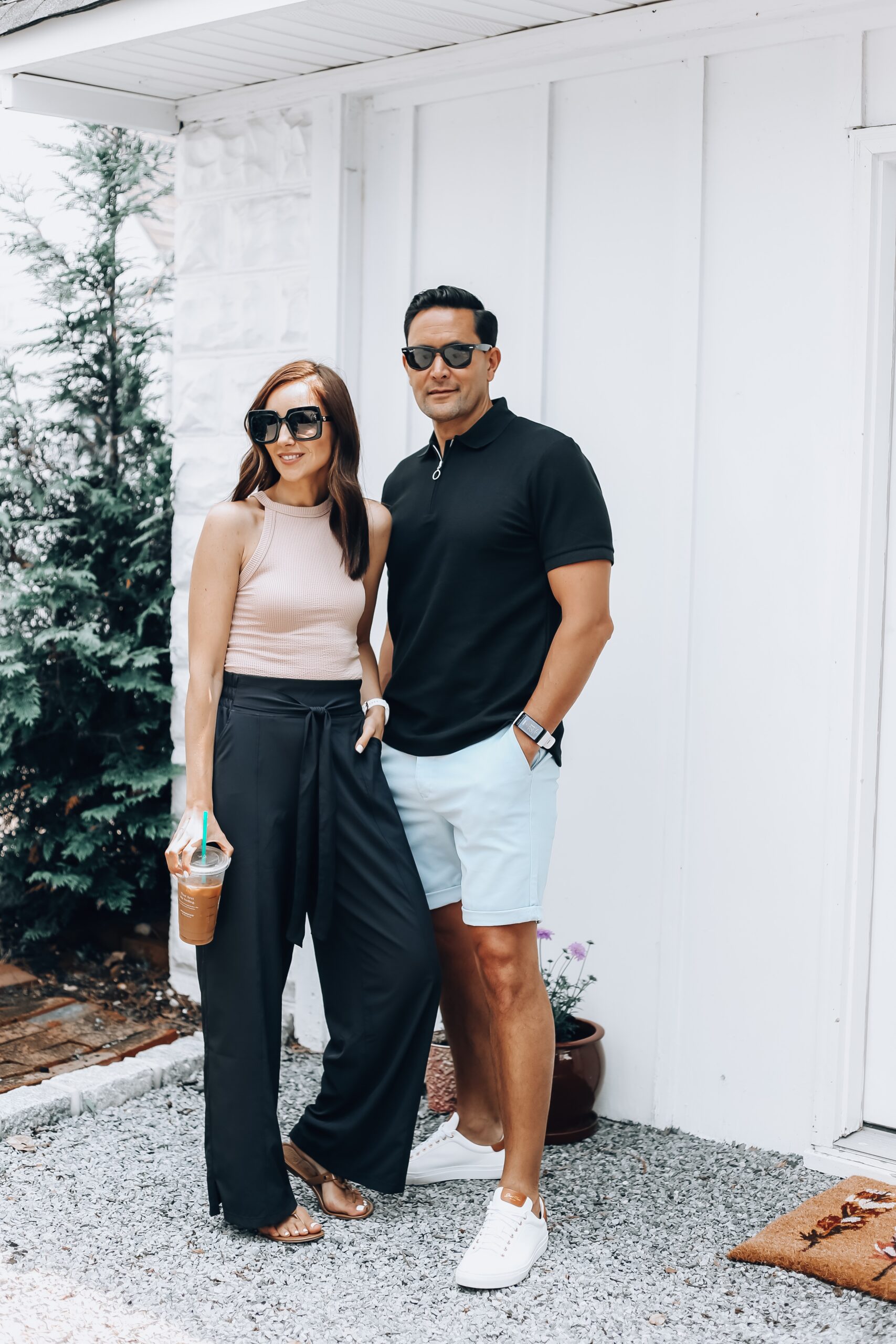 John's Outfit
Shirt // Shorts // Glasses // Sneakers
My Outfit
Pants (in S) // Tank // Sandals // Sunnies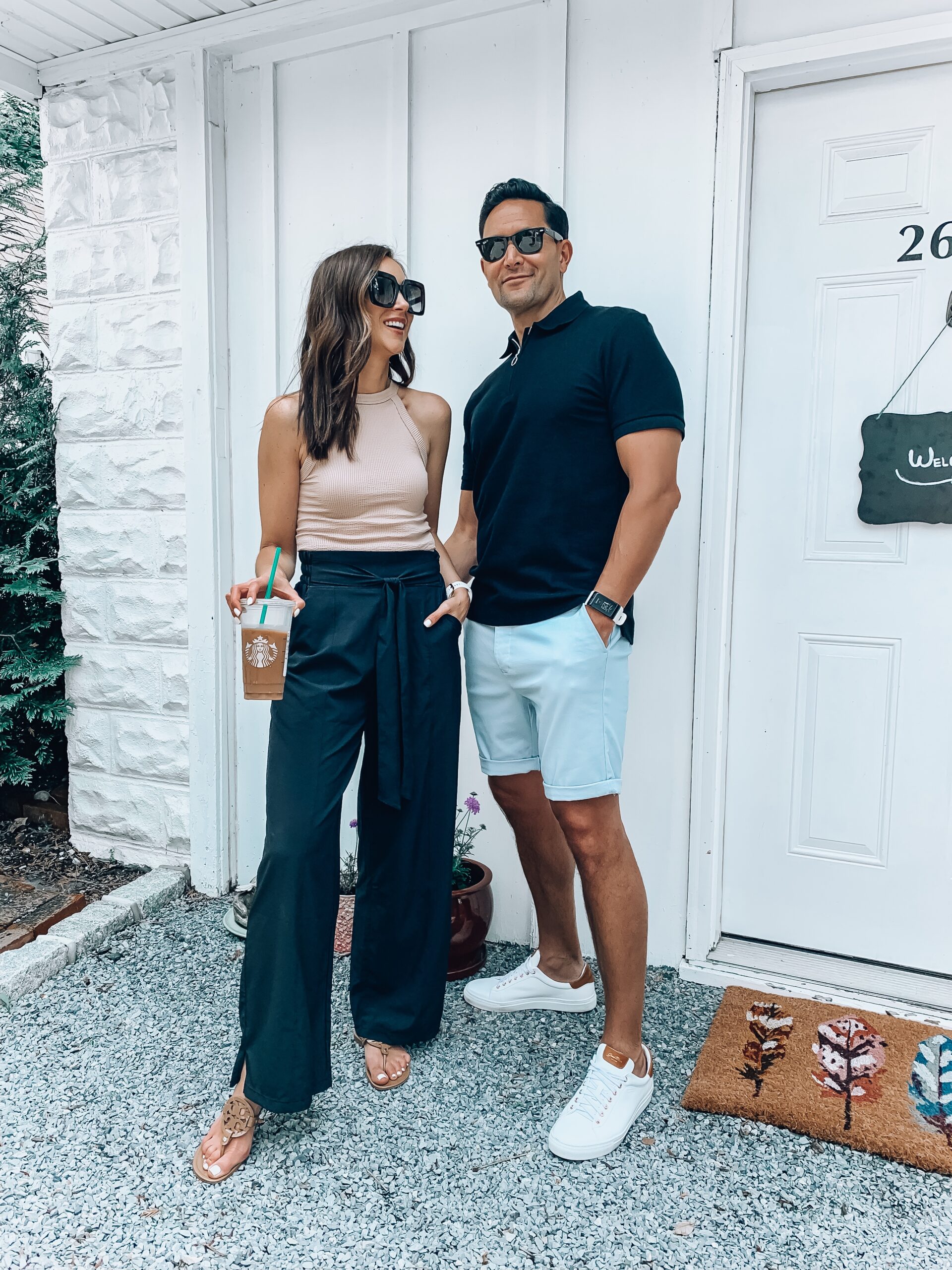 Get To Know Us
We have been together for over 12 years and married for almost 10!
John and I met at work. He was my mentor when we worked in pharmaceutical sales.
Professional movers – we have moved 7 times since 2009. It was always for work mine or his.
John works for State Farm although he is not a good neighbor hehe He is not an insurance agent, he works on the corporate side.
Age gap… my hubby is almost 13 years older than me. Clearly blessed with good genetics, John will be celebrating the big 50 in January.
In case you're new to my blog- I was born and raised in Poland. I came to the US on a foreign exchange program in 2002 and again in 2003. I became a US citizen last spring!
John was born and raised in Boston. He grew up in a foster care system. His story is truly incredible and I admire his strength and perseverance!
He is serious, I am the silly one in the relationship. He is the planner, I am more of a spur of the moment gal. He is a clean freak OCD type, I am the messy one (only by his standards haha).
Cliché to say but… we are the best of friends.
And that's a wrap. If you have any cool gift ideas for men, send them my way. Thank you for visiting BlushingRoseStyle and very special Thank You to Nordstrom and RewardStyle for sponsoring this post. As always, all views and opinions are mine.
XX,
Anna