We are on the final stretch to Christmas, and there's two types of people, right? You have probably finished all your holiday shopping or you may have barely started. If you're the latter, don't stress! I'm here to help! Walmart has excellent affordable options for that special someone on your list this year. It's so easy to shop for individual items, but throwing them all together into a gift basket can make a gift much more meaningful. I love picking out items I know my family and friends will love, and Walmart has the best selection. Everything from household essentials to trendy fashion pieces to affordable stocking stuffers is available now. Today I want to share some of my favorite items for meaningful gifts this season for everyone on your list!
Gifts For The Host
With all the Holiday parties happening, it's always a good idea to bring a gift to the host or hostess. This adorable assortment can work for anyone on your list, a mother-in-law or girlfriend. I love this Table Knife Friendly Bamboo Cutting Board, the perfect base for this bundle. Or this Stoneware 8 Inch Square Baker that has an adorable black & white medallion design perfect for holiday dinners. All you need to complete this gift are these Cotton Terry & Texas House Woven Kitchen Towels. The presentation is what makes this gift meaningful, and it was super easy with this Bakers Twine & Red Berry Pineneedle.

Gifts For The Traveler
I love the idea of these gifts because they really do come in handy. I am obsessed with this Double Pocket Weekender Bag for my travel lovers. This bag is the perfect carry-on size, and I love the side pockets for easy traveling. I have the black colorway, but there are several colorways to choose from. After a long day of traveling, I only want to slip into comfortable pajamas and sleep. This adorable Velour Pajama Sleep Set is on sale, along with these cozy Suede Clog Slippers. Last but not least, you need a good pair of headphones to last you through the travel day. The Jlab Audio Go Air Sport True Wireless Earbuds are $20 and have excellent sound quality, and it doesn't get much better!

Gifts For The Teens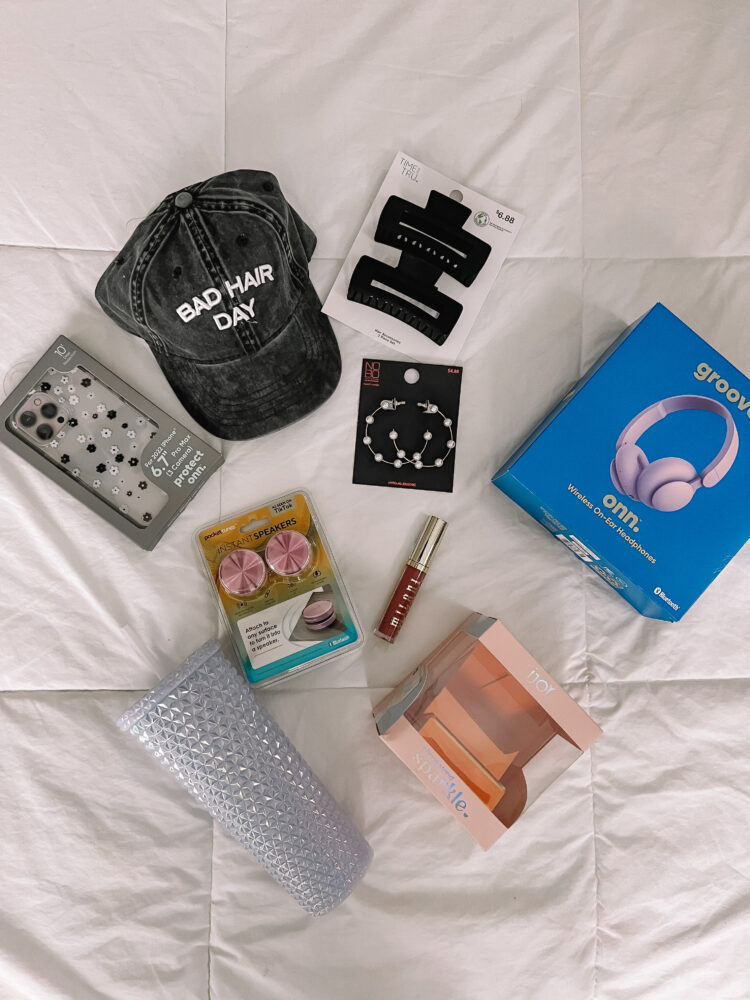 Walmart has all of the trending essentials teens love for mostly under $10. These deals are incredible and are perfect for filling stockings this year. I had to grab this Instant Mini speaker that I have been seeing all over my socials, and who doesn't need a portable speaker? Another trendy favorite of mine is this Plastic Textured Tumbler, perfect for the morning coffee on the go. For more stocking stuffer inspiration, I would grab these Claw Clips and gorgeous Pearl Hoop Earrings.

Gifts For The Cozy Girl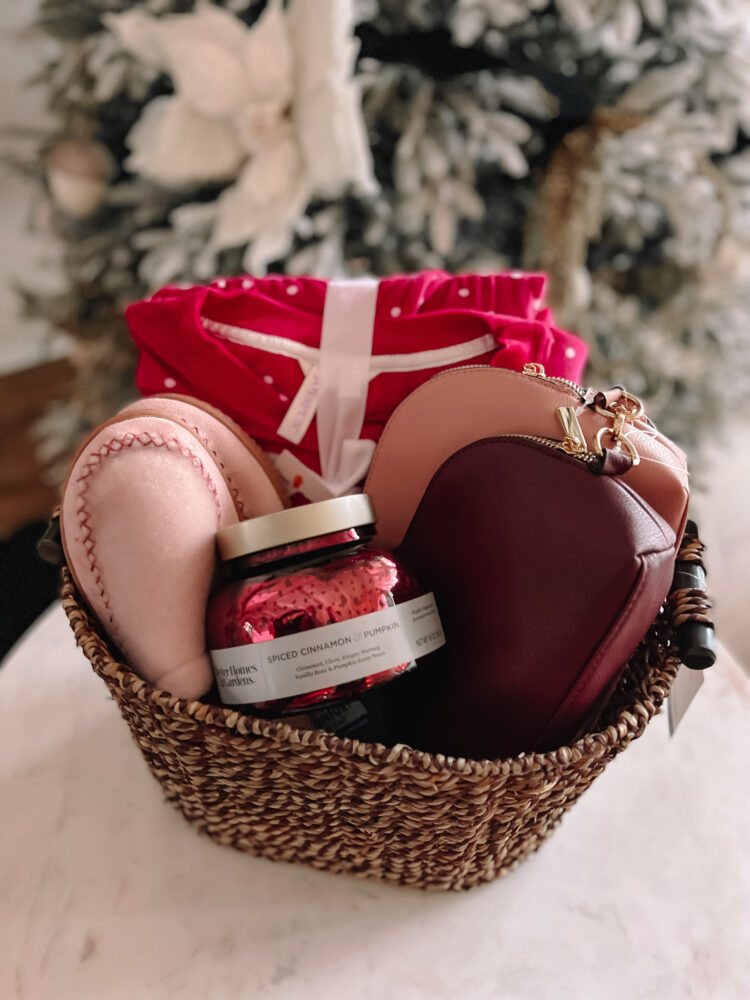 I'm obsessed with this cozy gift basket for the cozy girl in your life, but anyone would love this, especially for a work party gift exchange. These Velour Top and Sleep Pant Pajama Set and Mixed Material Clog Slippers are on sale right now! I definitely love the all-pink theme with this; coordinating colors make a gift ten times better. The pinker, the better, so I added these Stucco and Plum Travel Pouches. A girl can never have too many of these. Candles always make great gifts, and this Spiced Cinnamon & Pumpkin Mercury Candle is the perfect dupe for other designer candles. You still get the same fantastic holiday fragrance for less.

Walmart has some terrific deals for everyone on your list this year. However, I picked some great items for sale for your home and gifts for him for more meaningful gift inspiration. You want to ensure you get all the holiday deals, especially when Walmart has everything you need.
Gifts For The Home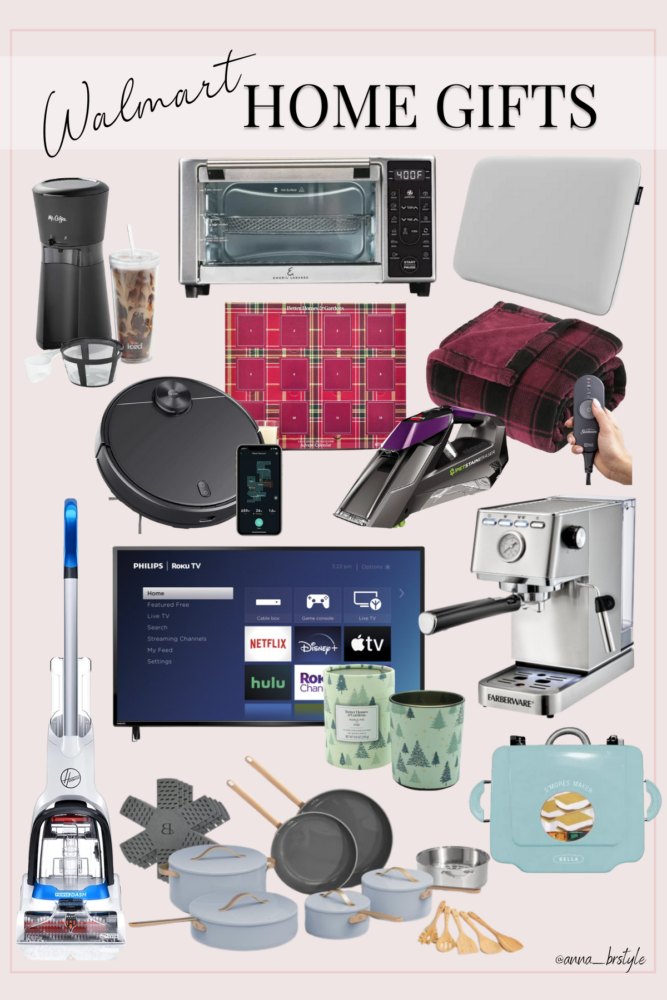 Gifts For Him

Thank you so much for visiting the Blushing Rose Style Blog, and very special thanks to Walmart for partnering with me on this post. As always, all views and opinions are mine.