Black Friday deals are starting at Target and will continue all week.
I love Target all year round, but there's something about this time of year that really makes me excited to check out what Target has. Between their sweaters, cozy loungewear and holiday decor, it's hard not to take it all home! During this try on, I found the perfect dress for holiday parties, a shirt that speaks to my heart, and a gorgeous wreath.
You can check out my other try-ons HERE and HERE.
DRESS (Size S) // EARRINGS
I wanted to start this try-on with this beauty of a dress. It's so good, girls! It's an amazing option for any holiday event you might be attending. Pair it with a blazer and it would work well for work. The fabric is stunning, fits TTS and I feel this cut would flatter most body types.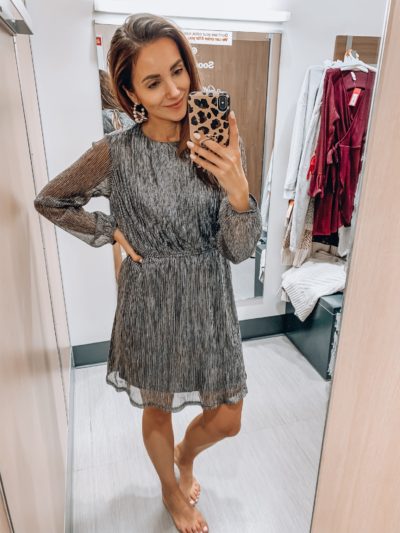 DRESS (Size S) // EARRINGS
This dress is also a great option for holiday parties and events. It's a light sweater, material. It has great sleeves and has good length. While the cut isn't too low, I would suggest some fashion tape to keep it closed.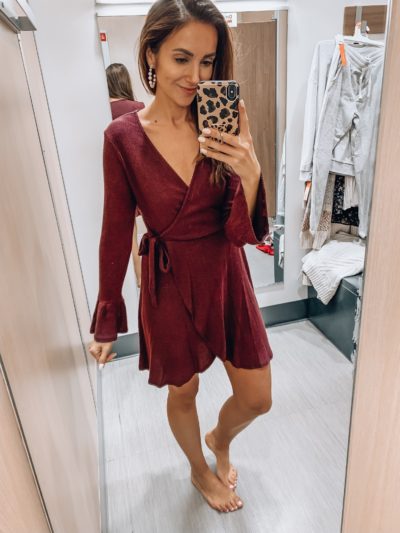 DRESS (Size XS) // EARRINGS
A fun oversized fitting dress that you can definitely size down in. It has fun balloon sleeves with sheer material. For a more fitted look,  you can style it with a belt.


SWEATER (Size XS) // SKIRT (Size XS) // EARRINGS
I showed this sweater and skirt in red during my last try-on, but wanted to see it in a different combination. The sweater is an awesome dupe for this J.Crew one. It's thick and soft. The skirt fits TTS, lined and flattering. Complete this look with nude pumps or white booties.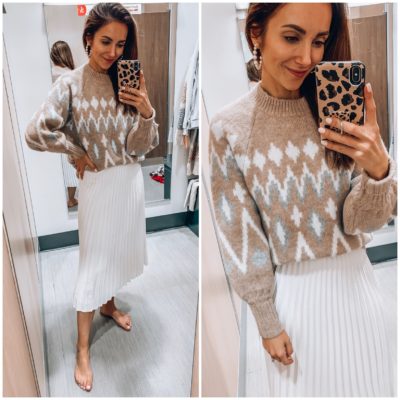 TURTLENECK (Size S) // LEGGINGS (Size XS) // EARRINGS // MULES
I want to start with these faux leather leggings. They are so good! Much thicker than the Spanx ones, fleece lined, and they are a bit shinier. They definitely feel more like pants than leggings. They fit TTS and I definitely feel these will be an item that will sell quickly at their $25 price!
This turtleneck is an amazing dupe for the Barefoot Dreams one. It's so soft and cozy. It can be dressed up and worn casually.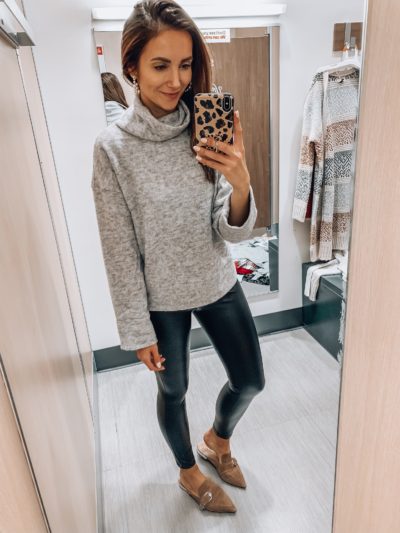 CARDIGAN (Size S) // CAMI (Size XS) // LEGGINGS (Size XS) // EARRINGS // MULES
Velvet is so on trend for this season, and this is cami does not disappoint. It fits TTS and can complement your holiday looks.
I like the duster length of this cardigan, but personally would size down since it's a bit oversized. The color palette is beautiful.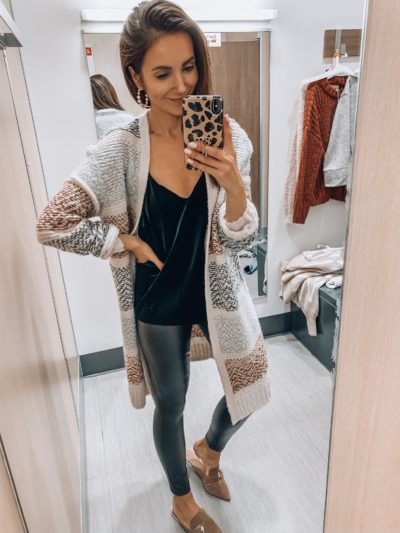 SWEATER (Size S) // LEGGINGS (Size XS) // EARRINGS // MULES
Chunky and oversized this sweater is a really good dupe for the Free People sweater. It comes in 4 color options, great for leggings and skinny jeans.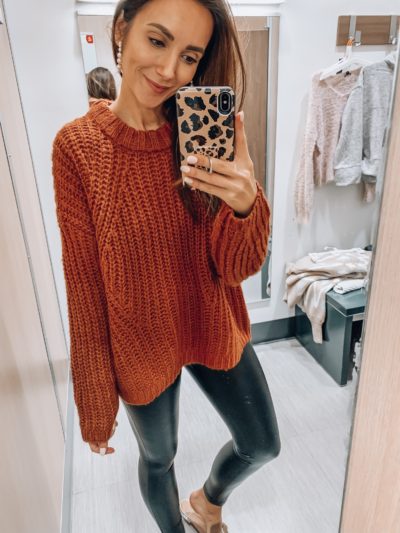 SWEATER (Size S) // LEGGINGS (Size XS)
This sweater has beautiful texture, coloring and very comfortable.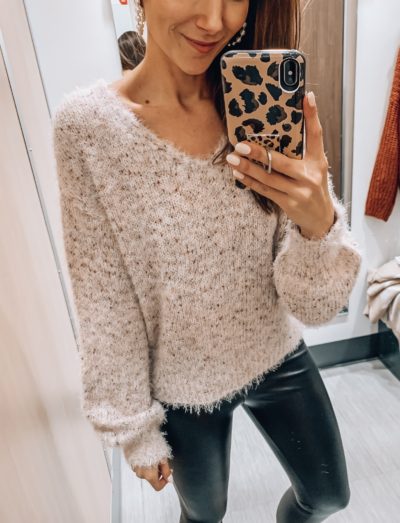 SWEATER (Size S) // LEGGINGS (Size XS) // EARRINGS // MULES
Beautiful chevron print design on this sweater, fits TTS, and available in 3 color options.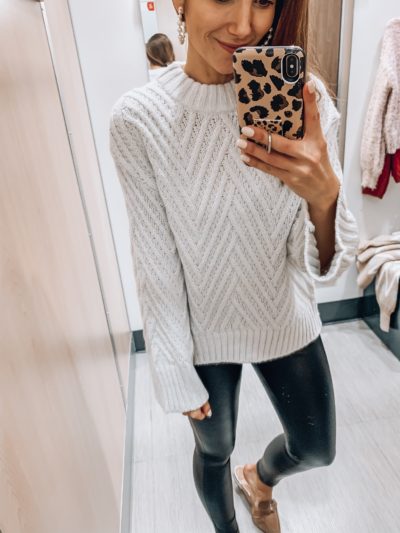 SWEATSHIRT (Size XS) // SWEATPANTS (Size M) // EARRINGS
Super cozy and great basics to have. The sweatshirt is oversized fit, would be great with leggings or skinny jeans as well.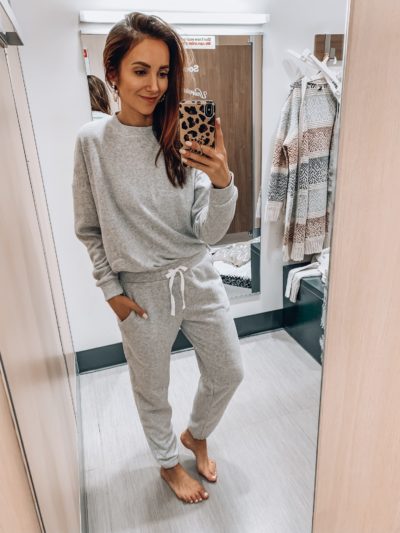 HOLIDAY TEE (Size M) // PJ PANTS (Size S) // EARRINGS
I just want to bake stuff and watch Christmas movies, who is with me?! This tee is a bit boxy and big, so I would size down. It's super comfy.
The plaid pants are perfect for the holiday season.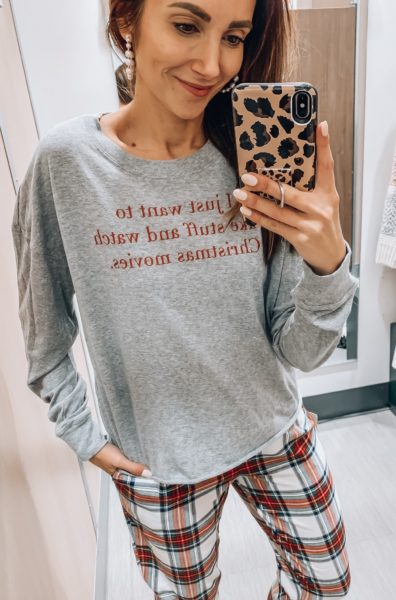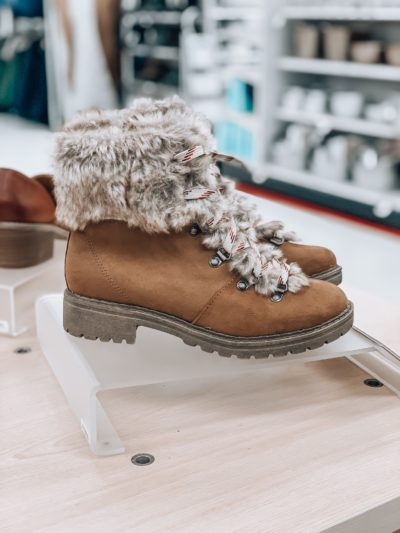 Holiday Decor
WHITE TREE // GOLD TREE // PILLOW // WREATH // BLANKET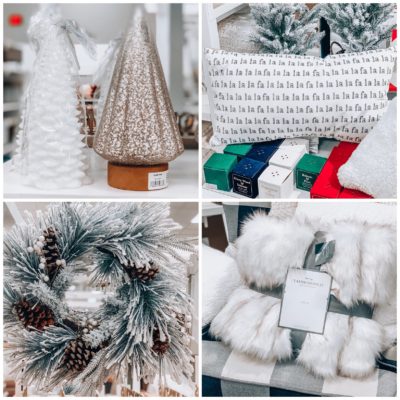 ADVENT CALENDAR // SALT & PEPPER SHAKERS // PILLOW // TREE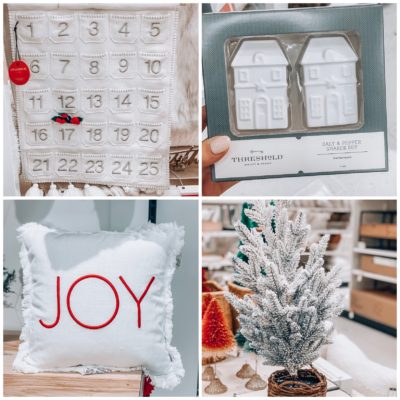 CANDLE HOLDER // STOCKING // GOLD TREE // BROWN // ROSE GOLD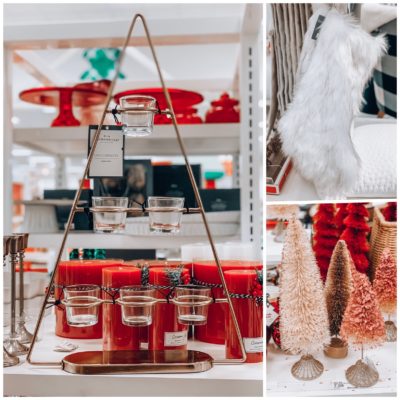 Thanks so much fo visiting Blushing Rose Style Blog!