Hi girls. I'm sharing some of my favorites from the Abercrombie Black Friday sale. Everything is 40% off. Mostly I have wardrobe staples and pieces that you can wear for your every day styles.
I have been wanting to get a pair of button fly blue denim jeans. They are high waisted, ankle length and fit tts. I'm wearing size 26. The denim is thick and really great quality. There isn't a lot of stretch to these, but they aren't too stiff either. The tee is the softest fleece material! It's so cozy, fits tts and I'm wearing size small. The boots are a J.Crew find. They're currently 50% off and I recommend sizing down.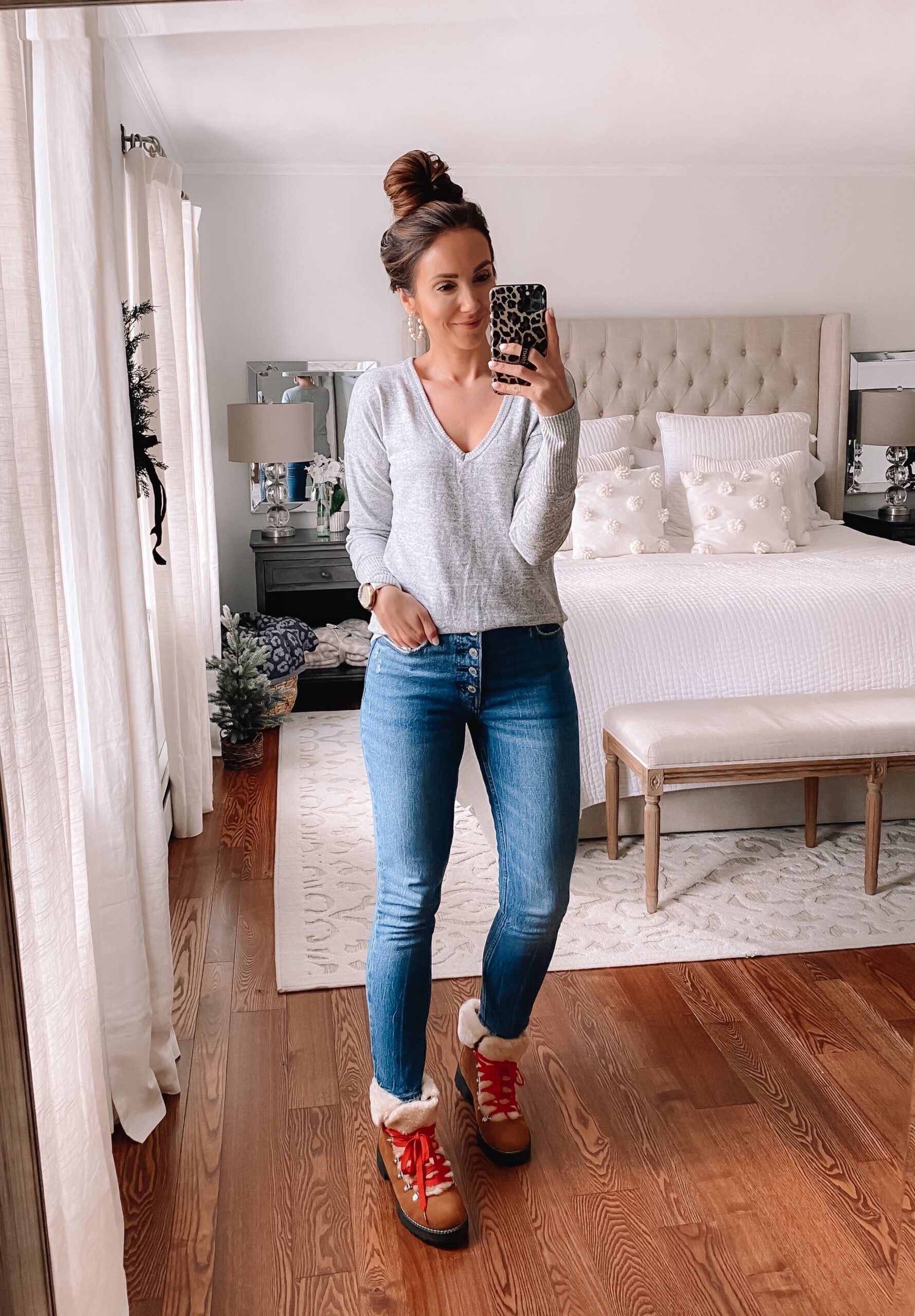 I know we are all looking for shackets. They are so trendy and selling out so fast! This shacket feels like Abercrombie's zip up sherpas. The fabric is thick, it's super soft and cuddly. It is not lined though so keep that in mind. I'm wearing size small.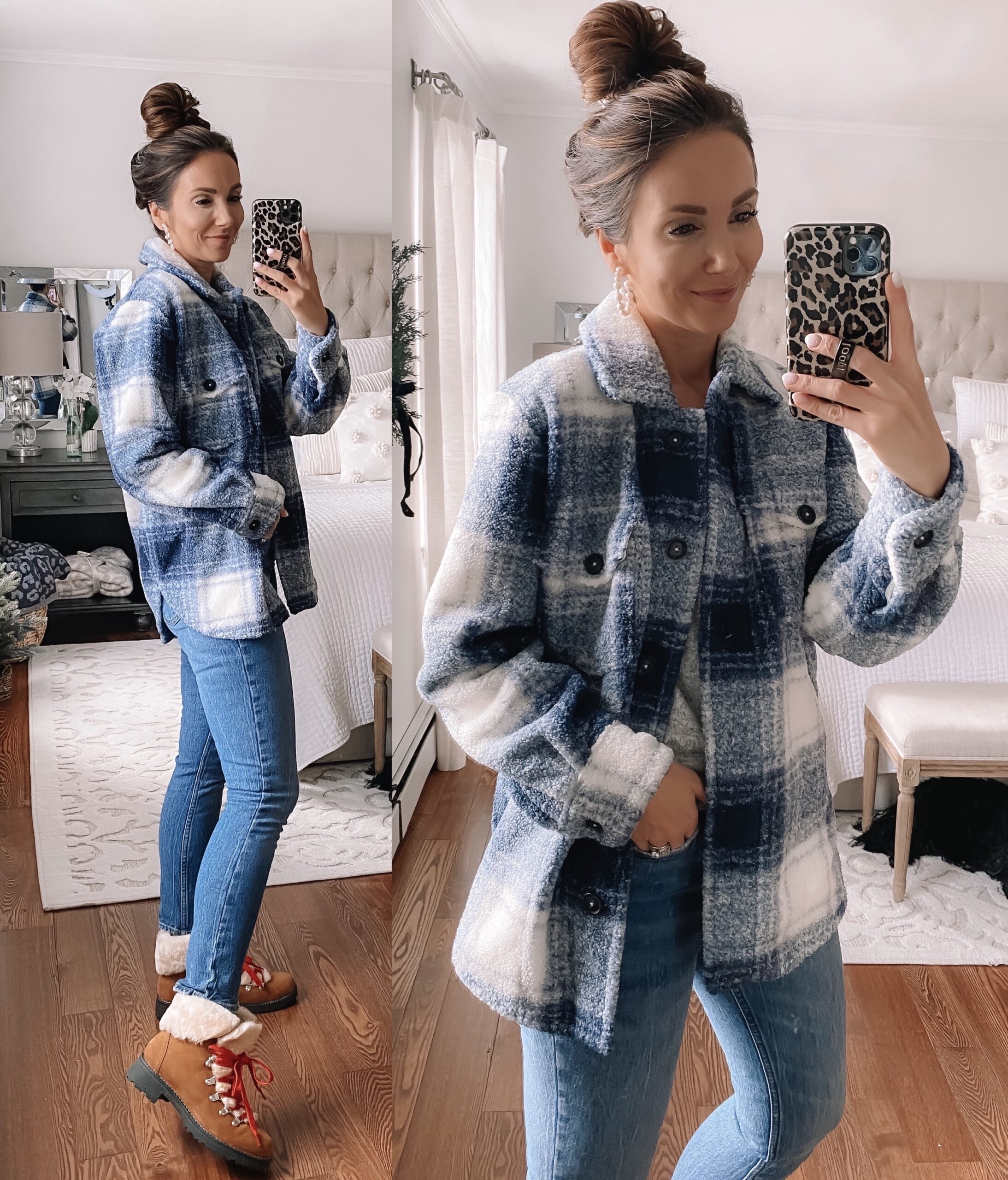 This has to be one of my all time favorite outfits! It's very fitting for my current life style. The sweater is a great alternative for the similar Free People one. I'm wearing size small. The joggers are very comfortable, great fit and not too baggy. The fabric is not sweat pant material or linen but more like an athletic pant. They remind me of the joggers from lululemon. I really like these and I have a feeling you girls will be seeing me in them a lot! They fit tts, wearing size small. The sneakers can be found here.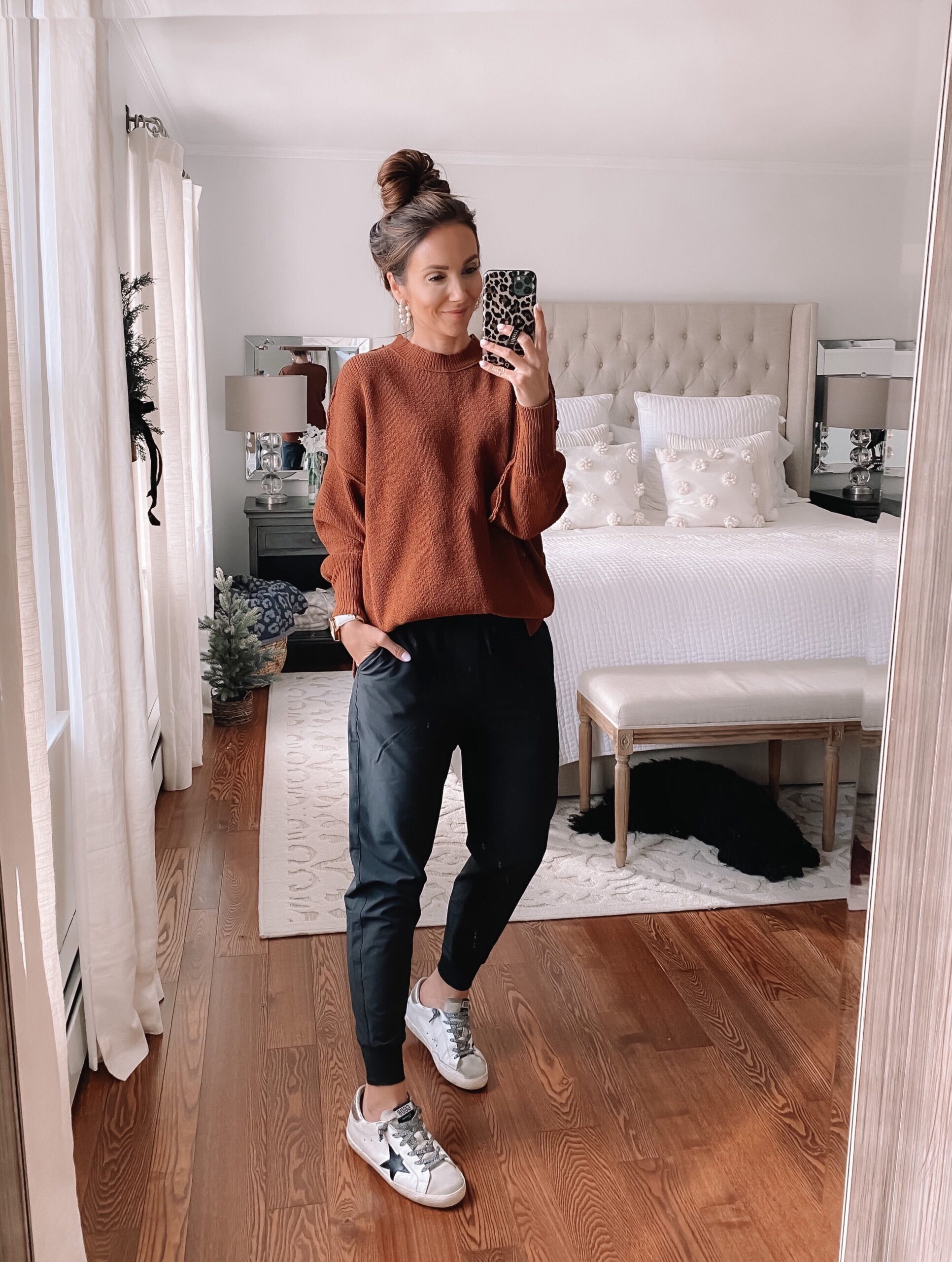 This super simple sweatshirt has a higher neckline and is so soft, wearing size small. The ever so popular beanies are back in stock! I'm loving is tan color.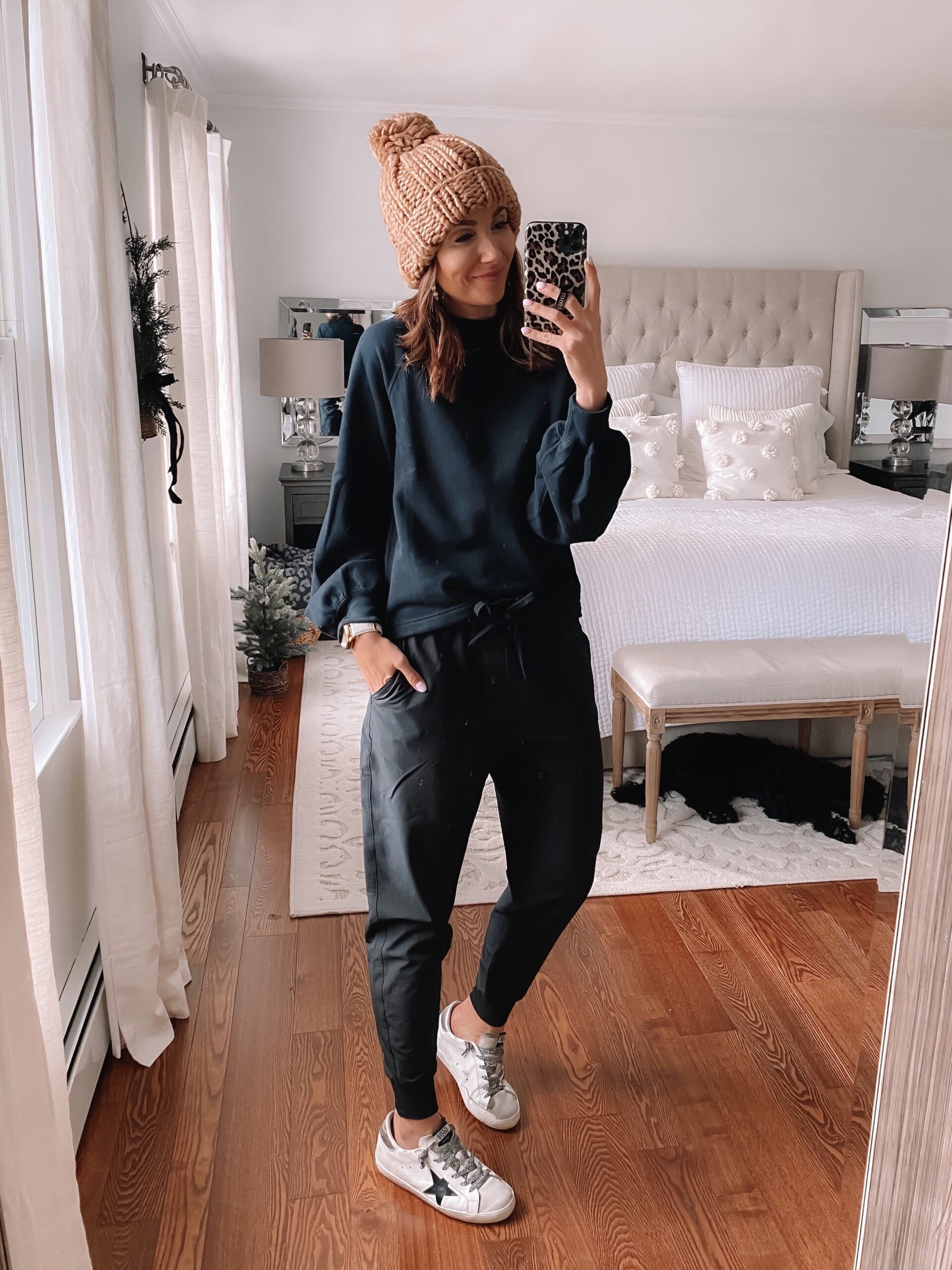 You can always count on Abercrombie for comfy loungewear and sweatshirts. These joggers are super soft and comfortable. They're more of a fitted pant. If you prefer more of an oversized look, I recommend sizing up. I'm wearing size small in both the joggers and sweatshirt. The slippers are from Express.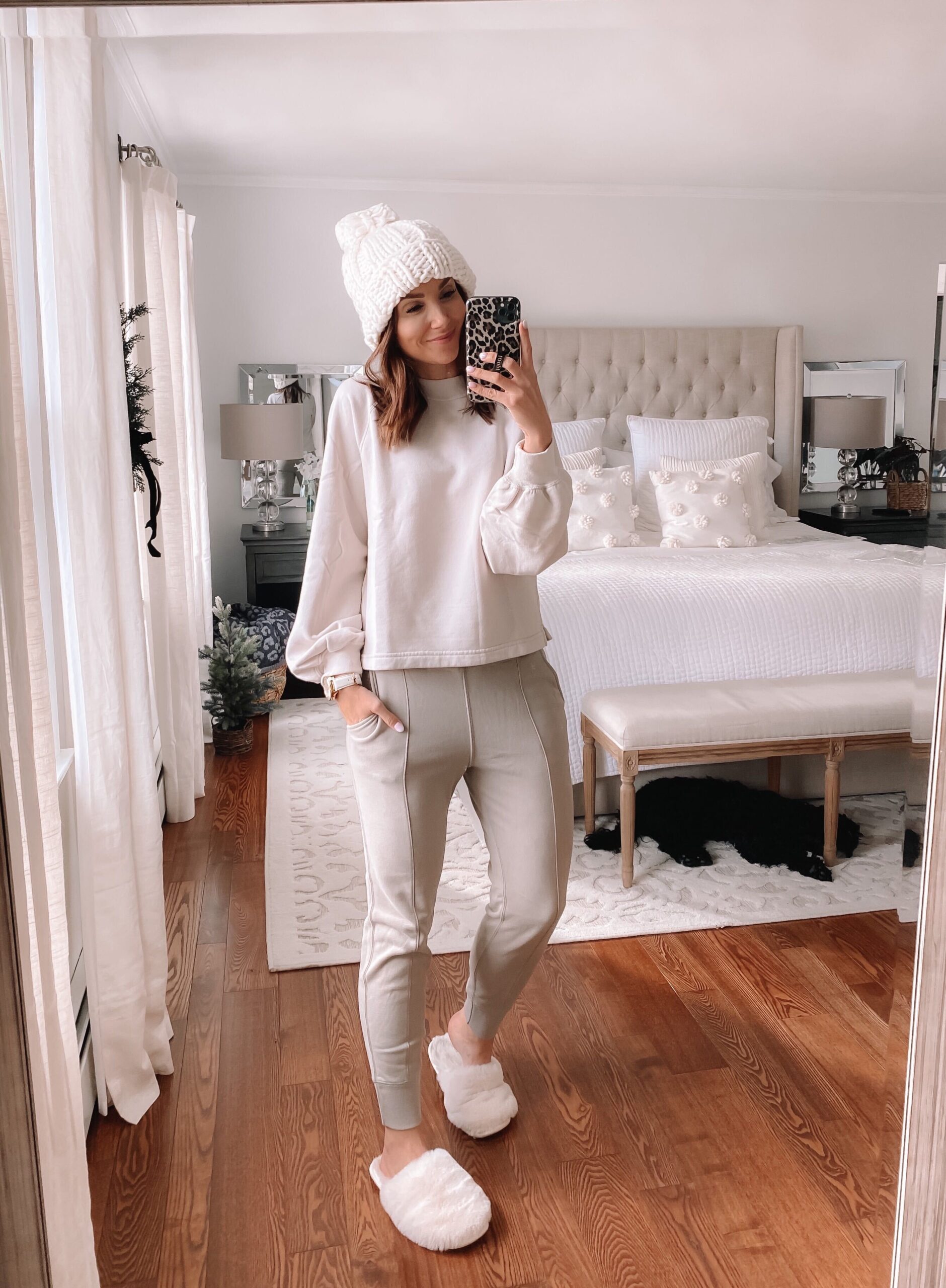 These jeans are one of my favorite pairs of black denim. The black is no fade, so they're more of a dark charcoal grey color, but the color of these does not fade with wash which is one of the reasons why I love them. Fit wise, they're high waisted, button fly and ankle length. I'm wearing size 26. The sweatshirt is really comfortable with great length, I'm wearing size small.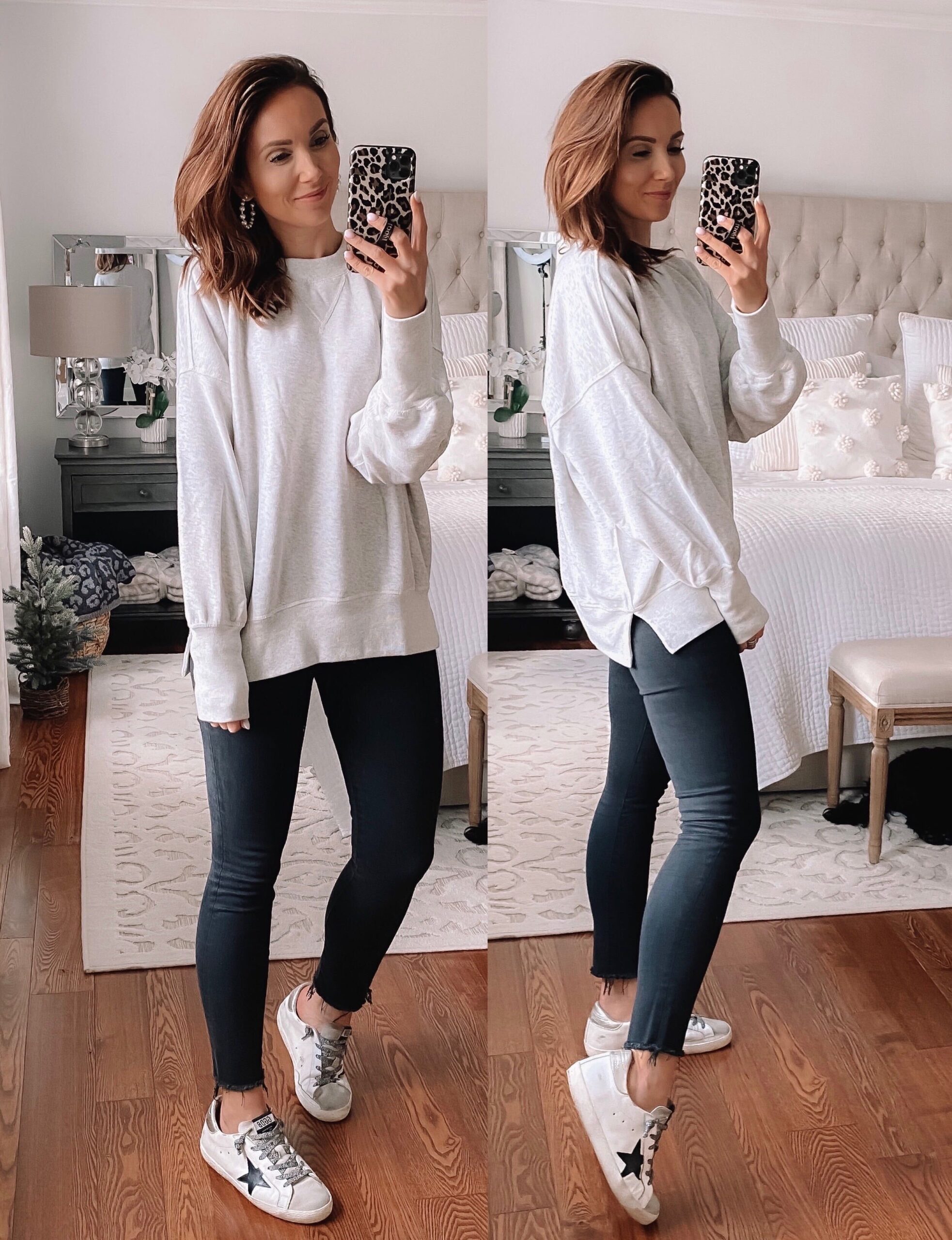 Abercrombie has been selling variations of these pajamas for years and I slept in them all the time! The fleece fabric is so soft and I love the satin bow detail. I'm wearing size small in the top and bottom.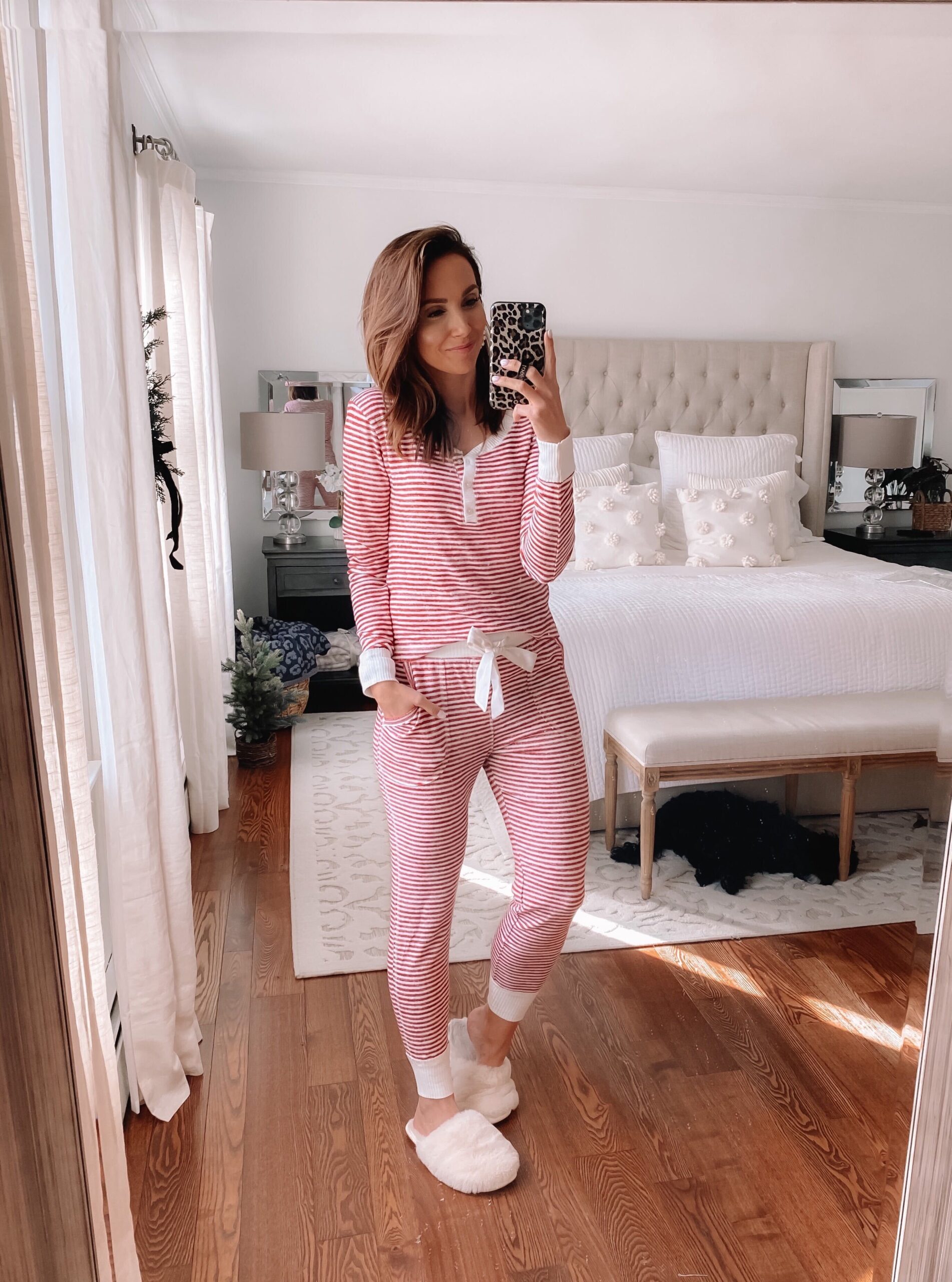 Winter Coats On Sale
The Everyday Parka is super warm without being bulky and you can cinch the waist. The hood has faux fur trim that is not removable. I'm wearing size small.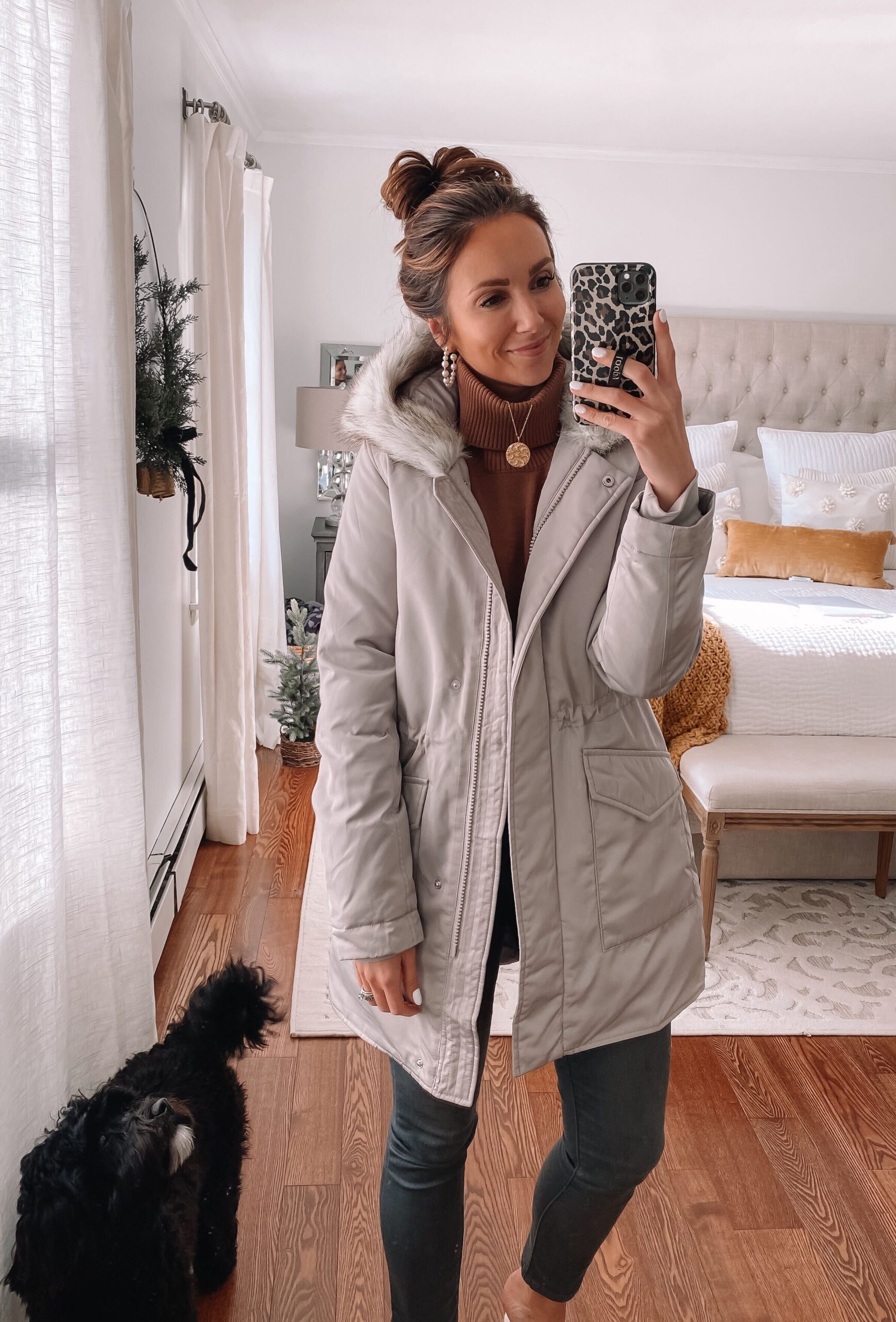 Johns is wearing the Ultra Parka in xl.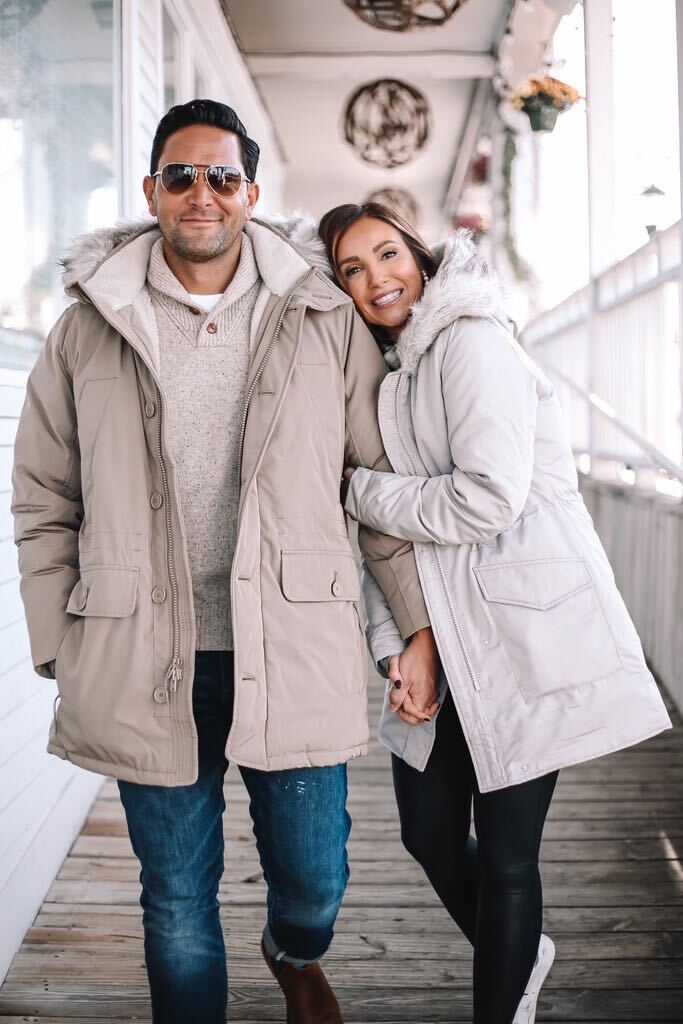 This Ultra Tech Parka is very similar to the one above but the silhouette is a little different. It has more of a straight cut, is slightly longer and you cannot cinch the waist. If white isn't your color, it also does come in black and brown.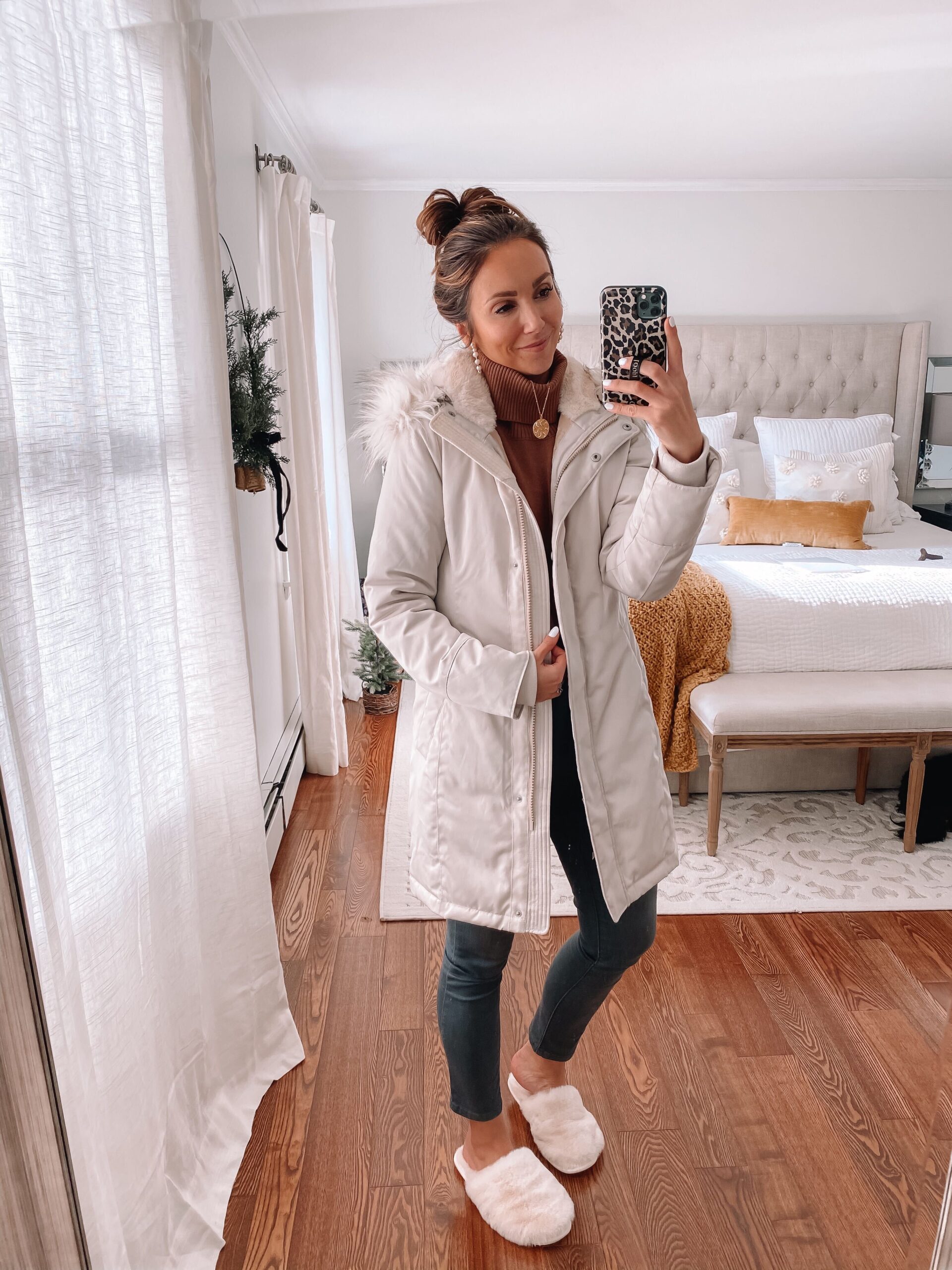 This Faux Fur Mini Puffer is super cute. I love the bomber jacket fit and neutral color. I am wearing size small.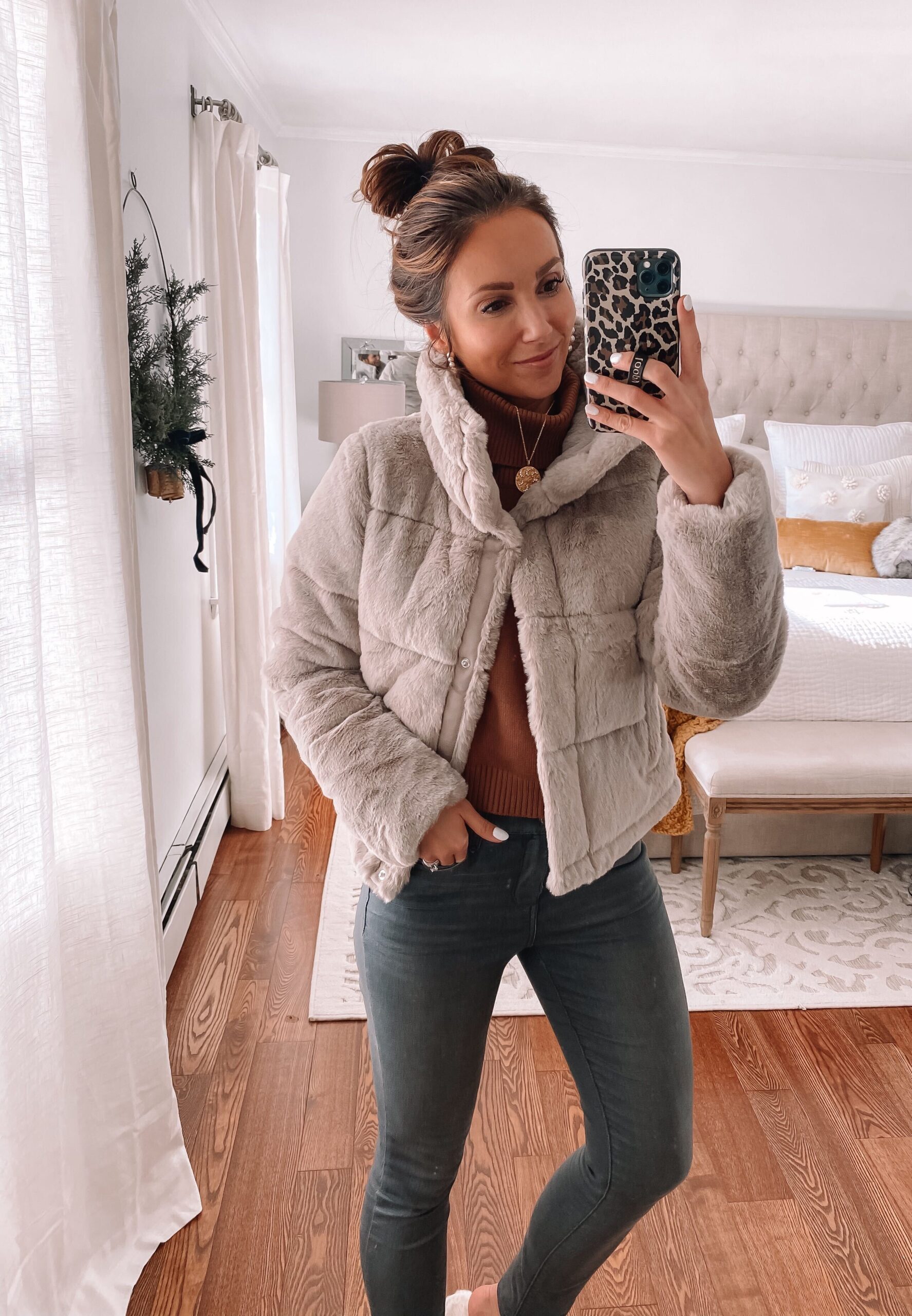 This Ultra Long Puffer is so warm and a great option especially if you live somewhere cold! I'm loving the new colors this year. I'm wearing size small.